2022 Basketball England Awards
Basketball England is proud to announce the winners of the 2022 Southern Region Volunteer Awards. 
The Basketball England awards programme has returned for 2022 and sees nominations gathered from the public across the 10 English regions, with winners selected in partnership with the Regional Management Committee Chairs.  
Southern Regional Chair, Jeff Skinner, paid tribute to the Regional winners "On behalf of the area associations of the South region I would like to add my congratulations to our regional winners of the BE volunteer awards. They are the peak of the many volunteers on whom we rely and they set a standard for all to emulate." 
Amongst the winners is Stephanie Johnson who has been named the winner of both the All Girls Inspiring Female of the Year and Coach of the Year. Stephanie oversees seven basketball hubs and seven satellite clubs which enables over 600 kids to be coached per week. In addition to this, Stephanie Steph runs the back to basketball women's programmes aimed to get women back into sport and exercise and to assist with mental health and wellbeing. 
The full list of winners is as follows: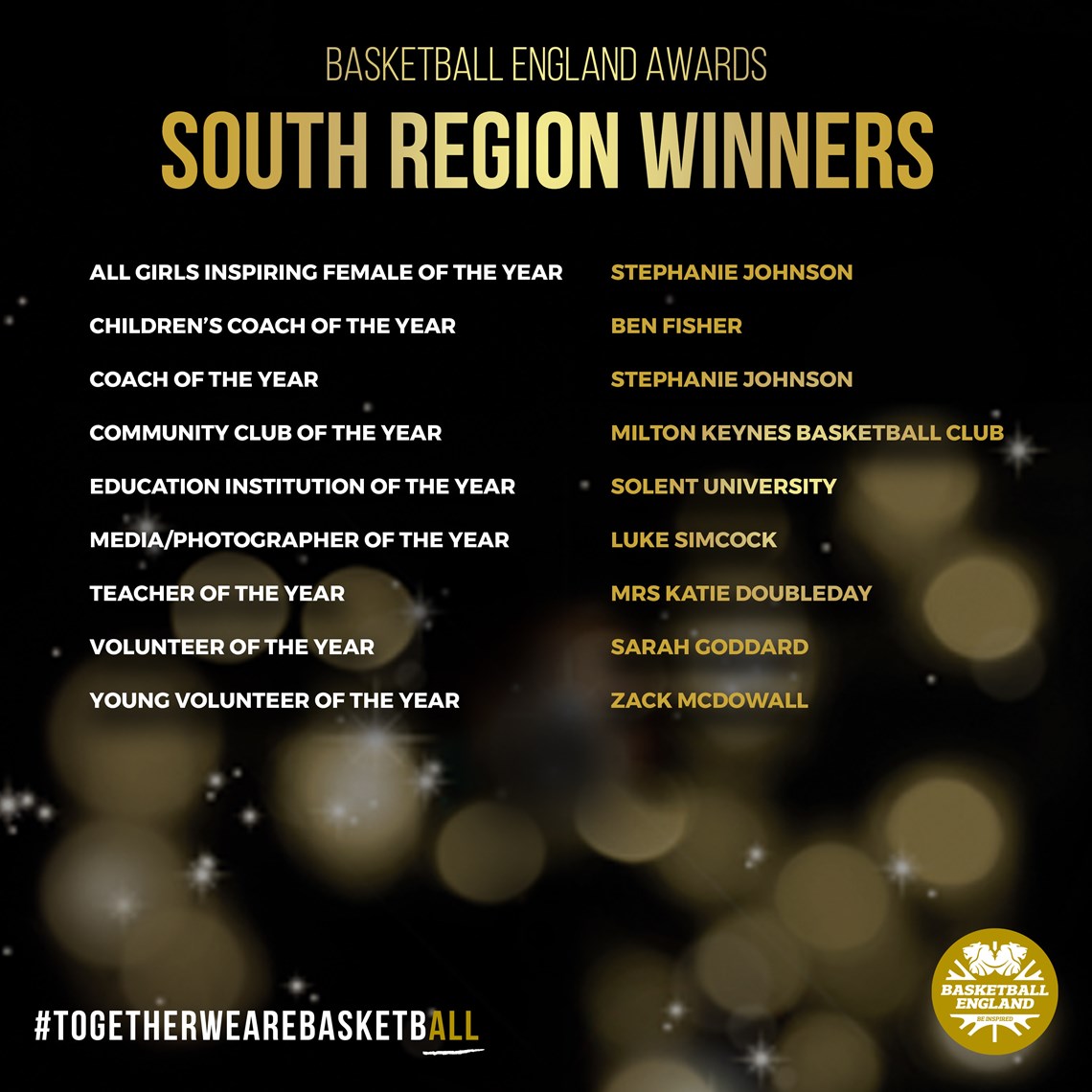 "Congratulations to all of our winners in the Southern Region!" said Gail Richards, Senior Delivery Manager for Basketball England. "It is fantastic to acknowledge so many worthy winners from the South. Each and every one of the winners have given their all to grow and develop the sport so it's only right that they receive the recognition that they deserve, congratulations to all of the Southern Region award winners." 
All of the regional winners across the 12 award categories will be reviewed by a panel, with a total of three nominees per category then being shortlisted to be considered for National Awards. Basketball England will be hosting the awards online once again this year with further information to be released in due course. 
SOUTH Regional Management Committee
.
What is the purpose of a Regional Management Committee?
The Regional Management Committee (RMC) is made up of volunteers who truly have passion for the sport. They are elected/appointed to their roles and believe in developing the sport for all. They have a rich knowledge of sport with expertise in all aspects of the game; clubs, officiating, coaching, women and girls to name a few. The Regional Management Committee work with local leagues and Area Associations to ensure quality basketball delivery occurs in the region as well as to help develop the sport across the region.
The Regional Management Committee contribute feedback from a regional level into the national discussion and direction that Basketball England take in its' strategy.
Regional Management Committee:
Chair - Jeff Skinner
Secretary - TBC
Treasurer  - Erica Whiting
Regional Registrar - Cliff Fullbrook
Welfare Officer - Sarah Goddard
Regional Talent Manager - James Bamfield
Table Officiating Officer - Kathryn Blandford
Statistician Officer - Cliff Fullbrook
Refereeing Officer - Ian Lester 
Solent - Chris James
Buckinghamshire - Peter Jenner
Oxfordshire - TBC
Wessex - Tim Routledge
Guernsey - TBC