2022 Basketball England Awards
Basketball England is proud to announce the winners of the 2022 West Midlands Region Volunteer Awards. 
The Basketball England awards programme has returned for 2022 and sees nominations gathered from the public across the 10 English regions, with winners selected in partnership with the Regional Management Committee Chairs.  
Amongst the winners are West Brom Basketball Club (Community Club of the Year). Since its inception, the West Brom club has worked tirelessly to grow basketball within the community. They cater for all regardless of age, gender or ability and have worked with the local community to develop players. The club goes deeper into the community than that with initiatives such as the Holiday Activity and Food program last year to help 5-16-year-olds during the summer holidays where they had basketball activities as well as a hot meal. 
Also recognised is Gemma Salmon (Children's Coach of the Year). Gemma, of Bromsgrove Bears, celebrates every child for who they are, ensuring they are valued in every single way. Gemma has also taken on a roll of passing her knowledge to as many children as possible this year at many clubs, especially girls.  
The full list of winners is as follows: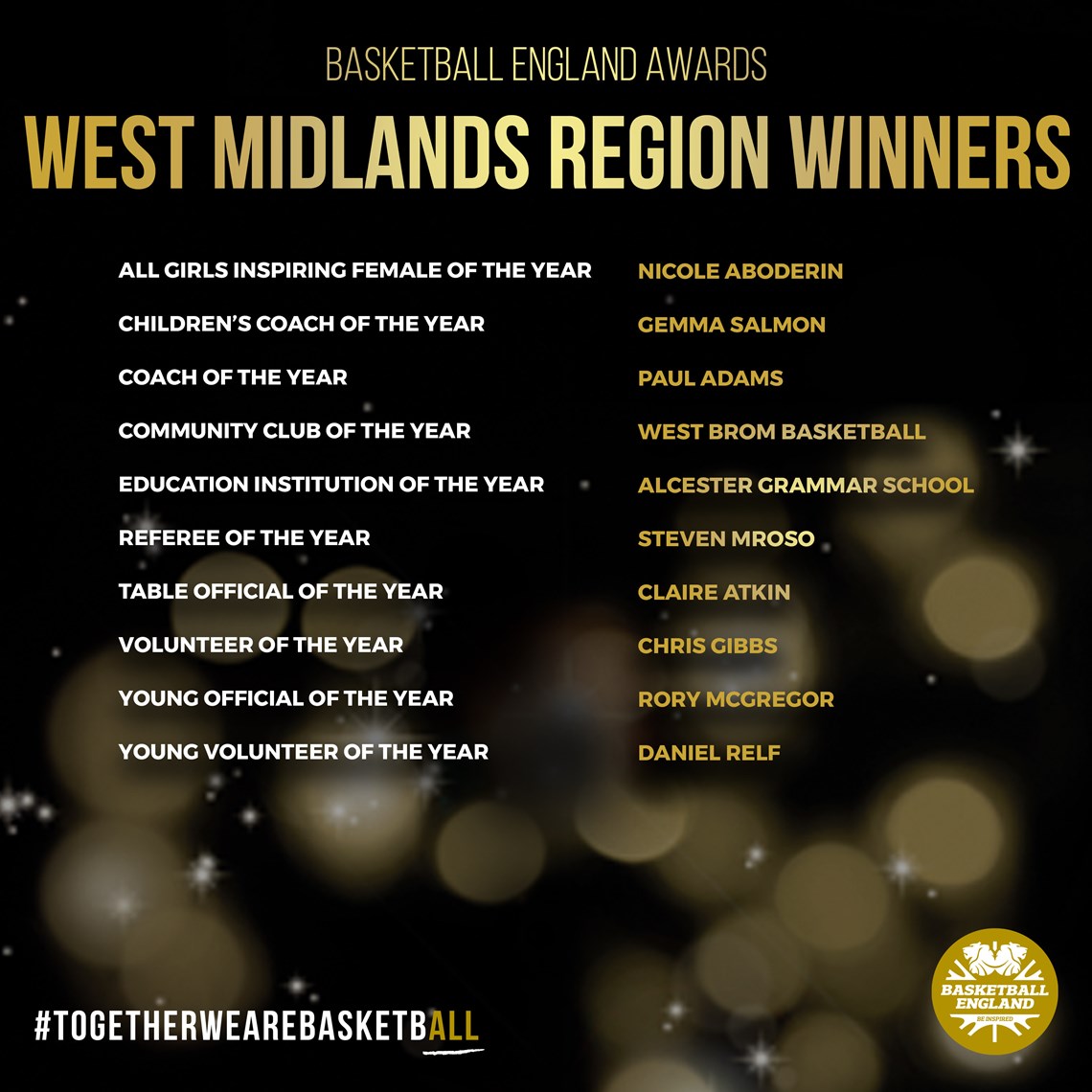 "Congratulations to all of our winners in the West Midlands!" said Peter Griffiths, Head of Participation for Basketball England. "It's been a historic year for the West Midlands Region with the Commonwealth Games taking place in Birmingham. I'm especially delighted for all of the Regional winners that they've been recognised for their fantastic contributions during a period of growth for the Region." 
All of the regional winners across the 12 award categories will be reviewed by a panel, with a total of three nominees per category then being shortlisted to be considered for National Awards. Basketball England will be hosting the awards online once again this year with further information to be released in due course. 
WEST MIDLANDS Regional Management Committee
.
What is the purpose of a Regional Management Committee?
The Regional Management Committee (RMC) is made up of volunteers who truly have passion for the sport. They are elected/appointed to their roles and believe in developing the sport for all. They have a rich knowledge of sport with expertise in all aspects of the game; clubs, officiating, coaching, women and girls to name a few. The Regional Management Committee work with local leagues and Area Associations to ensure quality basketball delivery occurs in the region as well as to help develop the sport across the region.
The Regional Management Committee contribute feedback from a regional level into the national discussion and direction that Basketball England take in its' strategy.
Regional Management Committee:
Chair - TBC
Vice Chair - Steve Mroso
Secretary - TBC
Treasurer - TBC
Regional Registrar - 
Welfare and Safeguarding Officer - Kim Humphreys
Regional Talent Manager - Danny Williams
Refereeing Officer - TBC
Communication and Feedback Officer - Steve Mroso
Table Officiating & Statistician Officer - Emma Owen