2022 Basketball England Awards
Basketball England is proud to announce the winners of the 2022 Yorkshire Region Volunteer Awards. 
The Basketball England awards programme has returned for 2022 and sees nominations gathered from the public across the 10 English regions, with winners selected in partnership with the Regional Management Committee Chairs.  
Yorkshire Regional Chair Andy Harrison-Beaumont said: "Yorkshire is truly blessed with an abundance of great volunteers who never fail to provide excellent service to the sport. From local league to NBL, WBBL and BBL, from floor sweepers to coaches, they are there allowing others to play the sport we love. Our region was devastated to this year lose Betty Codona, the best role model for volunteering ever; but her legacy of involving anyone and everyone will live on!" 
Amongst the winners are Kristians Haidukovs (Young Official of the Year). He is always willing to share his knowledge with others and is patient when explaining things. He is a shining example of a young man who has put more back into the sport than he has taken out. 
Also recognised is Katie Lamond (All Girls Inspiring Female of the Year) who through injury has found coaching which started with the younger age groups and has grown into coaching school teams, national league , women's university teams and county pathways. Katie is an outstanding example of an inspiring female in our sport. 
The full list of winners is as follows: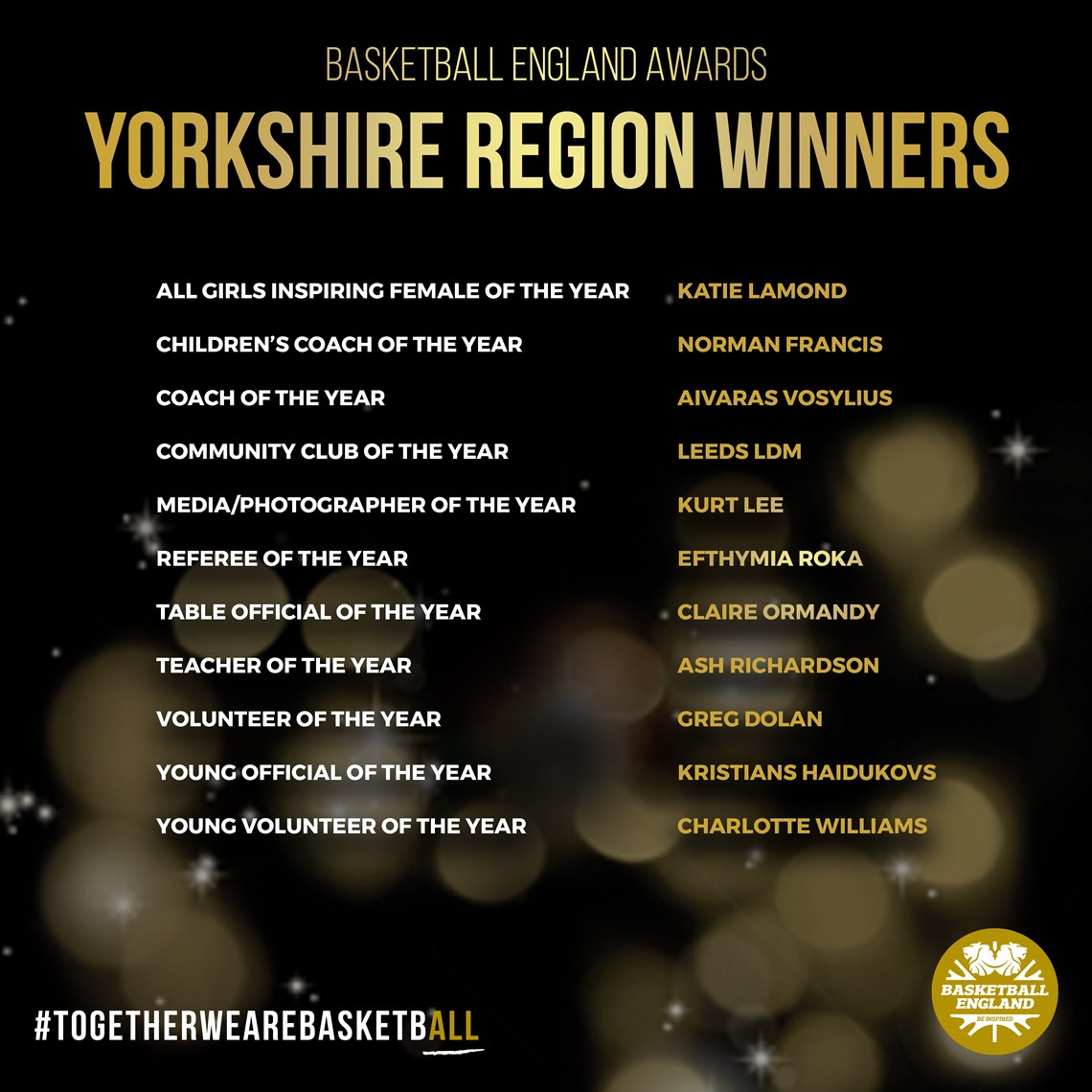 "Congratulations to all of our winners in Yorkshire!" said Duncan Whalley, Chief Operations Officer for Basketball England. "To hear about the wonderful stories and developments of basketball regionally is refreshing and the Basketball England awards is a great opportunity for us to celebrate just a few of the great individuals within regions such as Yorkshire.".
All of the regional winners across the 12 award categories will be reviewed by a panel, with a total of three nominees per category then being shortlisted to be considered for National Awards. Basketball England will be hosting the awards online once again this year with further information to be released in due course. 
YORKSHIRE Regional Management Committee
.
What is the purpose of a Regional Management Committee?
The Regional Management Committee (RMC) is made up of volunteers who truly have passion for the sport. They are elected/appointed to their roles and believe in developing the sport for all. They have a rich knowledge of basketball with expertise in all aspects of the game; clubs, officiating, coaching, women and girls to name a few. The Regional Management Committee work with local leagues and Area Associations to ensure quality basketball delivery occurs in the region as well as helping to develop the sport across Yorkshire.
The Regional Management Committee contribute feedback from Yorkshire into the national discussion and direction that Basketball England take in its' strategy.
Regional Management Committee:
Chair - Andy Harrison-Beaumont
Secretary - Glenn Hardaker
Treasurer - Andy Harrison-Beaumont
Regional Registrar -

Andy Harrison-Beaumont

Welfare Officer -

Dave Smith

Regional Talent Manager - Neal Hopkins
Refereeing Officer - TBC
Table Officiating & Statistician Officer - Claire Ormandy
North Yorkshire - Dave Smith
South Yorkshire - Loraine Gayle
West Yorkshire - Glenn Hardaker
Humberside - Kitty England