An important part of the All Girls Campaign is the development of a strong network of people who can advocate for basketball and encourage more women and girls to engage in the game at all levels.
It is also about influencing others, including providers, to make basketball more accessible. Building the profile, demand and followers of the women's game is all part of the campaign focus.
Do you want to become part of the All Girls movement? Are you great at organising and influencing others to get active and involved? Are you 16 or over with a passion for basketball? You're in the right place!
Read on to find out how you can get behind the Basketball England's All Girls campaign by becoming one of our Ambassadors.
What's it all about?
All Girls is a Basketball England campaign designed to raise the profile and awareness of women and girls' basketball at all levels and in all facets of the game. The idea behind it is to break down the barriers women and girls face and create more tailored opportunities to play, coach, officiate and follow our game.
We are recruiting a number of ambassadors across the country to join the All Girls team and spread the All Girls message!
What does it mean to be an All Girls Ambassador?
Whether you are already involved or completely new to the game - and are 16 or over - there is an opportunity for you to get involved.
Do you have an interest in ensuring there are opportunities for women and girls of all ages and abilities to get involved in basketball? Want to shout from the rafters about our awesome GB Women and their Olympic dream? Want to welcome more beginners in your community? Are you keen to develop more female officials or coaches?
These are many ways in which All Girls Ambassadors can make a difference for females in basketball. We're keen to develop our female workforce and networks, create a platform for the women's game to be celebrated as standard and develop, implement and deliver a pathway for all women and girls in the game – whether this be on the court, on the sidelines or online.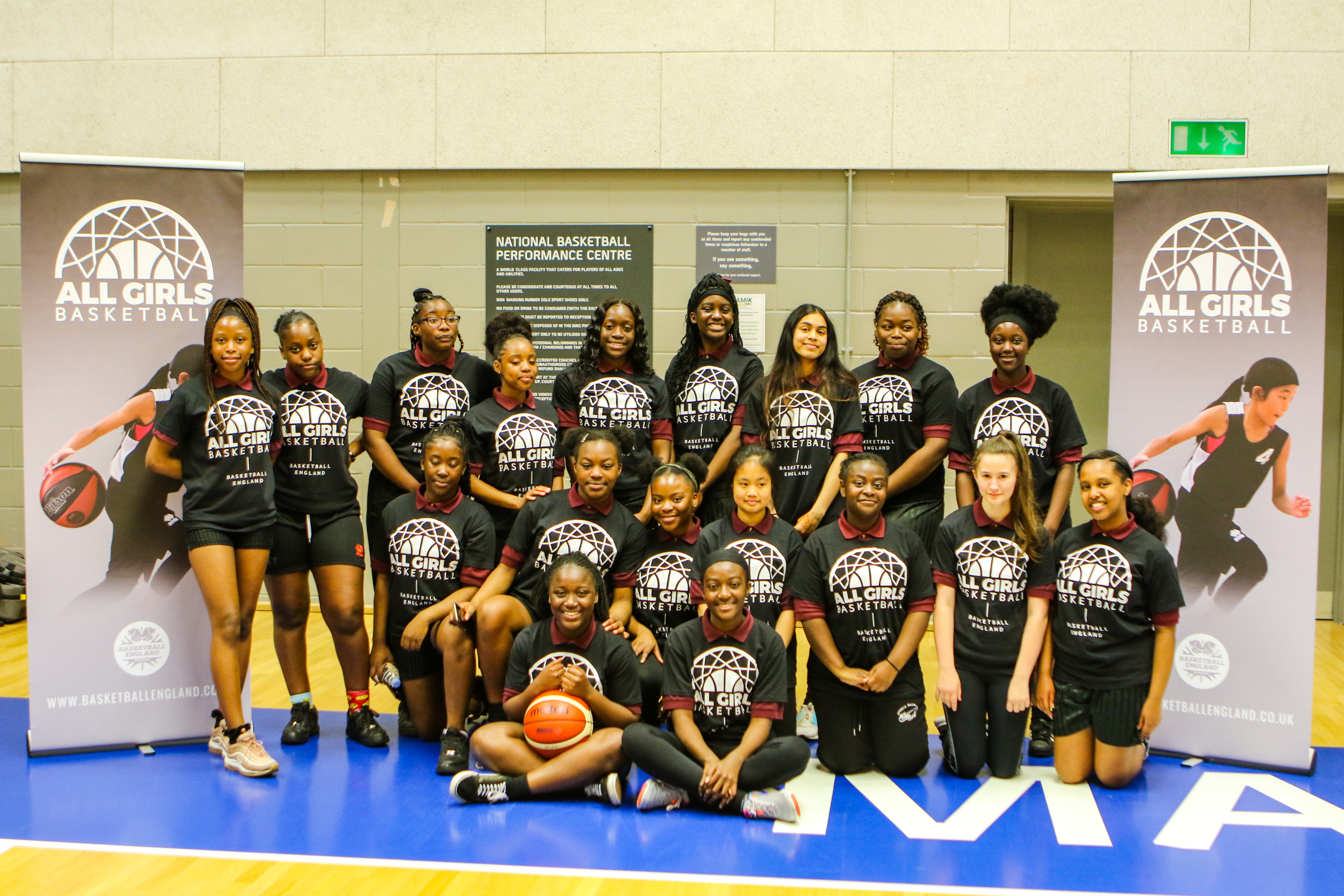 Who is All Girls for?
Anyone and everyone – of any age, any gender and any ability.
The All Girls campaign is for the game and basketball family as a whole, with females at the forefront. This doesn't mean you have to be a female to become an ambassador or get behind the campaign. Whether you've been involved in basketball all your life or you're new to the game amd are 16 or over, we want to hear from you.
Benefits of becoming an active All Girls Ambassador:
Your own exclusive All Girls branded technical t-shirt.
Support and guidance to help you to activate your ideas alongside other likeminded people
Build your networks and help others to become part of your local basketball community, making local impact to grow the game.
Access to the All Girls Toolkit to assist you in promoting what's happening for you and other women and girls in your area.
Opportunities to receive complimentary game tickets, from National League to international competitions.
Discounted rates on qualifications, training and conferencing.
Put your skills and experience to use and become a role model to others.
A sense of achievement and togetherness in recruiting and retaining women & girls into basketball.
Other positive opportunities to be confirmed as the programme grows and develops.
Qualities and attributes of an All Girls Ambassador:
A sound communicator with a passion for basketball.
An ability to influence others and bring them on a journey with you.
In some instances, act as a mentor within your basketball role/area.
Comfortable being a point of contact and a source of advice within your local basketball network.
Imaginative and creative in supporting and spotlighting basketball in your area, possibly capturing content to spread awareness of local activity.
Assist Basketball England in co-ordinating resources to create opportunities such as events/courses/training.
Be a team player with an appreciation of different backgrounds & cultures.
Understand the motivations and barriers as to why women and girls engage in sport.
To be comfortable with promoting stories via word of mouth and preferably online – either directly or through others.
Ambassadors will...
Promote basketball, motivate and inspire other young people to get involved with our sport in their local communities, including schools, clubs and recreational organisations as participant, spectator or volunteer.
Encourage and influence more school basketball through the provision of extra-curricular opportunities, thus helping to grow participation for positive outcomes.
Help promote and encourage more female into technical award courses for qualifications and competitions to help utilise their knowledge whilst retaining participation.
Help direct participants into progression pathways through neighbouring clubs and the elite towards the Aspire programme, thus increasing participation and healthier lifestyle.
Help present awards if required or applicable at events / promotions.
Be a point of contact to sign post women and girls, influence others to do more for women and girls
Be part of a local, regional and national network of people to amplify the female game and share stories, connect across their areas/club push the women's game
Feed back what works to Basketball England
Be aged 16 or over
How do I get involved?
Applications to become an All Girls Ambassador have now closed. If you have any questions, or would like to speak to one of the team you can contact us on 0300 600 1170 or email [email protected]
Share your All Girls stories, pictures, successes and events via social media using the hashtag #AllGirls