The Aspire Programme has so far proved incredibly successful with many young players taking part in Basketball England's new talent pathway.
There have been two Aspire Sessions across 10 delivery sites, one in each region, that have taken place so far.
Both have been received extremely well with nearly 1,000 junior players so far benefiting from on-court coaching, in line with the Basketball England Player Development Framework, as well as education sessions that cover several different areas such as hydration, nutrition, sleep and injury prevention.
East Region Talent Manager, Michael Ball, said: "I was really pleased with how the coaching staff set a high standard for the players throughout the day. It is really important that when our best young talent across the East region come together at Aspire sessions that they are challenged with new ideas and can take them back to their schools and clubs to work on and develop between sessions.
"I was also impressed by how focused the players and parents were and how they understood the need to become students of the game during the breakout session which focused on recovery strategies."
Michael also highlighted that the youngsters left with a better understanding of how an athlete thinks and prepares off the court in order to maximise their development on the court, which is something that was echoed in Manchester at the first Aspire Session.
Basketball England Board Member, Steve Bucknell, said: "The new Aspire Programme is an early opportunity to nature our young players, wherever our talents lie. This programme helps young people achieve their dreams and puts them on the right course.
"The Aspire programme supports development opportunities for elite performers and coaches, placing them in a structured environment where we all support their vision for the future."
Sunday's Aspire Session in the North West Region also had a surprise visit from Great Britain international Carl Wheatle, who had just flown into Manchester ready for camp ahead of GB's EuroBasket 2021 Pre-Qualifier clash against Austria. Wheatle, who currently plies his trade for Angelico Biella in Italy, took part in a Q&A session with the North West Aspire attendees, as the young players had a chance to hear from a great role model in the game.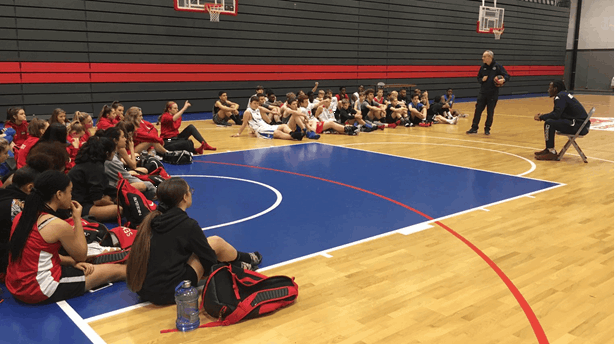 Carl Wheatle answers questions from the North West Aspire athletes
Aimed at aspiring basketball players between the ages of 11 to 15 that have been part of the talent pathway (formally the Regional Performance Centre and Regional Development Tournament) the Aspire Programme aims to provide quality coaching with the emphasis on teaching the principles of basketball and reinforcing the skills necessary to develop better basketball players.
The next Aspire Session takes place on Saturday 22 December, from 10am-4pm.
Aspire 1: October 28 2018
Aspire 2: November 25 2018
Aspire 3: December 22 2018
Aspire 4: January 6 2019
Aspire 5: February 24 2019
Aspire 6: March 17 2019
Aspire 7: May 26 2019
Aspire 8: June 9 2019