Myerscough Basketball Academy have been making a statement with some recent success in their debut EYBL campaign, winning four straight games out of five in the latest group stage of the competition. The European Youth Basketball League (EYBL) is one of the premier competitions for juniors in Europe and features renowned teams from across the continent. Here is a run-down of Myerscough's EYBL journey so far:
Stage I - Estonia
Myerscough made their EYBL debut in September during Stage I which took place in Tallinn, Estonia. The first phase of the Under 20 'EuroLeague' style competition saw Myerscough placed with BC Helsinki ROCK, BC Alvik Basket and BA Tallinn Kalev in Group C. Facing the unknown, the Preston-based academy got off to positive start in Estonia with a victory over TTÜ BS, defeating the native side 58-50 to open their EYBL season. Great Britain junior international guard Mate Okros had a strong start to the competition as he led the way for Myerscough with 12 points in the contest.
With an early taste of success, Coach Neal Hopkins's side continued their strong performance into game two where they destroyed Västra Hisingen Basketball 72-38. A stellar bench performance was sparked by guard Tim Collier, who came off the pine to have a game-high 15 points on 5-of-9 shooting to go with five rebounds and four steals. All 11 players, meanwhile, scored at least two points in the win against the Swedish side.
"The EYBL really has been a breath of fresh air," said Myerscough head coach, Neal Hopkins. "It has tested us as a programme on a number of levels and has provided a fantastic platform to gain valuable experience on the continent."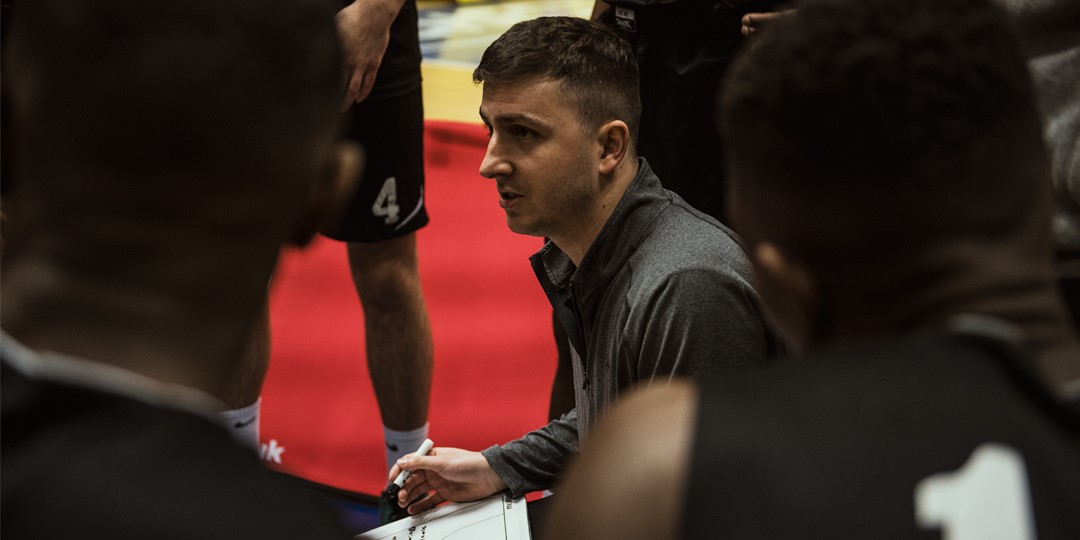 The next game of the initial group stage proved to be a harder challenge than previous encounters. Myerscough fell to Estonian side BA Tallinn Kalev 60-53 in game three, despite a strong performance from Great Britain Under 18 internationals Callan Low, with a game-high 22 points, and Mate Okros who added 16 points. Myerscough shot just 30% from the field as a team, which made it hard for them to close the gap down the stretch.
The struggles continued into game four which saw Myerscough defeated by an unbeaten Finnish BC Helsinki ROCKS side. Although the team got off to an early lead in the first quarter, a 7-0 run from the unbeaten Finns put them in front for good. In spite of the loss, 6'8" Irish forward Sanmi Fajana had a stand-out performance as he finished with a double-double of 17 points and 10 rebounds, while Mate Okros put up solid numbers once again with 14 points.
The success of these two players continued into game five, with Mate Okros scoring 22 points to go with seven rebounds, three steals and three assists, as Sanmi Fajana added a second-straight double-double to spark Myerscough past BC Alvik Basket 64-55 in the final match-up. The win meant Myerscough would leave Estonia on a winning note and a 3-2 record from Stage I of the competition, giving them confidence as they moved forward towards Stage II in Ventspils, Lativa later in December.
"I have a lot of admiration for Neal, Troy and the entire staff and players at Myerscough for stepping out of their comfort zones and testing themselves on the European stage within the EYBL," said Charlie Ford, Basketball England's Programme & Delivery Director. "Our recently launched Talent plan details the need for our best young players to experience European competition earlier and more frequently as a logical step in preparing players to face different styles of play before they represent England & Great Britain during International competitions."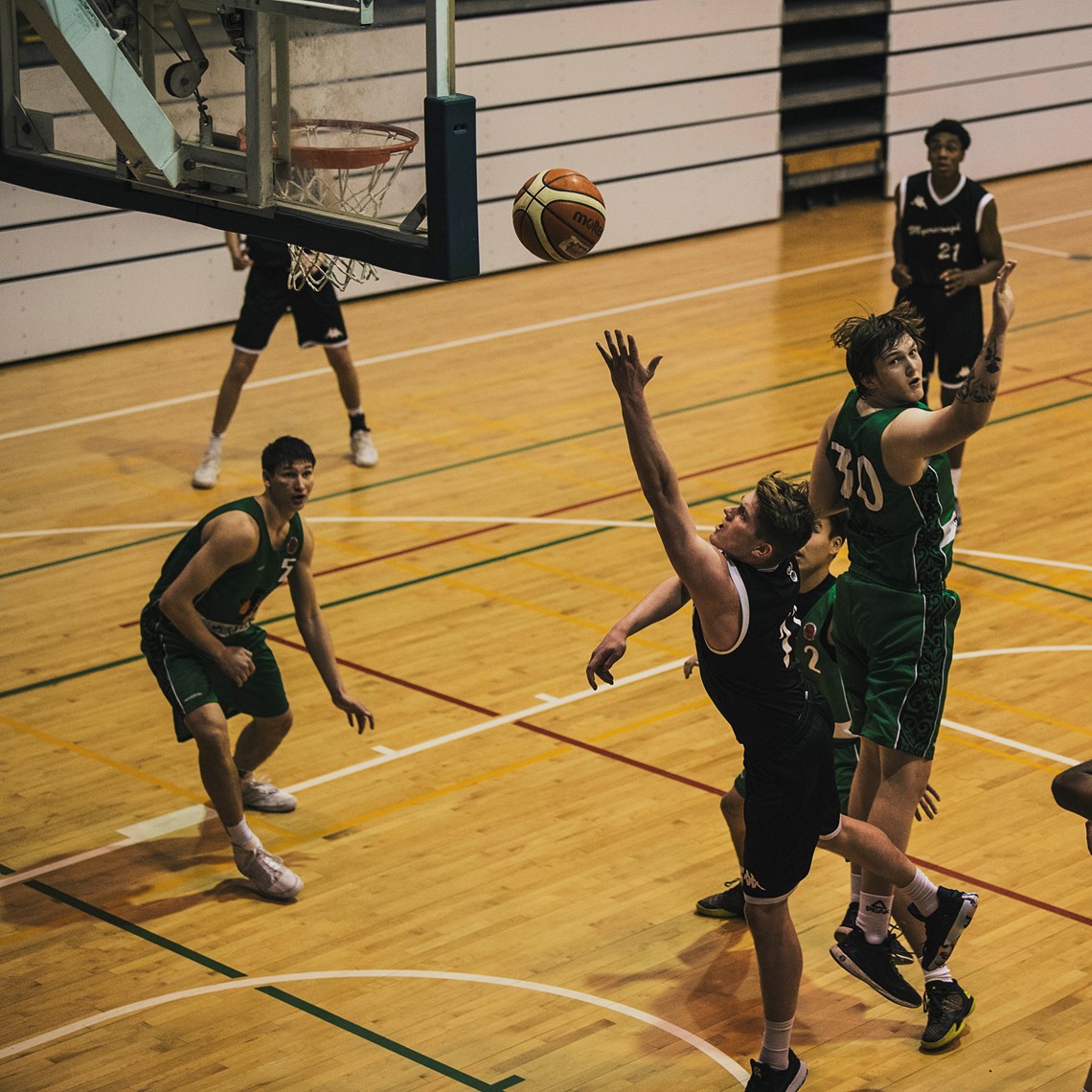 Stage II - Latvia
Continuing off the back of a successful start, Myerscough made some serious noise this month in Stage II of the competition in Ventspils, Latvia. However, this wasn't before a rough start which saw the British academy suffer an opening defeat to local side BC Ventspils 66-44 in the first game.
"We had a shaky start," said Myerscough forward, Samni Fajana. "But then into the remaining four games we played how we should, which was at a high level and showed we can compete against any European team."
Determined to turn things around later that day, Myerscough responded with a narrow victory over BC Barsy in game two thanks to Callan Low's go-ahead three-pointer with 1:03 remaining. The 6'3" Scottish guard finished with 17 points in the game, whilst forward Sanmi Fajana scored a game-high 18 points to help give Myerscough the edge over the Kazakhstani side.
The win gave the British troop hope heading into game three where they faced European basketball powerhouse BC Zalgiris. Coach Neal Hopkins's cohort faced the challenge head on and defeated the Lithuanian giants 62-56 thanks to Mate Okros's season-high 26 points on 10-of-15 shooting. Leaning on his FIBA Under 18 European Championships experience, the 6'6" guard out-shone his previous game-high 22-point performance from Stage I against BC Alvik Basket. Myerscough forward Amari Williams also had a career day, posting a personal-best 14 points while grabbing a team-high eight rebounds to help give Myerscough the edge over the Lithuanians.
"We did well in Estonia for Stage I and finished with a 3-2 record, but I always thought Stage II, which was in Latvia, would be the real test, particularly coming up against the likes of BC Zalgiris," said head coach, Neal Hopkins. "Despite a difficult start we took four wins in a row to finish with a 4-1 record over the second stage and it was a huge highlight to beat BC Zalgiris. On a personal note, that was the most significant result of my time within basketball."
Looking back on his teams performance in game three, Myerscough guard Mate Okros stated: "Getting the win against Zalgiris was huge for us. We had to then back it up to know we actually belong in this league."
Determined to show the EYBL they belonged, Myerscough continued their winning streak into game four as they convincingly took down Sweedish side, BG Lulea. The performance was a solid team effort as 11 of 12 players scored at least two points, with the bench coming alive for a total of 37 points. Coming off a season-high the previous game, Mate Okros was top scorer once again, tying with teammate Lewis McGlasson for 11 points in the game to give Myerscough their third straight win in the competition, and sending a message to the rest of league that the Preston-based academy meant business.
With the team on a high and holding a 3-1 record, the academy's final test of their international conquest came against Valmiera, where Mate Okros once again led the way in scoring to help his side dismantle the Latvians 74-50. His performance of 16 points, five rebounds and five assists gave Okros a well-deserved place in the EYBL All-Star Five for Stage II.  The fourth straight win gives Myerscough a 7-3 record overall in the 2018-19 EYBL campaign, as well as a great deal of confidence as they head into Stage III in Lublin, Poland beginning February 2019. 
"Its great to see British Academy Teams competing and playing on the continent," said Steve Bucknall, Basketball England Board Member. "This opportunity will enhance and improve the players' experience and its good for the game."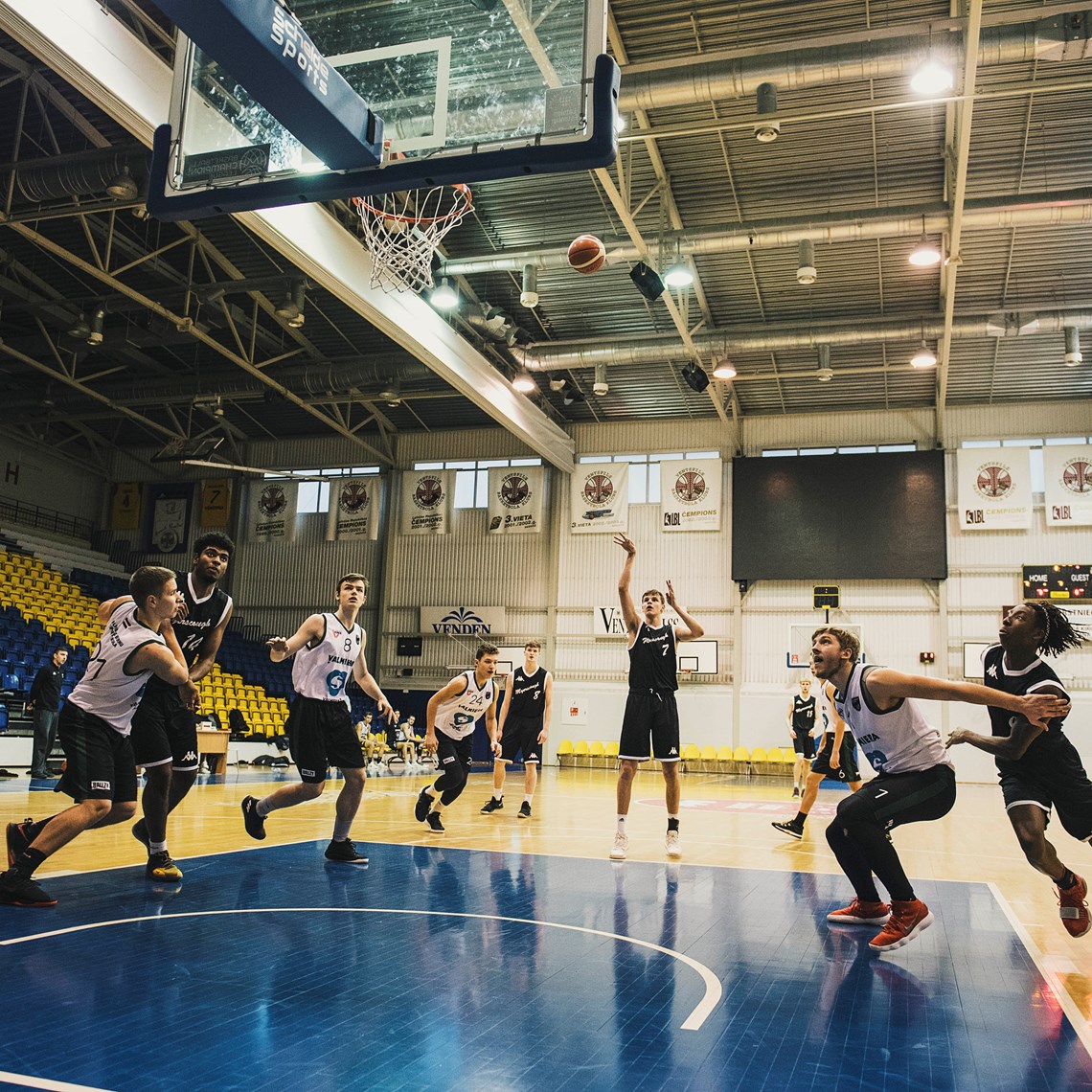 About the EYBL:
The EYBL is one of the premier European competitions for juniors and features renowned teams from across the continent. The competition takes place across three stages in three different European host sites before it concludes with a Final Four in April. Some well-known Alumni of the EYBL include Jonas Valanciunas (Toronto Raptors), Alexey Shved (formerly of the Minnesota Timberwolves) and Donatas Motiejunas (formerly of the Houston Rockets). Myerscough's success in Stage III will determine if they can book a place in the Final Four competition April 2019.
"We certainly demonstrated how far we have come and the players all did an exceptional job," said Myerscough head ocach, Neal Hopkins. "We now head into Stage III, which takes place in Lublin, Poland in February with a 7-3 record and our eyes on the Final 4 - which is now in our hands." 
For more information on the EYBL competition and to follow Myerscough's journey into the next group stage, follow the links below: