The summer months might be seen by some in basketball as a time to put the feet up, enjoy some free weekends and get outside of a gym or sports hall for some well-deserved sunshine!  For referee Jess Fox, this off-season was a perfect time to put some stamps in her passport and work on taking her officiating to the next level.
June's Copenhagen Invitational Tournament in Denmark was her first stop, as along with the England U15 boys' and girls' teams and multiple other English officials, she took the opportunity to be a part of the countries' largest youth basketball tournament, receiving some detailed feedback on her officiating. "Copenhagen was great. It was my second time out there and it's always a good tournament," said Fox. "The standard is really high and the observers are always really good. It's probably my favourite tournament each year that we go to."
In early July, the Yorkshire based referee was jetting off to Slovenia for the FIBA European Women's Basketball Summit as one of 125 female players, coaches and officials involved in the 12th edition of the event. "Slovenia was great, it's a really beautiful place," smiled Fox, who started officiating at school under the watchful eye of her then teacher and current FIBA official Kate Webb. "The referees were of different standards. There were some there that are refereeing top division men in their country and for others it was their first-ever season, so there was a big difference in terms of ability. But everyone wanted to learn and it was a good week."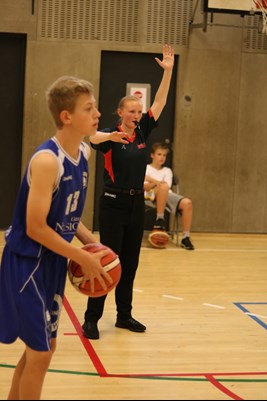 Aside from collecting some handy air miles, Fox was able to pick up some invaluable feedback on what she can work on going forward. More importantly, she also received reassurance that she was already on the right track with the things she was currently focusing on. "I got some really good feedback this summer on my signalisation and other good things from two FIBA referees I spoke to and the various observers. We did a lot with mental preparation with one of the ladies over in Slovenia, and focused generally on what we should be doing. Also, watching clips is really beneficial!"

"Compared to what we're doing now, I've found it's the same sort of ideas. We're doing the same generally as they [European countries] are; watching game clips, watching signalisation clips, and looking to get better. In Slovenia, we started doing a lot of morning prep and fitness work that I'm keeping up with to meet FIBA's level of fitness. Between that, meetings, early evening games, observations, clips, more meetings, I was ready for bed!"
Whilst not quite as glamorous, trips to Denmark and Slovenia have been complimented by further experience at both the Under 13 and Under 15 Basketball England Regional Development Tournaments, the Ian Pollard "Polly" camp, as well as the National Game Conference in early September.
A packed summer schedule didn't keep Fox from a further opportunity to gain more experience before the NBL season began, "A few of us went to a camp in Poland (headlined by long-serving Euroleague referee Kuba Zamojski) in September and then I'll be into the season. Hopefully I'll keep getting good appointments, but I know I'll just keep working as hard as I can."
As a young, female official, Fox's journey so far has been as fast as it has been impressive. From falling in love with refereeing at school in her teens, she progressed quickly to officiating in the local Sheffield Basketball League and by 18, she had received her first senior NBL appointment. And after a summer of development across Europe, her message to other's wanting to walk a similar path is simple, "If you get the chance, absolutely do it! Officiating is a great opportunity to network and make new friends locally, nationally and internationally."