NBL Division One

 Loughborough Riders 106 v 88 Essex Leopards 
Saturday 20 October 2018 - 2.00pm
Loughborough Riders were able to bounce back from their overtime loss last weekend as they leant on impressive second and fourth quarter performances to get the job done. The Big Cats took the opening frame, but the Riders would limit them to just 11 points in the second period as they began to build a commanding lead. The game then went back-and-forth throughout the third quarter, before Coach Mark Jarram's side exploded on the offensive end, pouring in 34 points in the final ten minutes; cruising to victory. The Riders improve to 2-1 to remain within touching distance of the leading pack of undefeated teams, while Essex fall to 0-3 as they still search for their maiden win this campaign. 
Lucien Crisofis led all scorers as he shot 10-15 from the floor en route to pacing Loughborough with 26 points, while adding three rebounds and three assists. Niall Harris was a spark off the bench as he had an efficient outing of 15 points on 7-12 shooting, while also chipping in eight rebounds, seven assists, three steals and four blocks; rounding out an impressive stat-line. Giannis Panaretakis also came off the pine to contribute 15 points of his own, while adding four rebounds. Chuck Duru led the Big Cats with 20 points, adding four rebounds and two steals, and he was backed up by a 12 point, 12 rebound double-double from Lee Hodges. Findlay Wood came off the bench to add 15 points and three assists in the loss.

Leicester Warriors 79 v 100 Worthing Thunder

Saturday 20 October 2018 - 3.00pm
A strong start out of the blocks from the travelling Thunder was all they needed to build a comfortable lead in this one and eventually take a 21 point victory back to the south coast. Worthing led from tip to buzzer as they poured in 58 points in the first 20 minutes, once again showcasing the offensive talent at their disposal. A double digit lead at the half was challenged in the third stanza, as the hosts took control of the period and were able to cut the lead to single digits heading in the final quarter. However, a good run down the stretch from Player-coach Josh Goddard's side saw them pull away and maintain their perfect league record. Worthing now sit atop the league alongside Bradford and Solent at 3-0, while Leicester even out their record at 1-1 to sit middle of the pack. 
Lamin Willan paced the hosts with 24 points, three rebounds and three assists, supported by 14 points, four rebounds and three assists from Martyn Gayle. Brian Orr had a quiet afternoon, playing limited minutes and only taking three field goals en route to a two point outing. Meanwhile, Alex Owumi led Worthing with 31 points, shooting 11-14 from the field, while adding 10 rebounds and two assists. Brendan Okoronkwo added 26 points, as Zaire Taylor pulled down 12 rebounds to go with 22 points of his own. 
Bradford Dragons 87 v 55 Manchester Magic

Saturday 20 October 2018 - 6.15pm
In a rematch of their National Trophy Pool A fixture only a couple of weeks ago, Manchester Magic made the short journey down up the M62 to face tied league leaders Bradford Dragons. A competitive first period showed some fight in the Magic side, but a disastrous second quarter saw them put only five points on the scoreboard, as the Dragons pulled away for good. A more competitive final period saw both teams rotate their benches, as the game was done and dusted by the middle of the third quarter. Coach Aurimas Verbukas' side sit 0-2 at the bottom of the table, as they now refocus on their cup campaign which continues next weekend. Meanwhile, Bradford's 3-0 record sees them sit alongside Solent and Worthing in lofty spots atop the NBL Division One standings. 
Rihards Sulcs continued his fine form, as he led Bradford with 24 points, six rebounds, five assists and four steals. Ricky Fetske chipped in a 16 point, 12 rebound double-double, while Rafael Saipe came off the bench to add 10 points, three rebounds and three assists. Magic captain Daniel Pilkington led the visitors' charge with 10 points and three rebounds, joined in double figures by youngster Saul May who added 10 points of his own, to go along with two rebounds and two assists. 
Coach Verbukas had this to say after the contest, "It was a tough one today, but that's what you expect from Coach Mellor and his team. Bradford controlled the game from start to finish, while we were inconsistent. Coach Mellor is one of the best coaches in this league, so this win is well-deserved for him and his team."
"If I had to highlight the positives, I would like to point to the two 16 year olds, Saul May & Luke Gordos, who both played a very mature game as they contributed today," Coach Verbukas added.

Team Newcastle 81 v 87 Derby Trailblazers

Saturday 20 October 2018 - 7.00pm
A competitive game throughout up in the North East saw the visitors take the spoils in a game that really could have gone either way. A game of runs saw both teams take their turn holding the lead, as the largest margin would be a 10 point lead for the visiting Blazers midway through the third period. Malcolm Smith tied the game at 79-79 with just over three minutes to go, splitting a pair at the foul line, before heading back to the stripe on the next trip to give the visitors a two-point cushion. Back-to-back buckets from Smith and Tre-Shawn Wilford saw Derby hold a crucial six point advantage, before Matt Ward-Hibbert iced the game at the free throw line. A Tosan Evbuomwan lay-in was all the home side could muster in the closing stages; a case of missed opportunities in crunch time. Derby now sit 2-0 in the league, joining the Dragons, Kestrels and Thunder with a well-protected loss column. Meanwhile, Team Newcastle are 0-2 as Coach Ian Hewitt's side searches for their first victory. 
Coach Hewitt enjoyed balanced scoring from his team in the loss, as David Hanson led the charge with 19 points and five rebounds. Hanson was well supported by 15 points from Eric Stafford and 13 points from Ben Seipt, while Tosan Evbuomwan came off the bench for a 12 point, 12 rebound double-double. Smith was yet again a force for the Blazers, leading all scorers with 25 points and eight rebounds. Ward-Hibbert and Wilford chipped in 19 points apiece, while Trailblazers Academy product Luke Ptak came off the bench for an 11 point outing. 
Blazers' Coach Matt Shaw said following the game, "Having only eight turnovers was a key stat for us and really helped us get the job done. Newcastle have a largely new squad this year and I think they'll pick up a lot of wins once they've got used to each other and the league. To win on the road up there when we were short on bodies due to injuries once again was a really good result for us."
Shaw continued, "Defensively, I thought we did a good job at key moments. In the last few minutes, we really tuned in and got some crucial stops. Kayne did a great job against Stafford and Jake Wesselingh had some big rebounds down the stretch. Luke Ptak was excellent off the bench too. I was pleased with his offensive contribution but I also thought he defended really well too."

Team Solent Kestrels 74 v 50 Nottingham McDonald's Hoods

Saturday 20 October 2018 - 7.30pm
The final team to have continued their undefeated start to the season was Team Solent Kestrels, who improve to 3-0 behind a staunch defensive effort on Saturday evening. The Kestrels would lead from the tip right up until the buzzer sounded at Places Leisure Eastleigh, as their efforts on the defensive end in the first and third quarters proved to be the difference. Nottingham fall to a 1-2 record in league play, as they sit mid-table following the early season exchanges. 
The visiting Hoods were led by 11 points and four rebounds from guard Luke Mitchell, while Cole Welle added a double-double of 10 points and 13 rebounds, also adding four assists to his effort. Meanwhile, Coach Matt Guymon's side were paced by an impressive 20 points and 11 assists from Herm Senor II, while Jon Averkamp adding a double-double of his own with 14 points and 11 rebounds. Chris Scarlett and Elliott Dadds added 13 and 10, respectively, to round out the Kestrels' scoring. 
National Trophy

Reading Rockets 117 v 95 Hemel Storm

Sunday 21 October 2018 - 5.00pm
Reading Rockets leant on a combined 78 point effort from Trae Pemberton, AJ Carr and Sydney Donaldson as they put on an offensive masterclass in front of their home fans at the 'Mead. Picking up a crucial win in Pool C of the National Trophy, Coach Alan Keane's squad blew Hemel away with a 37-21 second quarter to build a lead that they would not relinquish. Sitting 2-0 atop the Pool C table, the Rockets' fate is in their hands - a win against Essex Leopards would see them safely through into the knockout stages. 
The aforementioned Pemberton was on fire for the Berkshire outfit, pouring in 32 points on 10-16 shooting, adding five rebounds. AJ Carr had 25 points to go along with 14 rebounds and nine assists, while Sydney Donaldson added 21 points and three assists. Adrian O'Sullivan also had a crucial contribution in the win, as he chipped in 18 points, two rebounds and three assists. Captain Bode Adeluola led Hemel in the loss, as he had 19 points and eight rebounds. Adeluola was supported by 17 points from Leon Henry, while Blayne Freckleton had 14 and Leome Francis added 12. 
WNBL Division One

Barking Abbey 32 v 66 Anglia Ruskin University

Saturday 20 October 2018 - 2.00pm
Anglia Ruskin University are now the only remaining undefeated team in WNBL Division One, with their 2-0 record in the early season sending a message to their competitors that the reigning WNBL Division One Playoff champions mean business once again. A staunch defensive effort got the job done in this one, as a game that was close at the half-time break ending as a contest very quickly behind a 2-21 third period from the visitors. The Rhinos would outscore their East London hosts 12-39 out of the half-time team talk, running away with the second half. 
Eight points apiece from Jolicia Cadogan and Elizabeth Osilaja would pace Barking, while Karla Powlesland had a six point, seven rebound effort. Nadege Talva led the visitors with 16 points and eight rebounds, while Katrin Hulme added 12 points and four rebounds. 

Southwark Pride 67 v 59 Reading Rockets

Saturday 20 October 2018 - 2.15pm
Southwark Pride improved to 2-1 to sit seventh amid the congested early standings of WNBL Division One, while Reading split their back-to-back for an even 2-2 record after the weekend's action. Coach Jackson Gibbons' squad trailed early in this one, but a 45-33 second half turned the game in their favour as they pulled off the victory. The game was tied at 59-59 with three minutes left on the clock, before Maya Hyacienth hit a triple to break the deadlock. The visitors weren't able to get on the scoreboard again as the final minutes of the contest ticked away, with Esther Oluade holding her nerve at the foul line to ice the game. 
Monica Herranz De Antonio lead the charge for Reading, as she had 18 points and two rebounds. Candela Hermida Nunez chipped in 11 points in support. Meanwhile, there was a breakout game for Maya Hyacienth who poured in 27 points, joined in double digits scoring by Jade Guidolin Duncan and Amelia Sandie who added 10 points apiece. 

Bristol Academy Flyers 69 v 57 Team Birmingham Elite

Saturday 20 October 2018 - 2.15pm
Bristol Academy Flyers continued their impressive start the season, following up their win over Ipswich with another victory against Team Birmingham Elite. Coach Gareth Till's side now sit 3-1, tied leaders of WNBL Division One with Team Solent Kestrels. A tight game at the half saw the Flyers lead by just six points, having lead by as much as 13 during the second period. The travelling Elite side kept battling and were able to cut the deficit to a single point early in the fourth quarter, before the South West side regained their composure to pull of the double digit win. 
Rebecca Brindley followed up her impressive play thus far with another good performance, playing the full contest and pouring in 18 points, to go along with nine assists. She was supported by 13 points from Jessica Cooper, who also added three rebounds and four assists. Mai Zibleti returned to form for the Flyers, leading all scorers with a 22 point effort, adding four rebounds and four assists. Cristina Bigica came off the bench to add 20 points on 8-11 shooting, while pulling down eight rebounds. 

Team Solent Kestrels 60 v 46 Loughborough Riders

Saturday 20 October 2018 - 3.00pm
Team Solent Kestrels maintained their position atop the WNBL Division One standings with a comfortable win over Loughborough Riders that saw them improve to a 3-1 record. Meanwhile, Loughborough Riders undefeated start to the season came to end as the trip to south coast was not as successful as Coach Krumesh Patel would have hoped. Cagey opening exchanges to this contest would eventually see the Kestrels settle into the lead, up by 12 points at the half-time break. Solent would not look back, as they extended the lead out to 26 at points in the fourth, before a late run by Loughborough tied the final period and cut into the final scoreline. 
Coach Patel's side were led by 12 points off the bench from Hannah Dawson, as she added five rebounds and two steals. Lauren France shot 4-7 from the floor on her way to 11 points. Pacing all scorers was Andrea Kurkowski, who contributed a 22 point, 10 rebound double-double for the Kestrels. Kurkowski's efforts were supported by 17 points from Geena Gomez, past winner of WNBL Player of the Week, who also added four rebounds, two assists and three steals. 

Sevenoaks Suns II 71 v 57 Ipswich

Saturday 20 October 2018 - 5.30pm
In one of the bigger surprises of the weekend, Ipswich fell to their second league loss in as many weeks as they travelled to Kent to face Sevenoaks Suns II. The battle of the newly promoted teams was close through three quarters, before the hosts pulled away to take the spoils. A hot start for the Suns saw them jump out to an early 10 point lead, before Ipswich gathered some momentum to bring the game level and even lead during the third stanza. However, Coach Len Busch's side would take the lead with four minutes to play in the third quarter and never look back, outscoring the visitors 25-12 in the final 14 minutes of the contest.
Harriet Welham had 23 points and 12 rebounds to pace her team, but had eight turnovers that proved costly for her side. Joining Welham in double figures for Coach Nick Drane's side was Cameron Taylor-Willis, who had a double-double of her own as she chipped in 10 points and 10 rebounds. Meanwhile, Sevenoaks were led by an offensive clinic from Katie Bennett, who shot 10-14 en route to 32 points, which included going 5-6 from behind the arc. Bennett's showcase also included seven rebounds and four assists, as she was supported by 10 points from Olivia Partridge. 

Reading Rockets 87 v 35 Oxford Brookes University

Sunday 21 October 2018 - 2.30pm
The final action of the WNBL Division One weekend saw Reading Rockets complete their back-to-back in a lone Sunday fixture. Coming off a tough loss in the capital one day prior, Coach David Sanchez' squad were hungry to get back to winning ways. Deserved favourites in this battle of the South region, Reading took a routine win as their build their lead throughout the contest and stamped their authority on the outcome with a 32-6 final stanza. The win for the Rockets evened out their record at 2-2, while Oxford fall to 0-4 as they search for a first win of the campaign.
Alba Maria Cedillo was impressive for Coach Zach Meekings side in the loss, as she stuffed the stat-sheet with 15 points, eight rebounds, four steals and two blocks. Anabel Latorre Ciria led Reading with an impressive 26 point, 13 rebound double-double, while Maria Angeles Valdeomillos Gomez added 16 points, seven rebounds, six assists and four steals. Joining these two in double figures were Carmen Segura Moreno and Elena Palacios Amaral who chipped in 11 and 10 points, respectively. 
NBL Division Two

London Westside 80 v 66 London United

Saturday 20 October 2018 - 2.00pm
In a somewhat surprising result to kick off the weekend of NBL Division Two action, it was London Westside who grabbed the spoils in the cross-capital derby on Saturday afternoon. The game would go back-and-forth throughout the early stages, as the visitors pulled away for a double digit lead late in the first period. However, Coach Frank Lamptey's side would battle back to lead at the half, before an impressive final period went their way 27-11 to control the outcome of the game. United and Westside now both sit with even 1-1 records midway down the league standings.
Tyrell Isaacs led Westside with 23 points and seven steals, while Theo Deleligne chipped in 17 points, six rebounds, three assists and five steals. Levi Edwards also added 12 points for the hosts. Meanwhile, Marius Ceponis shot 6-8 from the floor to lead United with 13 points and five rebounds, as Modestas Krasauskas struggled from behind the arc, shooting 1-9 from distance, as he added 12 points and three rebounds. The West London side would get a 12 point, 11 rebound double-double from Tomas Butrimas, while Marius Talijunas added 11 points and seven rebounds. 

Greenwich Titans 92 v 100 Derbyshire Arrows

Saturday 20 October 2018 - 3.00pm
An offensive showcase took place at Thomas Tallis School on Saturday afternoon, as a high scoring contest went the way of Coach Jonny Kelly's Derbyshire Arrows side. The Titans came out of the blocks well, as Derbyshire trailed early on, with the home side building a lead that got up to 17 points in the second period. The visitors were able to trim the lead to seven at the half, before they exploded in the third quarter to take it 14-31, giving them a commanding lead that they would not relinquish. The result saw Derbyshire and Greenwich even out their records at 1-1, as the even and congested NBL Division Two standings are still to show any real form.
Jake Murphy had 21 points to lead Greenwich, while Ray Akpofure and Jack Green chipped in 20 points apiece. Meanwhile, Arrows' guard Przemyslaw Milak exploded for 32 points on 12-17 shooting, while also adding six rebounds. Joseph Baugh added 20 points and five rebounds, while there was a double-double performance from Matt Wilson who contributed 14 points and 10 rebounds. George Brownell and Callum McKenzie each added 13 to complete the high-scoring effort for Derbyshire.

Sussex Bears 74 v 77 Liverpool

Saturday 20 October 2018 - 5.00pm
Liverpool nearly threw this one away, in a game that came right down the wire on the south coast. The visitors from Merseyside would lead for the majority of the contest, after a strong first quarter settled them into the game. However, the Bears wouldn't go down without a fight, a they came back from a 12 point third quarter deficit to tie it before the final stanza. Sussex even led in the final period, before clutch play from Coach Delme Herriman's side got the job done. Back-to-back buckets from Mark Rangeley and Tyme Regent-Bascombe levelled the scores at 70-70 with just over two minutes to play, before Rangeley broke the deadlock to give Liverpool the lead. David Ulph and Joe Carter would trade baskets down the stretch, as the Bears trailed 72-76 heading into the final 30 seconds. Jasper Chiwuzie had the final score for Sussex, before Rangeley held his nerve at the line to split his free throws then pick up a vital steal on the final possession. 
Liverpool improve to 2-0 with the victory, as one of the only undefeated teams left in NBL Division Two alongside North West rivals Myerscough College who are 1-0 after their first league game this weekend. Sussex even out their record at 1-1 to sit mid-table.
Rangeley led Liverpool with a 25 point and five rebound effort off the bench, as David Ulph paced the starting unit with 21 points and seven rebounds. Jack Hudson added 13 points and nine assists, while Kehinde Ogunneye chipped in 10 points. Cordaris Townes had 22 points, nine rebounds and four assists to lead the Bears, as Joe Carter added 18 points and seven assists off the bench.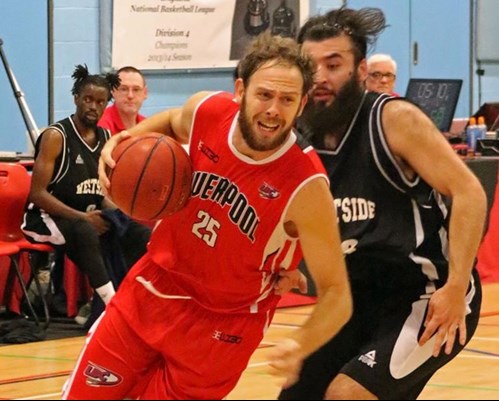 Mark Rangeley was effective down the stretch as Liverpool grabbed the win - Liverpool Basketball Club
London Greenhouse Pioneers 62 v 63 Myerscough College

Sunday 21 October 2018 - 1.30pm
Sunday's NBL Division Two action got going with a bang as Myerscough College's trip to the capital was a successful one as they took home a single point victory. The North West side would trail early on, as the Pioneers jumped out to an 11 point lead in the first stanza. An improved second quarter performance from Myerscough saw them take a lead of their own into the half-time interval, as the home side now trailed by a point. The game would then be balanced on a knife edge throughout the second half, with neither team giving an inch. Myerscough took the lead 56-59 with five minutes to play behind back-to-back baskets from Mate Okros, before Lewis McGlasson and Okros again added to the lead. The Pioneers trailed 56-63 with three minutes to play, and they made a real run at the game as Max Hufschlag held his nerve at the line, before Teni Mango converted a four-point play to trail by just one point. Myerscough would smartly run the clock out and take the spoils back to Lancashire. 
The win for Myerscough sees them hold a 1-0 record to start their campaign in NBL Division Two, while London Greenhouse Pioneers sit bottom of the standings with their 0-1 record. Hufschlag was impressive in the loss for Coach Predrag Krneta's side, pouring in 31 points and grabbing 16 rebounds. The only other double figure scorer for the Pioneers was Kyle Diaz, who added 10 points and three rebounds. Meanwhile, Myerscough were led by 17 points from Mate Okros, while Sanmi Fajana added 14 points and three rebounds. 

East London All Stars 79 v 70 Ipswich

Sunday 21 October 2018 - 1.30pm
Wrapping up the weekend's NBL Division Two action saw a travelling Ipswich side threaten early on against East London All Stars, before the hosts kept their composure to pull away in the second half to grab their second win of the early season. The home side built a 10 point lead by the time the teams entered the changing rooms for the half-time break, but Ipswich would cut the deficit to three points in the fourth, before the All Stars pulled away at the last, as Jonathan James scored 11 of his team's final 13 points to control proceedings down the stretch. East London now side atop the NBL Division Two standings, with a solid 2-1 record, while Ipswich sit 0-2 - wondering where their good early form in the Patrons Cup has gone.
In addition to his late scoring run, James was effective throughout as he led all scorers with 28 points on 9-16 shooting, while adding nine rebounds and three assists. Kyle Gouveia added 15 points and five rebounds, while Mark Manovan added 13 points as a spark off the bench. Ipswich were led by 21 points and five rebounds from Eivydas Aleksa, while Veron Eze chipped in 15 points and four rebounds. 
WNBL Division Two
The WNBL Division Two North regular season got underway this weekend, highlighted by two exciting opening fixtures. An intriguing North West derby saw Myerscough College make the short trip down the M61 to Bury to face Lancashire Spinners, as the visitors took home the spoils. A close contest throughout saw Myerscough lean on the exploits of Kyra Smith, who led all scorers with 26 points, en route to a 55-68 win for her side. 
Meanwhile, Derby Trailblazers' newly entered women's team also saw their first action of the NBL season as they faced a trip down to to Worcester Wolves. An extremely exciting start to the season for both teams came right down to the wire, as the travelling Blazers were able to grab a single point victory, 65-66. Alex Haley led the charge for the road team with 20 points, supported by 15 points from Darcie Ashley. 
"This was the team I see week in week out," exclaimed delighted Trailblazers' Coach Leanne Chandler. "We played how I know we can play and I couldn't be happier with the contrast from last week. We defined the word "team" in this game as every single player gave something. We hustled, we played smart and we worked hard for each other."