National Trophy

 Barking Abbey Crusaders 72 v 99 Worthing Thunder 

Saturday 22 September 2018 – 5.00pm
Worthing Thunder got their 2018/19 campaign off to a winning start as they defeated Barking Abbey Crusaders down at Brompton Academy. With Worthing recruiting one of the stronger rosters in NBL Division One this season, it was always going to be a tough battle for the young Barking Abbey squad.
The Thunder led from tip to buzzer, quickly stretching out to a double-digit lead that they only relinquished momentarily in the second period. A commanding fourth quarter performance very quickly put the game out of reach for the South coast side to head home with the victory. The home side were led by 15 apiece from guards Ade Adebayo and Robin Bedford, as Adebayo added four rebounds and two steals, while Bedford also chipped in five rebounds and two assists. The front-court pairing of Jonathan St Hilare and Theo Hughes joined them in double figures, with near identical stat-lines as they both contributed 11 points, six rebounds and two assists, with St Hilare knocking down three triples.
Worthing's big time back-court was on form in their first outing together, as Nick Lewis exploded for an efficient 32 points on 66% shooting, while converting all his trips to the foul line. Lewis also added five rebounds and three assists to his impressive scoring effort. Alex Owumi also impressed in his first outing in Thunder colours, with a double-double of 24 points and 11 rebounds, knocking down five three-pointers at a 41% clip. Returning guard Zaire Taylor was all over the box score as has become the norm, contributing 21 points , 11 rebounds, six assists and five steals.

 Manchester Magic 74 v 78 Team Newcastle (OT) 

Saturday 22 September 2018 – 6.30pm
Fans at the Manchester Basketball Centre were treated to bonus basketball on Saturday evening, as nothing could separate these two sides in regulation. The young Magic squad were extremely close to clinching their first win as a group, limiting Newcastle to just six points in the first quarter and then leading for much of the contest; but it wasn't to be as the visitors snatched the game away in the extra period.
It looked like the travelling Team Newcastle had settled it in regulation when Onyekachi Nzerem's lay-up gave them a 63-65 lead with 39 seconds to play, but the Magic came down the other end and tied it up via a close range shot from US import big man Jonathan Barnes, leaving Newcastle with the final possession. Ben Seipt couldn't get his look to drop which saw the game go an extra five minutes. A back-and-forth overtime period went the visitors way after Manchester couldn't quite get the looks they wanted on the offensive end, while clinical play from Nzerem, Seipt and guard Eric Stafford gave the North East side control of the match-up.
Magic forward, and team captain, Daniel Pilkington put in a good performance for the home side as he contributed 17 points, six rebounds, three assists and two steals. Pilkington was backed up on the inside by back-up centre Richard Bell who joined him in double-digits, scoring 11 points while adding three rebounds and two blocks. The only other double figure scoring for Manchester was point guard Kaphel Ulett-Waul, whose 11 points and four rebounds kept the scoreboard ticking over from the back-court. Newcastle did a good job of limiting Magic guard Josh Houghton, whose only field goal of the game came in overtime. Houghton found ways to be effective as a facilitator however, contributing six assists on the night.
Team Newcastle had four players score in double digits in their winning effort, led by a dynamic one-two punch from Eric Stafford and Tosan Evbuomwan. Stafford, Newcastle's US import guard, was the danger man all night for the visitors as he played the entire 45 minute contest, leading all scorers with 26 points on 45% shooting. Stafford also added eight assists to complete his stellar performance. On his first outing with Team Newcastle, Great Britain junior international Evbuomwan was also a critical component in the travelling side's victory, finishing with a 23-point, 10-rebound double on 88% shooting. Nzerem and Seipt joined them in double figures, both grabbing 10 rebounds while adding 13 and 12 points, respectively.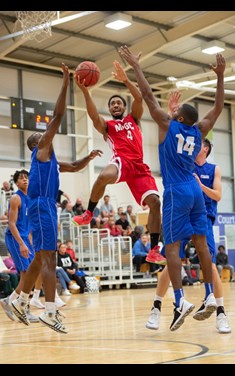 Kaphel Ulett-Waul relentlessly attacking the basket for Manchester - James Darcey

 Hemel Storm 100 v 99 Thames Valley Cavaliers 

Saturday 22 September 2018 – 7.00pm
NBL Division One newcomers Thames Valley Cavaliers pushed reigning National Cup champions Hemel Storm all the way on Saturday evening, as Hemel needed every single one of their triple digit point tally to get the job done. The travelling Cavaliers jumped out to an early lead as they took the first quarter 23-28 to rattle the home side a little. Coach Robert Youngblood did a good job re-focusing his side as they came out firing in the second quarter to score 33 points to the Cavs 21, taking a seven point lead into the dressing room at the half. Thames Valley narrowly got the better of Hemel in each of the third and fourth quarters, but couldn't quite get over the line as the Storm clinched the contest by a single point in front of the Storm Troopers.
The visitors were led by a 27-point outing from Andre Baptiste, while reigning NBL Division Two MVP Martelle McLemore added 24. Elliott Defreitas chipped in 18 points on the night. Meanwhile, it was captain Bode Adeluola who led by example for the home side, instrumental in the win by dropping a huge 36 points. Adeluola was backed up by his back-court running mates Levi Noel and Blayne Freckleton who added 16 and 11 points, respectively, while big man Leome Francis added 16 points including a monster jam on the break. 

 Derby Trailblazers 82 v 85 Nottingham McDonald's Hoods 

Saturday 22 September 2018 – 7.15pm
Nottingham McDonald's Hoods got their campaign in the top flight off to a good start on Saturday, as they made the short trip to East Midlands rivals Derby Trailblazers to open up the National Trophy pool stage. The home side got the better of the Division One newcomers in the early stages, jumping out to a 28-14 lead after the first stanza. The visitors quickly responded, and worked away at trimming the Blazers lead  to draw level as the teams headed into the half-time interval. There was very little to separate the teams on the night, as the final score suggests, and again a tied third quarter meant the final 10 minutes would decide this one. 
Heading into the final two minutes of play, Luke Mitchell stole the ball and was fouled on the break; the former England international headed to the line and knocked down both free throws to give the visitors a 78-82 lead. A scoreless minute and a half followed as both teams struggled to convert, but Derby captain Oli Stanley broke the stalemate with a lay-up to bring his team to within two points with 28 seconds remaining. A critical turnover from Kayne King was stolen and converted at the other end by Delaney Powell, to give the Hoods a 80-84 lead. Needing a big play, the Blazers put the ball in Tre-Shawn Wilford's hands, who promptly knocked down a triple to put his team within one. The home side quickly sent Mitchell back to the foul-line, but he could only convert one of two, leaving the score at 83-85 and giving Derby 14 seconds left with a chance to win or send it to overtime. Nottingham had a foul to give and smartly stopped the play by fouling King on the floor. Derby then had a look to send it to overtime, but Kayne King's lay-up rimmed out at the buzzer. 
The Blazers were led by 21 points from Matt Ward-Hibbert, as he added six rebounds and two assists. New recruit Wilford will surely be a crowd-pleaser this season at the Clarence Wiggins Sports Centre, as his late game triple was a part of a 20-point, 14-rebound effort. The only other Derby player in double figures was captain Oli Stanley, who chipped in a double-double performance of 15 points and 11 rebounds. Kayne King struggled from the field in this one, going 0-9, but went perfect at the foul-line and contributed six assists.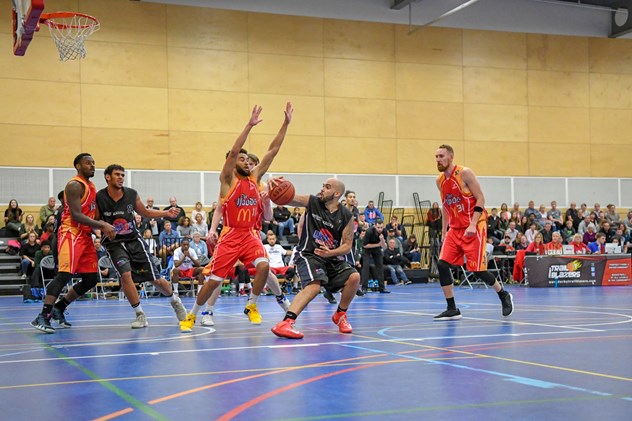 Matt Ward-Hibbert fakes his way into the lane for the Blazers - Alan Mousley
The Hoods' Delaney Powell return to the side will be welcomed as he poured in 24 points, including four three-pointers, while adding four rebounds. David 'Tintin' Watts will again be a fan favourite for Nottingham; a double-double performance of 20 points and 11 rebounds was his effort in this one. Aaron Maher added 11 points in limited minutes, while Tom Ballentine was just shy of a double-double as he added 10 points and nine rebounds.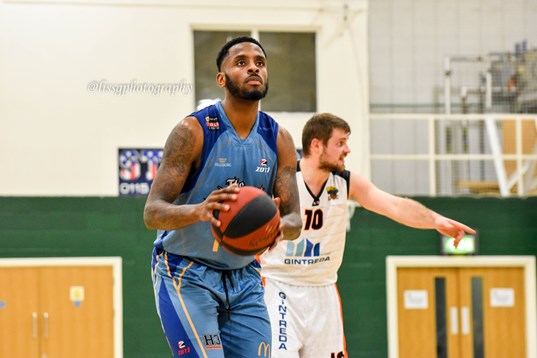 Top scorer Delaney Powell at the foul-line for the Hoods - lissgphotography
Trailblazers coach Matt Shaw had this to say after the game, "It's never nice to lose a game, but I felt there were plenty of positives to take from it. It was pleasing to see how Charlie [Brown] and Blake [Bowman] handled their first game at this level. I thought they both did very well and showed composure beyond their years." Shaw continued, "It was a great crowd too and hopefully they've seen enough to keep them coming back. It was certainly heart breaking stuff at the end and I just wish we could have got over the line. Unfortunately, we made some poor turnovers at crucial moments and that cost us. However, I really liked the way we battled and I think we will improve a lot in the coming weeks."

 Leicester Warriors v Loughborough Riders 

Saturday 22 September 2018 – 3.00pm (Abandoned)
Unfortunately, the match-up between these two East Midlands rivals wasn't able to be completed due to facility issues, so will be replayed at a later date. 
Patrons Cup

 Greenwich Titans 52 v 77 Sussex Bears 

Saturday 22 September 2018 – 3.00pm
Greenwich Titans had a tough day at the office in their first outing as an NBL Division Two side, with the travelling Sussex Bears taking the spoils in the first Patrons Cup game of the campaign. The Titans seemed to be settling into the game early on, as they held a narrow lead at the end of the first period. After a team-talk from player/coach James Brame, the Bears came out focused on defense in the second quarter, holding the home side to just three points in the quarter. This staunch defensive effort gave the visitors a double-digit lead at the half-time break, a lead that they would never relinquish. A commanding final period from the South coast squad saw them extend their lead and put the game to bed. 
Greenwich were led by Nicholas Fearson, who came off the bench to contribute 14 points for his team. The only other Titan to join Fearson in double figures was Jake Murphy, as he chipped in 10 points, three rebounds and a block. Meanwhile, there was a 32 point explosion for the Bears' Jack Sunderland, as he went five-from-seven from behind the arc. Joe Carter played a full 40 minutes and made the most of his court time, adding 17 points, four rebounds and two assists to effectively back up Sunderland. Joining Sunderland and Carter in double figures were James Felstead and Tomas Seduikis, who added 11 and 10 points, respectively. 

 London United 82 v 85 Westminster Warriors 

Saturday 22 September 2018 – 4.00pm
Live Stats (N.B. team lists entered the wrong way around)
In the first action for London United at NBL Division Two level, following their merger with Middlesex LTBC, the Patrons Cup pool stages saw the first of many London derbies take place at Alec Reed Academy. Their visitors were reigning Patrons Cup champions Westminster Warriors. The home side held a narrow lead throughout the first half, but Westminster managed to edge ahead, taking a one point lead into the half-time interval. An early challenge out of the break from United saw them take the lead in the third, but Westminster took control again and were never caught, despite the close scoreline. 
A late run of United scores from Modestas Krasauskas, Afra Khalil and Marius Talijunas weren't enough to give them the edge, as a clutch and-one play from Warriors' player/coach Jon Johnson clinched the victory for the visiting side. Johnson was clinical throughout the contest, leading all scorers with 26 points on 75% shooting from the field. Johnathan Lashley supported his play-caller with a 23-point, eight-rebound effort. United were led by 22 points from Krasauskas, while Khalil added 15 points and six assists. 

 Derbyshire Arrows 72 v 98 Ipswich 

Saturday 22 September 2018 – 4.30pm
As two clubs with very even records when the 2017/18 campaign came to a close, it looked like this first game of the season might have been a very tight affair. However, an excellent second half offensive display from the visitors made sure this wasn't the case as they easily ran out as winners in this one. An even start to the game saw the home side take a narrow lead into the first break, but this was where the offensive firepower from the Suffolk side started to show, dropping 29 points in the quarter to tie the game up at the half. An impressive defensive effort from Ipswich in the third limited the Arrows to just 11 points; from that point the home side never challenged, allowing Ipswich to build their lead considerably. 
A stand-out performer from a season ago, Joseph Baugh led his Derbyshire side with 18 points and nine rebounds, while George Brownell added 14 points and four rebounds. Also into double figures for the Arrows was Przemyslaw Milak, as he chipped in 12 points on 62% shooting. Meanwhile, the visitors were led by captain Colin Dockrell who contributed 22 points, including four three-pointers, and six rebounds. Cameron Hawes matched his skippers stat-line, also chipping in 22 points and six rebounds off the bench, while adding four steals. Young forward Ethan Price was also crucial in the win, adding 21 points despite a tough afternoon from behind the arc. 
Around the NBL
Men's National Cup
Team Derby Spartans got their cup campaign underway with a 87-106 victory against Birmingham Mets, behind 39 point performance from Mical-Ryan Boyd. The Spartans will host Essex Leopards in the next round. 
National Shield
Also progressing in knockout competition action on Saturday were Bristol Hurricanes, who defeated Huish Taunton Tigers, and Dorset Storm, defeating Surrey Rams at home. Sunday saw plenty more Shield match-ups take place, highlighted by Southwark Pride progressing against Barking Abbey, as Louis Norton-Cuffy dropped 26 points.