NBL Division One

Barking Abbey Crusaders 57 v 79 Team Solent Kestrels

Saturday 13 October 2018 - 1.15pm
Team Solent Kestrels improved to 2-0 in NBL Division One by going on the road and picking up a victory over Barking Abbey Crusaders on Saturday afternoon. Both teams were ice cold from behind the three-point arc, as this one was decided in the paint. The game would flow back-and-forth, with the two sides trading leads throughout the first half. Barking would hold a narrow lead until as late as early in the fourth quarter, but Coach Matt Guymon's side pulled off a massive final period to clinch the victory. Outscoring the home side 9-34 in the quarter, the Kestrels left it late but took home an impressive victory. 
Ade Adebayo couldn't quite repeat his scoring outburst from a week ago, as Barking were led by his back-court running mate Robin Bedford who had 12 points and four rebounds. It was a balanced scoring attack from the Crusaders, as Theo Hughes and Jonathan Brown added nine points apiece, supported by eight points apiece from Adebayo and Nathaniel Powell. Meanwhile, the visitors were led by 29 points from Herm Senor II, backing up his late-game heroics last weekend with another solid performance. Senor II added seven assists and six steals to his scoring outburst. Elliott Dadds was a monster on the boards for Solent as he pulled down 13 rebounds to go with 26 points, while adding three assists and two steals. 

Loughborough Riders 82 v 88 Bradford Dragons (OT) 
Saturday 13 October 2018 - 6.00pm
Bradford Dragons went on the road and picked up a crucial overtime win on Saturday night, as their strong early form continued in this matchup against the reigning league champions. The visiting Dragons would lead early, behind contributions from Ricky Fetske and Rihards Sulcs. However, the Riders weren't ready to back down, storming back to hold an 11-point lead at the half after a 28-point second quarter.
Coach Chris Mellor's side chipped away at the lead in the third period, before the Riders extended their lead back out to nine points, 75-66 with four minutes to play with a Kyle Jimenez triple. However, all the scoring down the stretch was from the visitors, as a Giannis Panaretakis free throw would be their only points in the final four minutes of play. Joaquin Calvo hit a big triple to send the game to overtime as Bradford maintained their momentum right through to the buzzer to end regulation. The overtime period was all Bradford, as they got contributions from up and down their roster, including five points in the extra period from big man Allie Fullah. 
Panaretakis led his side in the loss with 19 points and three assists, while Charnwood College big man Hosana Kitenge had 17 points, nine rebounds and three assists. The Dragons were had a balanced attack, with Sulcs leading the way with 19 points, 11 rebounds and five steals, while Drexler Clark added 18 points and six assists. Fetske chipped in 17 points and 13 rebounds, with further support coming from a 16 point, six rebound and five steal effort from Andreas Lycoudis. 

Thames Valley Cavaliers 86 v 82 Hemel Storm

Saturday 13 October 2018 - 6.00pm
Hemel Storm dropped to 0-2 this weekend with a road loss at Uxbridge College, as the Thames Valley Cavaliers took this one to improve to 1-1 on the season. The Cavs would come out hot early, winning the first quarter 29-19, however, a good second period from Coach Robert Youngblood's side got them back into the contest, trimming the Cavalier lead to just two points at the half time break. The second half would be a tight affair, but the home side were able to get the scores and stops they needed down the stretch to pull out a narrow four point victory in front of their fans. 
Hemel captain Bode Adeluola led all scorers on the night with 20 points, while Blayne Freckleton added 19. Will Ashby also chipped in a double-digit performance for the visitors, as he added 14 points. Thames Valley had multiple players hit double figures, led by 19 points from Martelle McLemore. Prince Lartey added 17 points and was supported by 12 points apiece from Elliott Defreitas, Teejay Amu and Abdoulaye Sylla. 
Coach Youngblood reflected on the loss, saying "We know we have to finish at the basket better in open play than we did on Saturday, and although I was pleased with how well we drew fouls and got to the free-throw line, overall we made only 52 percent which is just not good enough at this level."
Essex Leopards 83 v 101 Nottingham McDonald's Hoods

Saturday 13 October 2018 - 6.00pm
Nottingham McDonald's Hoods led for the majority of the contest as they picked up an impressive road win against Essex Leopards at the Essex Sport Arena. Jumping out to an early double digit lead, the Hoods led by as much as 22 points in the third quarter, but the Leopards fought back to cut the lead to six with five minutes to play, before the visitors rallied to take home the 18 point win. 
The visiting Hoods were without key piece David Watts, who remains out of action with injury, as they were led by 18 points from Delaney Powell, who added six rebounds and four assists. Cole Welle continued his solid start to the campaign with a 16 point, 10 rebound double-double, while Eddie Brownell and Kieran Wright added 13 points apiece. Leopards big man Lee Hodges led all scorers with 20 points and 12 rebounds, supported by 17 points and three rebounds off the bench from Alejandri Batista.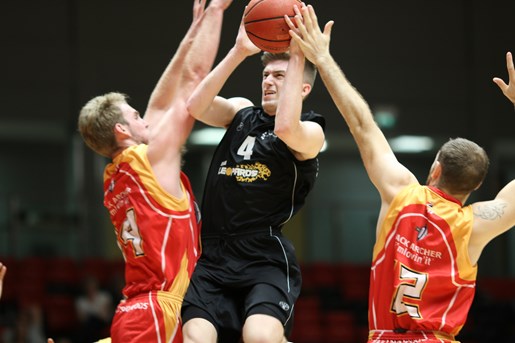 Sam Newman attacking the basket for Essex Leopards - Nick Winter

Worthing Thunder 86 v 79 Reading Rockets

Saturday 13 October 2018 - 7.30pm
The final game of NBL Division One action saw Worthing Thunder continue their hot start and improve to 2-0 in league play. Worthing won three of the four quarters on their way to a narrow, important victory on their home floor, but the route to the win was not made easy by Coach Alan Keane's side. Reading would hold a 10 point led midway through the third period, as a good start to the second half for the visitors had the Thunder reeling. Player-coach Josh Goddard's squad regained their composure down the stretch, tying the game at the end of the third and putting together a solid fourth quarter performance to take home the spoils. The Thunder held their nerve to close out the game, as their final nine points of the contest came from the foul line, with the Rockets having to foul to stay in the game. 
Trae Pemberton led the visiting Rockets with 21 points, 10 rebounds and five assists, backed up by 19 points from AJ Carr, who also added nine rebounds. Rockets' captain Danny Carter was also in good form, as he came away with a 13 point, 11 rebound double-double, while adding five assists. Meanwhile, the victorious Thunder were led by 22 points apiece from Alex Owumi and Zaire Taylor, as the latter added nine rebounds, four assists and six steals. Worthing captain Brendan Okoronkwo also chipped in 18 points and seven rebounds.
Coach Keane is already looking ahead to the Rockets' next outing, "We eagerly await the Hemel game next Sunday simply because it's the next game on the schedule. Some may see it as a must-win Trophy game to advance, however we will approach it as we do every game, which is to commit to every decision we make on the court and learn from the outcome.
"We have come off two difficult losses recently but both games we left feeling we need to be better in areas we can control. That is our success criteria for this next upcoming game," Coach Keane added. 
WNBL Division One

Ipswich 66 v 83 Bristol Academy Flyers

Saturday 13 October 2018 - 3.00pm
The team to finally end Ipswich's historic unbeaten run, that spanned two seasons, was the Bristol Academy Flyers who were victorious at Copleston Sports Centre on Saturday afternoon. The home side never led in a contest that Bristol controlled from start to finish, weathering runs from the Suffolk-based side and maintaining a composed performance. The Bristol lead would grow to 14 points at the half time break, then a more balanced third quarter would be followed by the Flyers turning the screw down the stretch to run away with the game.
Harriet Welham continued her impressive start to the WNBL season with 20 points, seven rebounds and five steals in the loss, while Ipswich were led by 22 points from Danielle Cazey. Bristol's winning performance was spurred on by 18 points and nine rebounds off the bench from Fiona Fox, while Cristina Bigica also added a 17 point, 10 rebound double-double. Liisa Juul joined Fox and Bigica in double figures, as the Flyers' guard contributed 15 points to go along with her six rebounds.

Loughborough Riders 84 v 39 Oxford Brookes University 

Saturday 13 October 2018 - 3.00pm
The Loughborough Riders were impressive in their home opener as they improved to 2-0 in WNBL Division One, behind a lopsided victory over Oxford Brookes University. Despite the final scoreline, Oxford showed they were competitive early on, only dropping the first period by four points and being within touching distance at the half. However, Coach Krumesh Patel's squad came out refocused after the half time interval, pulling off a 29-7 quarter that will have left OBU reeling. Holly Wright played a big part in the scoring burst in the third quarter, as the Riders pulled away for a commanding victory. 
Balanced minutes for the hosts saw a balanced scoring spread, Lauren France led her side with 15 points and four rebounds. The only Riders player to join France in double figures was Wright, who had 14 point, 11 rebound double-double, while adding four assists and four steals. Holly Davies and Imogen Cook also chipped in nine points apiece in support. On the other side of the ball, Coach Zach Meekings squad were led by 11 points apiece from Marta Artiles Perez and Alba Maria Cedillo, as Artiles Perez also added four rebounds and six steals to her scoring effort. 

Reading Rockets 73 v 84 Anglia Ruskin University

Saturday 13 October 2018 - 5.30pm
Reigning WNBL Division One playoff champions Anglia Ruskin University opened their season on Saturday after taking the first two weeks to observe their competition. The Rhinos were able carried forward the form from their impressive second half of last season as they took the win in this one, behind a strong second quarter performance. A close game throughout saw the Rhinos pull away at the half time break to lead by six, but they still needed strong play down the stretch to get this one done. A 28-point quarter in the fourth did just the trick, as Anglia Ruskin start the season 1-0, while Reading fall to 1-1. 
Reigning WNBL Division One playoff final MVP Katrin Hulme was impressive on the day, as she led all scorers with 26 points, while Najha Treadwell added 16 and Jazmin Gyulai and Nadege Talva chipped in 12 points apiece. Monica Herranz De Antonio was impressive for the home side as she poured in 25 points, while John Madejski Academy guard Carmen Segura Moreno added 13 points. 

Sevenoaks Suns II 54 v 47 Barking Abbey

Saturday 13 October 2018 - 6.00pm
Sevenoaks Suns II would see off an early scare from Barking Abbey as they held on for a their first win of the early season. With the visiting East London squad leading for much of the first half, it took a an impressive defensive effort in the second quarter for the Suns to take their first meaningful lead of the contest as the game headed into the half time break. Coach James Hussein's side would then build a double-digit lead, before holding off a late run from Barking to take the victory.
In a game that saw lots of young British talent on display, Olivia Partridge led all scorers with 22 points. She would be backed up by 10 points and two rebounds from Ellie Hutchinson, the only other double figure scorer in a tight defensive affair. Jolicia Cadogan led her side with 17 points, seven rebounds and three steals, while former Essex Blades' forward Karla Powlesland was crucial to the Barking attack as she added 14 points and six rebounds.

Team Birmingham Elite 76 v 81 Team Solent Kestrels 

Sunday 14 October 2018 - 6.00pm
A high-tempo contest at The Factory on Sunday evening wrapped up the WNBL Division One weekend, as Team Solent Kestrels led from tip to buzzer, despite plenty of challenges from their hosts. The Kestrels' lead would peak at 17 points in the third quarter, but Team Birmingham rallied late to force the visitors to work hard to close out the game. A crucial factor that led to the travelling side taking home the spoils in this one was the struggles Elite had with looking after the ball, as their 24 turnovers for the game paints a bleak picture. The Solent win sees them improve to 2-1 on the early season, while Birmingham fall to 1-2. 
A scoring explosion from Team Birmingham guard Rebecca Brindley led all scorers as she poured in 34 points, on 65% shooting from the field. Brindley would also add nine rebounds, five assists and two steals in an all-round effort in the loss. She was joined in double figures by Jessica Cooper who added 14 points, as Lucy Buxton chipped in 13. Kestrels' Geena Gomez wasn't far behind Brindley's scoring effort, as she dropped 32 points of her own in the contest, while adding six rebounds and two assists. Gomez would be supported by three other double figure scorers as Krisztina Velkey (12 points), Earleesha Jackson (11 points) and Andrea Kurkowski (10 points) all had crucial contributions. 
Coach CJ Lee reflected after the game, "We played some excellent basketball in the first quarter and that was the difference in a game where both teams showed-up to play. However, equally important was our ability to close-out a game where the opposition finds its feet and momentum in the second-half. It's clear that some opponents bring out the best in certain players. [Rebecca] Brindley has been relatively quiet in the first couple of games this season, but she always comes to play when the Kestrels are in town."
Coach Lee continued, "Today was a really positive step in our overall development as a team, so I'm pleased with the manner in which we secured the win."
NBL Division Two

Derbyshire Arrows 66 v 98 East London All Stars

Saturday 13 October 2018 - 2.00pm
East London All Stars would pull off an impressive road win on Saturday afternoon, behind a high tempo effort that saw them score 86 points through the final three quarters. A cagey start saw the teams evenly matched, as the Arrows took the first period 15-12. However, the Arrows would not remain in the lead for much longer, as the All Stars sparked a run midway through the second period that quickly gave them a double-digit lead that they would not relinquish. A relentless fourth quarter performance saw the London side run away with the game, pouring in 30 points in the final stanza. 
The Arrows would be led in the loss by a monster 31 point performance from forward Joseph Baugh. Baugh also added 13 rebounds and two steals to his scoring effort, but did not receive much help. Przemyslaw Milak was the only other double-digit scorer for the home side, as he chipped in 13 points, while adding two assists. Mohamoud Mohamed was clinical off the bench for the All Stars, as he shot 13-15 en route to 26 points, while also adding seven rebounds and four steals. Kyle Gouveia and Tyler Johnson added 17 points apiece, as Gouveia also pulled down 16 rebounds. 

Ipswich 71 v 86 Sussex Bears 

Saturday 13 October 2018 - 5.30pm
A strong start to the season in Patrons Cup action by Ipswich was undone on Saturday night in their league season opener, as Sussex Bears came to town and returned back to the south coast with an important victory. Aside from a run from Ipswich to start the second period, the visitors led for the entirety of the contest, gradually building a commanding double figure lead that would not be challenged. The Bears managed to look after the ball throughout the contest, committing just 12 turnovers to the home side's 20 miscues. 
Ipswich were without point guard Ben Winter who had picked up a knock in midweek EABL action for Copleston, but fellow academy stand-out Veron Eze stepped up to score 19 points to lead his side. Eze added nine rebounds and three assists to his scoring effort, supported by three further double digit scorers. Eivydas Aleksa, Ethan Price and Colin Dockrell all added 12 points in the loss, as Price was also a beast on the glass as he pulled down 15 rebounds. Leading all scorers and pacing the Bears' win was new signing for Sussex, Cordaris Townes. Townes stuffed the stat-sheet with 32 points, eight rebounds, five assists, three steals and seven blocks in an eye-catching stat-line. His efforts would be supported by 18 points and seven rebounds from James Felstead, while Joe Carter chipped in 14 points and eight rebounds off the bench. 

Westminster Warriors 77 v 79 Greenwich Titans

Saturday 13 October 2018 - 5.30pm
In the most exciting game of the NBL Division Two weekend, Greenwich Titans pulled off a crucial away win down the stretch, as they defeated Westminster Warriors by just two points. With Westminster having had a promising start to the season, progressing from Pool D of the Patrons Cup, the Titans have pulled off an unlikely victory in this one, a good start to their NBL Division Two league action. Titans held a narrow lead early on, up by four points at the end of the first period. A dominant second quarter performance from player-coach Jon Johnson's squad saw them jump out to a double-digit lead at the half, as their solid defensive effort limited Greenwich to just 10 points in the period. The third saw the game turned on its head as it was the Titans' turn to clamp down on the defensive end. A back-and-forth final stanza saw Greenwich edge ahead, and seal an impressive first victory in Division Two. 
Greenwich were led by 23 points from Ray Akpofure, while Jake Murphy added 21 points. Brandon Moncrieffe-Meade also chipped in 11 points in the winning Titans' performance. Jon Johnson led his Warriors side with 26 points in the loss, with Justin Hitchman adding 14. Jonathan Lashley was the only other double figure scorer in the contest as he added 11. 

Liverpool 101 v 69 London Westside

Saturday 13 October 2018 - 6.00pm
After booking their place in the Patrons Cup knockout rounds, Liverpool continued their strong early form with a routine win over London Westside on Saturday evening. The visitors would lead with the first score of the game, before the North West side took the lead and would not be challenged en route to a comfortable victory. The Merseyside squad gradually build their lead throughout the contest, as Westside were not able to challenge their strong roster, with the margin peaking at 32 points for the final scoreline. 
The league opener for Liverpool saw them led in scoring by Kehinde Ogunneye, as the forward dropped a 24 point, 10 rebound double-double. David Ulph joined his teammate with a double-double performance, having impressive numbers of 22 points, 17 rebounds and two steals. Joining Ogunneye and Ulph in double figures were Uche Umekwe and Mark Rangeley who added 15 and 12, respectively. The visitors were led by 23 points from Tyrell Isaacs on his debut, as he shot 64% from the field in an efficient scoring display. Zaid Amini came off the bench to score 14 points, while adding five rebounds and three assists, as the only other double-digit scorer for Westside.
Around the NBL
Men's National Cup
Hemel Storm got their Men's National Cup title defence off to a good start on Sunday evening, with a 107-80 victory over a travelling Ipswich side. Ipswich captain Colin Dockrell led all scorers with 28 points, but it wasn't enough as the Storm romped to victory behind 18 points from Leon Henry. Last campaign's runners-up also got their Cup run off to a solid start, as Manchester Magic picked up their first win of the NBL season with a 79-97 win on the road at Derbyshire Arrows. The Magic were able to keep Joseph Baugh quiet, as Liam Knapp led the home side in scoring with 15 points. Recent signing Richard Bell paced the Magic with 21 points, supported by a hot shooting display from Andre Gayle who added 18. 
Elsewhere in the cup, Liverpool were able to pull off an upset, as the Division Two side from the North West grabbed a 100-76 home win over Division One Derby Trailblazers, behind a 29 point outing from David Ulph. Team Solent Kestrels needed to a good second half performance to down Division Four's Bristol Hurricanes, who trailed by just four points at the half before losing the contest 79-69. Essex Leopards also survived a scare against Westminster Warriors, as a late run from Westminster nearly saw the Big Cats exit the competition, as they hung on for a 95-97 victory behind 21 points from Chuck Duru. 
Women's National Cup
The Women's National Cup also got underway on Sunday, with a number of close games providing an exciting slate of games. Cardiff City went on the road to Southampton and picked up a 58-61 win over Team Solent Kestrels II, while WNBL Division Two North side Worcester Wolves gave Barking Abbey a stern test, as the travelling East London edged the contest by just seven points. 
Ipswich began their title defence with a tricky road tie at Myerscough College, but Harriet Welham's 32 point effort got the job done, despite a 25 point outing from Myerscough's Jess McGrath. Finally, Cardiff Met Archers II were able to romp to victory in Kent, as they defeated Canterbury Christ Church Saints 38-88 behind a 30 point explosion from former England junior international Kimberley Kheing.