After an action packed and thrilling NBL season a year ago, the curtain is nearly ready for raising ahead of the 2019/20 campaign. With promotion, relegation and new recruits across the leagues, let's take a look at what is in store for the season ahead.
NBL Division One
With 14 teams once again populating the NBL's top male division, Team Newcastle University and Manchester Magic have both been relegated and replaced by newly promoted sides Liverpool and Westminster Warriors.
Regular season and playoff champions Team Solent Kestrels will no doubt be looking to repeat once again this season, though Worthing Thunder did match Solent's regular season 22-4 record before dipping to 2nd place via the head-to-head tiebreaker and losing to the Kestrels in April's Playoff Final.
Worthing Thunder captain Brendan Okoronkwo switched allegiances to the Kestrels this past off-season, a move sure to provide story lines throughout the year. The Thunder will be able to call on the services of talented young guard Cameron Hildreth though as he looks to test himself at the next level. For Solent, the retention of impressive American Travis Charles should be a big boost to their chances of repeat success.
Loughborough are no strangers to the upper reaches of D1M after topping the standings in 2017/18, they will no doubt be a factor once again this year. Thames Valley enjoyed a 4th place finish a year ago, their highest ever as a programme in the NBL. Cavs' Martelle McLemore dropped 22.8ppg last term and is sure to be key to his side's progress once again.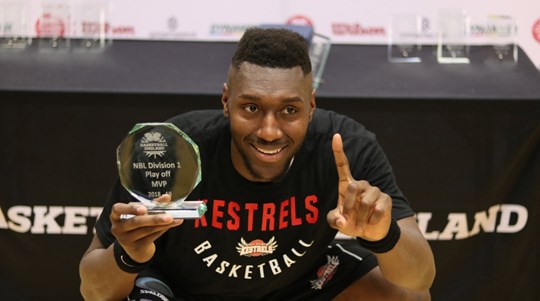 Solent's Travis Charles was voted Playoff Final MVP in 2018/19.
Derby welcome back influential captain Oliver Stanley as the Trailblazers try and better their 5th place finish from 18/19, whilst also looking to give youth a chance as Deng Camp selection Blake Bowman is set to feature heavily for the programme this year.
Reading, Essex and Leicester rounded out the playoffs a year ago and all three should do well once again. The newly re-branded Leopards will be hoping their work on the recruitment trail, including the signing of former BBLer Jorel Okoro, will help them up the standings.
The race to make the post season ended up being a close one last season as the Warriors in 8th finished just 2 points ahead of Hemel, Nottingham and Bradford, who all closed on 22 points to narrowly miss out. No doubt there will be a similar mid-table fight to enjoy in 2019/20 but who will be involved remains to be seen.
Barking Abbey struggled last year but still managed to avoid relegation as Team Newcastle ended up going down. The Crusaders will be hoping for a better start to the new campaign to banish thoughts of another season battling near the foot of the table.
Newly promoted Liverpool and Westminster were the pick of D2M last season, with Liverpool going undefeated in a campaign that saw them claim regular season and playoff glory. The Warriors went 14-5 on the year before losing to the Merseyside outfit in the Playoff Final and the London side can now enjoy a return to the top flight for the first time since 2016/17.