Basketball England is proud to announce the winners of the 2019 East Midlands Region Volunteer Awards.
The annual volunteer awards programme has gathered public nominations across the 10 English Regions, with winners selected in partnership with the Regional Management Committee Chairs.
Amongst the winners are Siobhan Prior (Inspiring Female) who having won Silver at the Commonwealth Games 2018 has taken it upon herself to get more women involved in basketball, with her club having taken on 25 new female players as a result of her influence. Alan Mousley (Media/Photographer of the Year) has also been recognised for his support with Derby's Trailblazers as a volunteer photographer for the last 10 years. His meticulous attention to detail is unrivalled and he spends hours capturing, enhancing and editing his photos before they are used on the Derby Trailblazer website and social media outlets.
Also recognised is Russell Smith (Teacher of The Year), who's school teams were county champions at all but one age group despite having very few club basketballers as well as topping their Jr. NBA pool. Russell has organised several courses in the Lincolnshire area and contributes greatly to the development of basketball as an LBBA committee member.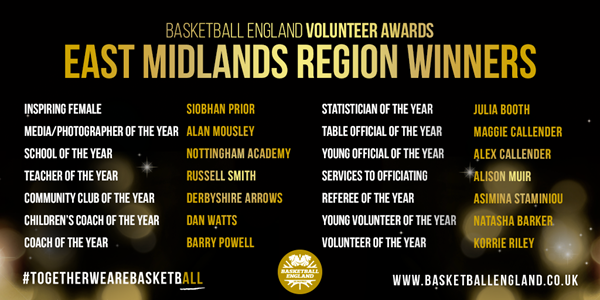 "I'd like to offer my congratulations to all of the winners in the East Midlands" said David Butler, Delivery Director for Basketball England. "Volunteers are the lifeblood of the sport, helping to provide amazing opportunities for people within the game. It is great to see the people on today's list rewarded for their efforts."
All of the winners in each category at regional level will be reviewed by a panel, with three nominees for each national award being invited to the Basketball England Annual Volunteer Awards Dinner which takes place on Saturday 7th September in Manchester, where the winners of the national awards will be announced and presented.