Basketball England is delighted to announce the winners of the 2019 North East Region Volunteer Awards.
The annual volunteer awards programme sees nominations gathered from the public across the 10 English Regions, with winners selected in partnership with the Regional Management Committee Chairs.
Following on from the London Region yesterday, 15 well deserving winners how now been announced from across the North East.
Amongst the winners are Dave and Vera Durance (Services to Officiating) who are both retiring from the game this year after an incredible commitment to the sport since the 1970's. As long time officials, administrators, tutors and more, the award is a worthy recognition for a duo that have helped inspire and develop so many officials over the years.
Also recognised is Jenny O'Neill (Volunteer of the Year) who's commitment and dedication to the game through South Tyneside Basketball Club has impacted so many players, as well as the local community. Despite her own full-time job as a Deputy Head Teacher, O'Neill continues to give up her time to ensure the club runs as smoothly as possible.
The full list of winners is as follows: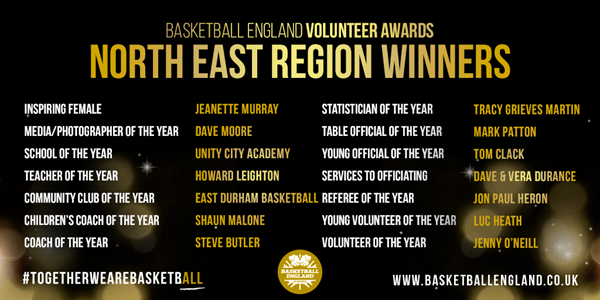 "It is fantastic to be able to recognise so many worthy winners from the North East," said David Butler, Delivery Director for Basketball England. "Basketball continues to thrive at a grassroots level thanks to the efforts of those recognised today, and I want to extend my thanks to all of them for their hard work and dedication on behalf of the sport in their region."
All of the winners in each category at regional level will be reviewed by a panel, with three nominees for each national award being invited to the Basketball England Annual Volunteer Awards Dinner which takes place on Saturday 7th September in Manchester, where the winners of the national awards will be announced and presented.
Regional award winners will be announced daily over the coming two weeks, with the South West region next up tomorrow.