Following on from yesterday's announcement of the North East's awards, Basketball England is pleased to announce the winners of the 2019 North West Region Volunteer Awards.
The annual volunteer awards programme sees nominations gathered from the public across the 10 English Regions, with winners selected in partnership with the Regional Management Committee Chairs.
Featured in the winners are Dylan Consterdine (Young Volunteer of the Year) who has been an outstanding role model for the young players he coaches. From aiding player development by organising additional training sessions at his club to volunteering at a local high school in a variety of roles, Dylan has shown immense dedication to basketball and is having a positive impact on basketball in the North West.
Also highlighted is Andrea Garland (Volunteer of the Year) who works tirelessly to provide for her National League team. Organising coaching sessions, washing kit, collecting payments and more, Andrea covers it. She even was responsible for saving a player's life at a training session, resuscitate an individual who had collapsed.
The full list of winners is as follows: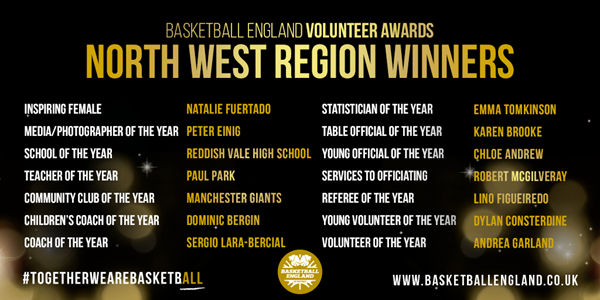 "Congratulations to all the winners selected from the North West" said David Butler, Delivery Director for Basketball England. "The region has a number of worthy recipients and they should all be proud of their contributions to the sport."
All of the winners in each category at regional level will be reviewed by a panel, with three nominees for each national award being invited to the Basketball England Annual Volunteer Awards Dinner which takes place on Saturday 7th September in Manchester, where the winners of the national awards will be announced and presented.
Regional award winners will be announced daily over the coming two weeks, with the West Midlands region next up tomorrow.