We caught up with Basketball England's Delivery Manager Brian Aldred to chat through some of the topics from yesterday's opening NBA Coaching Clinic at CitySport in London. There were three main sections to the day, covering Long Term Athlete Development, Purposeful Practice and Using a Games Based Approach to Practice.
Long Term Athlete Development (LTAD)
The morning session began with Coach Dawn Smyth taking the coaches through Basketball Canada's LTAD model, focusing on its key elements and going deep into the importance of Functional Movement Skills (FMS) across the various stages of a player's development.  Smyth and MacKay discussed the need for players to recognise the transfer of body actions from other activities and sports and how they complement basketball movements such at the swim stroke or the steps of a layup. It was thought provoking discussion and really useful for coaching at a lot of different levels of the game.
Coach MacKay gave some practical examples for coaches to use in developing a player's shoulder strength, glute activation and core muscles to separate upper and lower body movements. He also dug deep into the tendencies of young players' performing a layup, showing coaches how important the FMS of leaping is and asking coaches to observe their players more thoroughly, noting where they dribble to before picking the ball up and whether they take extended steps (leaping) to attack the basket. By encouraging players to incorporate 'leaping' into their layups we are preparing them for higher levels of play. Something that is pretty simple as a concept, but easily overlooked.
Interestingly, Basketball Canada have added an additional level into the traditional Balyi LTAD model, "Learning to win" prior to "Train to win". They recognised that their university age group needed additional support in their refinement of basketball skills within a competitive environment so that was something they have added in.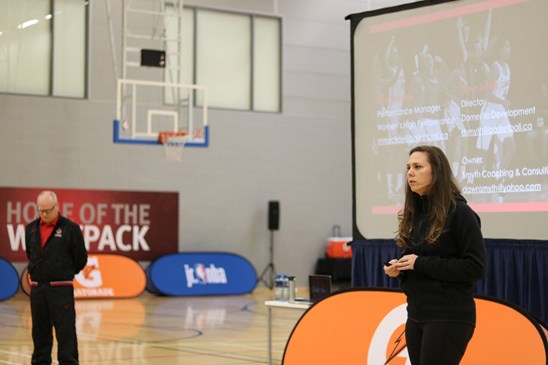 "Understanding Long Term Athlete Development is good but the key is how coaches translate this into their own programme," commented Coach Smyth. "As coaches we should have our players train and develop whilst in competitions (games/ scrimmages) and accept errors as part of player development. You need to have the end in mind, but not being too concerned with the outcome or result of a game."
PURPOSEFUL PRACTICE
Coach Smyth and Coach MacKay kicked off the afternoon by introduced a few simple coaching practices to assist with players' understanding within drills and practices to assist in the coach-player relationship, ensuing both are getting the most out of practice:
Assess the player's readiness, test it and check their preparation, building in prior knowledge will have them engaged and is a key learning mechanic.


ICE makes players responsible (accountable) for:
Intensity - What does this mean for players? How do they evidence it in a session?
Concentration – What does this look like? How will they demonstrate it to each other?
Energy - How will they work together to maintain/increase high energy levels?
Players have to hold each other responsible and demonstrate a 'leadership voice.' As coaches we need to encourage our players to challenge each other (in the correct manner) and give feedback.
ABCD debrief model:
Agree – Players agree to provide statements and communicate.
Build – Players can build on what is said and offer additional views.
Challenge – Players can challenge what is said in a constructive and respectful manner.
Depth – Can we did deeper as a group on what has been said?
TLC with your drills in practice
Drills can be split into three main areas and should be labelled as such in a coaching plan. Are your drills based on:
Teaching - Commonplace in every basketball session. Stopping a drill and correcting the learning is absolutely fine but spend too long on breaking down teaching points and you'll lose your players due to the session's stop start nature.
Learning - Involves 'coaching on the fly' allowing activity to continue whilst you as a coach inform, critique and progress the players execution in the flow of the drill. This gives players the opportunity to correct/improve certain aspects themselves.
Competition - Games based learning, but this means you need to referee.
As coaches we need to decide in our planning which heading our drill/activity falls under so we can allocate roles to our assistant coaches. Your assistants don't need to treat a drill in the same way you are treating it, sometimes it's necessary to have a mix.
LOADING - The concept of 'loading' a drill was explored and how we, as coaches, should ensure key elements become behaviours during practice. Warm ups need to be physical in nature to achieve their outcome but we can 'load' them by adding additional elements e.g. additional communication/talking, mental and social aspects. If the players (and you) don't talk in the warm up, then they probably won't talk and communicate in the rest of the session!
GAMES APPROACH IN PRACTICE
Wrapping up the clinic, the final session from Coach Smyth and Coach MacKay challenged coaches on how they can make their session engaging and fun whilst holding each other to a high standard. There are always things that need to be achieved from a session, but what can you do to make those elements more enjoyable and engaging? "You gotta hide the vegetables in the spaghetti sauce!" was one of Coach MacKay's favourites to kick off the session. That's a great way to frame the idea of how was can 'load' a drill, adding an element (physical, technical, social, tactical etc) into the activity to make it more enjoyable and potentially mask its true intention.
Coach MacKay also suggested that players must solve problems in practice, and as coaches we provide the environment and opportunities for them to solve problems both individually and as a team. Ultimately, that is what they will need to do on court during a game so working on that in practice is logical.
Another interesting take away from the session was Coach MacKay's point on coaches challenging themselves to really describe what went well or which component needs reviewing in your feedback to players after a drill, play or activity.
Finally, Coach MacKay had an interesting concept during training sessions on player rotations in drills and plays, "I don't make subs in practice. The players that play in practice will play in the game." The theory is based on who wants to play. Who is showing me that as a coach? Let the players dictate their playing time by what they show in drills and training to compete.
Finally, throughout the session it was clear how much emphasis Coach MacKay placed on focusing players' minds to communicate properly and have 'breakdown' conversations linked to ABCD points above. Understanding and communicating that understanding is key.
There are two further coaching clinics planned for this week, one tonight (Monday 14th) and tomorrow (Tuesday 15th) and we'll have more from Brian after each one to discuss everything covered.