Expression of Interest – Regional Talent Hubs
Basketball England today unveiled a major investment and partnership opportunity as expression of interest forms are now being accepted to help create a number of Regional Talent Hubs across the country. This is a new development that aims to transform basketball and provide multiple advantages to both the Talent Network as well as Universities and their students.
This opportunity comes at a time when the sport is changing across the country. Basketball is the second biggest team sport in England and has a heightened social value due to its image, reach, diversity and inclusivity. The sport engages people in a fun and enjoyable way whilst providing a platform to learn life skills and embrace personal development.
Hubs are being established by Basketball England to benefit young players that are part of the talent system alongside clubs, coaches, volunteers and others support staff in each region. They will be powered by a team of students, organised on-site by a Hub Coordinator, and further supported by one of Basketball England's Regional Talent Managers.
Basketball England's CEO Stewart Kellett said: "Clubs and education are key to underpinning our growth in participation and developing talent. Through this initiative we want to create ten thriving regional talent hubs across the country for talented young people to access support at an affordable rate and train in quality playing environments. The continued assistance of the education sector for basketball is key to our plans to nurture talent in every region, be inclusive in our approach and become a more competitive basketball nation."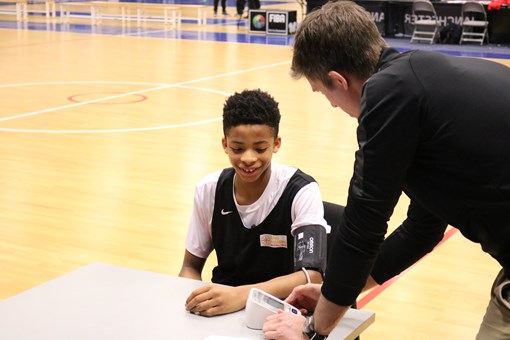 The ultimate aim of each Hub will be to provide Talent Pathway players with additional support and knowledge to aid their development. Players will be educated on topics such as nutrition, mental health and lifestyle. Club coaches and officials will also be able to capitalise on these developments as the Hubs mature and support further education programmes.
Each Hub will need to provide 200 hours of free court time, on a yearly basis, to support the Talent Pathway. This includes the Basketball England Aspire Programme as well as county and local basketball Associations that features central venue leagues.
Along with court time, each Hub is required to stage at least three basketball workshops (coaching, officiating etc.) per year and facilitate the deployment of students studying sports science courses at the University to gain experience within the Aspire Programme and club networks.
As each Hub continues to develop, they will provide their region with an invaluable base for players, clubs, coaches and talent staff to access appropriate knowledge and state of the art facilities. Alongside this, the Hubs' workforce will in turn gain valuable experience, contributing across their programmes and fuelling the next generation of Sports Science and Medicine experts across the country.
Basketball England are looking for one Hub in each of the 10 basketball regions, which are the North East, North West, Yorkshire, East Midlands, West Midlands, East, London, South East, South West and the South. Multiple Hubs may be considered in one region taking into consideration the location and travel distances. The Talent Hub accreditation will be for an initial two-year period.
If you have any questions in relation to becoming a Talent Hub, please email [email protected] or alternatively call Basketball England's Programme & Pathway Integration Manager Charlie Ford on 07890 174 054.
To formally express an interest, please download the EOI form using the button below and return it via email to [email protected] by 31st May 2019.