Following on from the successful refurbishment of Sheffield's Millhouses Park in August 2017, Basketball England is pleased to have once again worked with Sheffield City Council in renovating another popular outdoor basketball court. The courts at Duchess Road, Sheffield were officially unveiled by Councillor Mary Lea, much to the delight of a large crowd of eager local players.
Councillor Mary Lea, Cabinet Member for Culture, Parks and Leisure at Sheffield City Council, said: "We know the huge impact that physical activity has on mental and physical wellbeing and the importance of having the right facilities to encourage this, that's why we continue to invest in improving our local parks, recreation spaces and facilities.
"I'm delighted that we've once again worked in partnership with Basketball England to provide this excellent space for local people to enjoy the sport for free.
"Already we've seen an increase in users at Duchess Road and the turn out today has been fantastic. Being so close to the city centre it is accessible to the whole city and I hope we'll see more and more local people making the most of this brilliant court."   
With fully qualified coaches on hand throughout the afternoon, players of all skills and ages were able to turn up and give basketball a try or pick up a new skill or two. There were also free giveaways of Wilson merchandise as the official ball supplier to Basketball England, ensuring everyone that made it to the launch went home with a memento of the day as well a new place to play on the edge of Sheffield's city centre.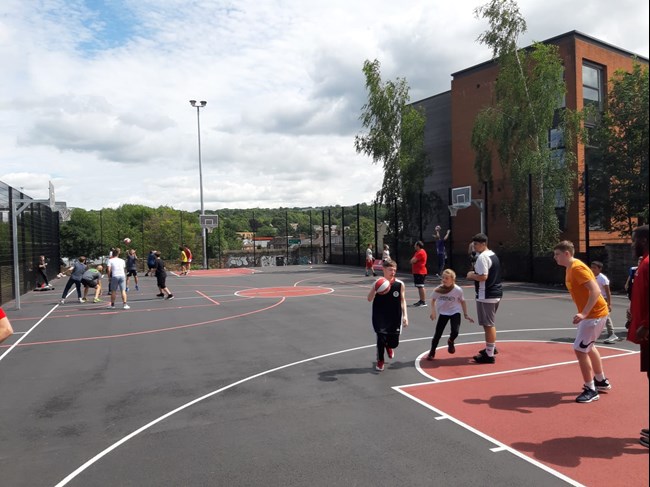 The refurbishment was driven and funded by Sheffield City Council and led by Alan Williams, the Council's Project Officer for Sport as a site that when redeveloped could provide a modern and accessible area for the local community to utilise and enjoy.
Basketball England's initial involvement with the project related to site selection, garnering support from local basketball clubs and communities to identify a suitable area to recommend to Sheffield City Council for redevelopment. Following this, additional guidance was provided with regards to surfacing, equipment, line markings and more to create as many baskets and playing opportunities as possible for the local community.
Basketball England's Senior Deliver Manager Peter Griffiths said: "It's great to see Sheffield City Council's continued investment in basketball following the success of Millhouses Park. The new basketball area at Duchess Road will be a great asset for sport in the city centre. It's only 5 minutes' walk from the train station, close to Sheffield United's Bramall Lane and easily accessible by public transport. We're delighted we could be involved and help this project achieve its goals."
Thanks to Sheffield based specialists in Multi Use Games Areas (MUGAs) and outdoor play equipment Lightmain, work to remove the existing walls and fencing could begin quickly once the project was signed off. New entrances to allow for wheelchair access were also installed before the court itself received a new surface along with line markings and a finishing coat of paint in the keys. The existing floodlights that overlook the court are scheduled to be repaired in the coming weeks so the courts can be used year round.

Due to the area's close proximity to Bramall Lane, the court is used by Sheffield United Community Foundation as an outdoor site for their basketball programme. Coach Ariel Parrucci was on hand from the Foundation to take a look at the new space and put some new players through their paces.
Parrucci said: "We've been running a session here for Sheffield United Community Foundation for a couple of years and it was a completely different court. Seeing everything that has been done, it's just so different. It's amazing and really an improvement that will attract many more players over the coming months to promote basketball."
As an additional benefit, the renovated site will be used as a pilot project between Basketball England and Sheffield Hallam University to trial new camera and phone technology to track visitors to the courts, providing data on the renovation's success and how frequently the space is being utilised in the coming months.
For more information on renovating outdoor courts or for advice on redeveloping a court near you, please use the buttons below.