The NBL, WNBL and Jnr. NBL National Cup Finals are just a few days away and the excitement is growing towards one of the season's showcase events. We've got a preview and quotes for all six of this weekend's Finals to get you in the mood before the opening tip on Saturday morning!
Jnr. NBL Under 16 Girls Final – Sevenoaks Suns v Nottingham Wildcats
As two sides with strong WBBL teams, both Nottingham and Sevenoaks would love to taste victory in the Under 16 Girls Final and enjoy further success as a programme. Nottingham currently sit 5th in the Premier North division with an even 5-5 record. Sevenoaks also occupy 5th spot in the Premier South but they're yet to lose this season at 4-0.
In their run to the Final, the Suns have blown away all in their path. With an average margin of victory of 46.75 in their four games to date, they have looked truly dominant up to this point. Nottingham's route has been far less straightforward, but their place is the Final is no less deserved. That was evident in their come from behind victory on the road against Premier South leaders Richmond in the semi-final, squeaking that one 61-59.
Sevenoaks Suns player Asha Andrews, "I'm proud of the team right now. We've played well. As a club we've made the Final multiple times, but for most of us this would be our first Cup Final so it would be a great honour to bring the Cup home for the Suns."
Nottingham Wildcats Head Coach Steven Lindsey, "It feels amazing making the National Cup Final, the team has worked really hard and have had a very competitive season, with nearly every game being decided in the last few seconds of the game.  I am happy that my players having something to show for their hard work this year, making the Final is a massive achievement. Sevenoaks are one of the strongest set ups in the country having success at every level from junior basketball to WBBL.  This is going to be our toughest game of the season but we are always competitive, always ready to play and always forcing teams to play their best basketball."
Jnr. NBL Under 16 Boys Final – Baltic Stars London v Sussex Storm
As two sides from the Premier South division, Baltic Stars and Sussex Storm are more than familiar with each other. If that proves to be an advantage to either team remains to be seen, but the bragging rights so far this season sit firmly with the Storm. Opening the season with a 64-55 home win, the Storm closed their 2018 schedule with a 96-38 victory against the Stars in late December. Sussex also took three of the four games between the two sides last season as well so the form book is against Baltic Stars here.
That said, the Stars are 9-2 this season for a reason and have enjoyed a strong run to the Final. Great wins against Premier sides Oaklands Wolves and London Thunder Lewisham in the last 2 rounds were enough to stamp the Stars' ticket to Essex. Sussex have enjoyed statement wins of their own though, knocking off the unbeaten 9-0 Premier North side Manchester Magic in the semi-finals and dispatching Premier South leaders Richmond Knights earlier in the competition.
Baltic Stars Head Coach Andrius Mazutis, "This Final is a great accomplishment for the Baltic Stars program, as well as for our region as both finalists are from the Premier South. We're facing a great team, Sussex Storm have been in many Finals before and have players who have Finals experience, but we are up for the challenge."
Sussex Storm player Max Gausden, "I can't stress how much it means for us as a team to be here, especially as back to back finalists. We work so hard week in, week out and that's why we are here. We need to make amends for the slip up we had last year and we're going to play our hearts out in the Final"
Jnr. NBL Under 18 Women's Final – Reading Rockets Academy v Charnwood College Riders
Despite their relatively central location, this is a North v South contest across the two conferences in the Women's Under 18 competition. The Rockets are 2-1 in the South after a relatively quiet 2018, though their only loss was a narrow one on the road to unbeaten leaders Southward Pride in a game that ended 67-66. The Berkshire side would have their revenge though, defeating the Pride 68-62 in December to book their place in this weekend's Final.
Charnwood have had a similar symmetry in their fortunes to date. 3-1 in league play and well placed for a charge in 2019, the Riders also defeated the unbeaten leaders of their division on their way to the National Cup Final. A home victory over Manchester Magic was a statement win for this side who will look to challenge on all fronts come season's end. Beaten National Cup finalists in each of the last 2 years, can Charnwood go one step further this season?
Reading Rockets Coach Blai Benlloch, "I am really excited and proud of my team for reaching this Final as I think they deserve to be there after showing a high level of determination and competitiveness in the first part of this season. We can't wait to play and enjoy the Final as it promises to be a very special day!"
Charnwood College Riders Coach Krumesh Patel, "We are really excited to return back to the U18 National Cup Final, this is our third year in a row. We are extremely fired up to change our fortunes and come away with the win. The girls have been in a great place coming to the end of 2018 and are hoping to continue this going into the Final, however we know Reading will be a tough test and have been playing good basketball. It's sure going to be a good challenge and something we are looking forward to."
Jnr. NBL Under 18 Men's Final – Reading Rockets Academy v Haringey Hawks
Looking for double delight on Saturday, Reading will close out the day's play against a talented Haringey Hawks side. At Under 16 level, the Hawks claimed the end of season playoff title a year ago and reached the semi-finals of the National Cup. With a 12-0 record at the summit of the Premier South division this year, it would appear that a number of the programmes' brightest lights have continued their ascent at the club and integrated well with the U18s. That will make them a very formidable opponent on Saturday evening.
Reading have already fallen to Haringey this season, going down at home 85-72 in late October, but at 6-3 in the Premier South the Rockets are still a very competitive outfit. Going 3-1 in their final four games on 2018 suggests momentum could be with the Rockets coming into this one, but will it be enough to help get them a W? We'll find out on Saturday evening!
Reading Rockets Academy Coach Ben Fisher, "To reach a National Final is always such a special achievement and we are all really proud of our guys in being able to achieve it. Haringey will be a tough opponent but if we can continue to commit to everything we do and be relentless with everything over the forty minutes then we have a great chance of success."
Haringey Hawks Head Coach Franck Batimba, "It always feels good to make such a prestigious Final.  There are some good teams in this competition.  We faced a very good one in the semi-final, a game fitting to have been the actual Final.  We played hard and won the game.  All credit to Reading for making it this far too. I have to give a big shout out to my players; I don't think people appreciate how hard they train. They work tirelessly and deserve this."
WNBL National Cup Final – Reading Rockets v Loughborough Riders
The 6-3 Loughborough Riders and the 3-4 Reading Rockets are both battling hard in WNBL Division One this season and despite the calendar passing into January, these two sides are yet to meet so far. With no direct head-to head for comparison, league form may be the best indicator for now. With Loughborough joint 2nd and Reading in joint 7th, there has been a distinct difference in the two side's fortunes so far.
However, when looking at the road to the Final for both these teams, there is a lot to be impressed by. Reading have had to play hard in every round to date, and their finest performance came in December's semi-final. A tough 58-54 road win over last season's playoff champions Anglia Ruskin showed the quality at their disposal and how tough they can be for any side in the country. Not to be outdone, Loughborough have had to knock over last year's Cup winners Ipswich before a tough semi-final of their own. Going on the road against D1 high-flyers Team Solent Kestrels was always going to be difficult, but Coach Patel's side came away with a 60-58 win to book their place in the Final.
Reading's Monica Herranz De Antonio is certainly a player to keep an eye on as she's integral to the Rockets' game plan. Averaging 17PPG during league play this season, she's also been a factor on the boards with 8.5RPG. Add that into her 57% shooting from the floor and she can be a difference maker given the chance. Candela Hermida Nunez and Maria Angeles Valdeolmillos Gomez are also dangerous players for the Rockets, they can get hot if the Riders don't pay them the proper attention.
In response, Loughborough could have a number of options available to them depending on how they shuffle their roster. GB rising star Holly Winterburn picked up WBBL Player of the Month honours for December and could suit up for Charnwood if available. Winterburn averaged 19.8 points, 6.6 rebounds, 5 assists and 2 steals in five December WBBL games, and she has already played 2 WNBL D1 games this season, averaging 18PPG and 11RPG. Niamh Kelshaw, Imogen Cook and Hannah Dawson have all starred this season and can also step up to the plate if needed.
Reading came within a single basket of winning the National Cup back in 2015/16. Falling 53-52 to Essex will no doubt have hurt the Rockets given the margin of defeat. Can they make amends and get their hands on the Cup in 2018/19? Or will it be Charnwood's time to step into the spotlight and take centre stage?
Charnwood College Riders player Niamh Kelshaw, "After not having a great start to the season, we've all shown great character and pushed through to show what we're capable of. We're not settling for just making this Cup Final, we're in it to win it and everybody is ready and locked in to get the win!"
NBL National Cup Final – Loughborough Riders v Team Solent Kestrels
There's plenty to get excited about with the NBL National Cup Final and lots of sub-plots that come play a part in deciding a victor come Sunday night. Solent have been on a tear this season and opened their Division 1 campaign with 10 straight wins, leaving the South coast side top of the standings. However, a recent 86-83 loss on the road to Bradford suggests this side could be beatable after all. Will one defeat leave the Kestrels shaken or are they made of sterner stuff?
One of Solent's early season victories was in the Midlands against the Riders, triumphing 84-71 in late October. American John Averkamp helped himself to a game high 28 points that day as the Kestrels were also able to keep all Loughborough scorers under 13 points. The Riders will be hopeful they can right the wrongs from that performance, but Solent will have plenty to be confident about based on past results.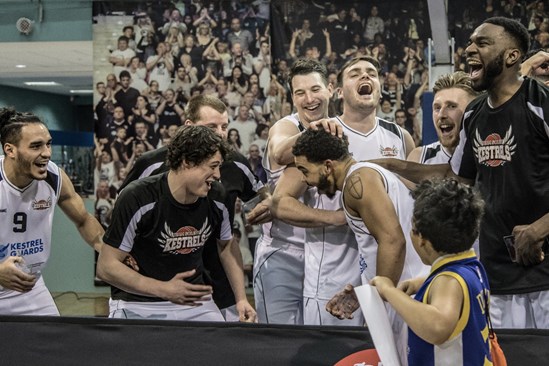 Herm Senor is a big time player for the defending National Trophy winners. Solent are pleased to have his services at their disposal and it's not hard to see why. Voted MVP when the Kestrels claimed the Trophy last February, the American guard averages 18PPG and 7APG so far in league play and can change any game, given the opportunity. Add in the free scoring of Travis Charles (20.5PPG, 8.6RPG) and Nick Lewis (19.5PPG, 5.75RPG) and Solent have a lot of different ways they can to win this one.
Coach Jerram's team have been known for their flexibility for some time, playing well drilled team basketball that makes them a match for any team in the division. That approach saw the Riders claim the 2017/18 NBL Division One regular season title, pipping Solent of all teams to the top spot. Lucien Cristofis may be the closest the team has to a focal point, the 22-year old averages 13 points and 20:35 of action in D1 at present. Expect significant support from Niall Harris, Reis Pinnock and Jonas Dieterich, with power inside from Hosana Kitenge and 3-pt prowess from Alex Roberts.
Loughborough Riders Head Coach Mark Jarram, "It is always special to make a Final and one of those life experiences I'm glad the players and staff get to have.  We know this will be a tough game versus a very good Solent side.  We are very similar teams that are always prepared, well disciplined and it will be exciting to see what happens on the day.  Nothing changes, we will try to play the same brand of basketball that helped us reach the Final. We know our defence will be tested in this one."
Team Solent Kestrels player Herm Senor II, "We are very excited to reach the Cup Final. As a basketball player and as a team, it is a goal to play for as many championships as possible. Reaching this Cup Final has proven how consistent our play has been in the first half of the season. We are looking forward to playing a tough Loughborough team who will scout well and be prepared. We will look to deliver a complete 40-minute effort and control the tempo of the game to win."