The NBL Senior Cup Finals are just days away and we'll soon be tipping of UEL SportsDock in London on Sunday. We've got a preview and quotes for the National Trophy Final, Patrons Cup Final and National Shield Final, so read on to find out more!
All stats and INFORMATION correct as of 01/02/2019
National Shield Final – London BC Medelynas v University of Chester
As a competition exclusive for teams in NBL Division Three and NBL Division Four, the cream of the crop has risen to the top for this afternoon's National Shield Final. We have the leaders of NBL Division Three North in the University of Chester, going up against the top dogs in NBL Division Three South, BC Medelynas.
It's been a good couple of seasons for the London club as they've mounted a charge through the NBL structure. Promoted from NBL Division Four last season after posting a perfect 18-0 record in the regular season, only Team Derby were able to stand up to their might a year ago. A 90-70 Derby win in the D4 Playoff Final meant it wasn't the end of season that Medelynas had planned, but the London club have brushed that disappointment aside to continue their strong form into 2018/19. Winning the National Shield would be another step forward for this emerging programme, they'll be doing everything they can to get their hands on some silverware.
Chester have established themselves as a solid NBL Division Three outfit over the last couple of years after their promotion from D4 following the 2015/16 season. After going 16-4 in their first year in D3, they once again finished in the playoff places last season with a 10-8 record. The North West side have managed to pull off seven straight wins in the league, cementing their place at the top of the standings, and potentially bringing some momentum into the Shield Final.
Look for strong performances from Chester's Mathew Strong and Reiss Faure-Daley, a long time player for Birmingham A's before moving to the Uni side ahead of the current season. Former BBL player Phil Brandreth is also a useful player to have at your disposal, he's been a feature of this Chester side for a number of years now. For Medelynas, Algirdas Jaras and Mantas Guzys form a fearsome duo, with Guzys dropping 44 points on Cardiff City earlier this season.
London BC Medelynas Captain Aurimas Karbauskas, "It has been a pleasure to participate in the National Shield Finals. We're expecting tough opposition, so we'll use a big rotation, we must pressure Chester from the first minute. The key for the win are going to be one-on-one defence and controlling the glass. If we follow our plans, we're going to win, but we must play a disciplined game if we want to win the Final"
University of Chester Head Coach Chris Wilson, "Making the National Shield Final is another step in our progression. We aim to be challenging for titles every season at Chester, and being in this Final will help us increase our visibility on a national scale. We want to attract the best players to the University to help us reach our long term ambition of being a sustainable club at the highest level possible. We hope we can do ourselves justice against a very strong London BC Medelynas side and come away with a trophy! We'll certainly do our best."
Patrons Cup Final – Westminster Warriors v Ipswich
As a competition purely for teams in NBL Division Two, both of today's Finalists are more than familiar with each other from league play.
After a more than respectable 14-8 record and 5th place last season, Westminster have pushed on considerably in 2018/19. Their 9-2 record is a testament to that and the London side currently occupy 2nd place in the standings. As defending Patrons Cup champions, the Warriors will also be going all out to keep the trophy in their possession for another 12 months. They upset the odds last season to win it all, defeating the much fancied Thames Valley Cavaliers 86-85. Will Westminster be able to pull off another win even though they're now the favourites this time round?
One of the reasons the Warriors are likely to be seen as favourites is due to Ipswich's current league form. A 4-8 record across their current campaign has highlighted some of the team's struggles, but the Suffolk side possess a young roster that is developing under the watchful eye of Head Coach John Ellis. UEL SportsDock is a happy hunting ground for Ipswich after their Women's programme pulled off a historic WNBL National Cup win in January 2018, the Men's team would love to make some history of their own and win the Patrons Cup.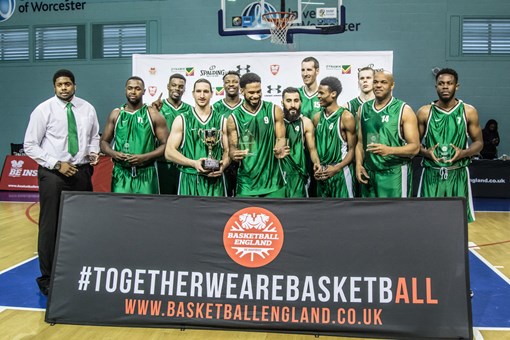 These two sides met in league play back in late November, with Westminster proving to be stingy hosts as they claimed an 82-74 victory. Veteran Justin Hitchman currently averages over 22 points per game in D2, he's sure to be a game changer for the Warriors given the chance. The former Essex Leopard has gone over the 30-point mark more than once this year.
Ipswich's Ethan Price is averaging a double-double on the year, with 13.5 points and 10 rebounds per contest. The highly promising Veron Eze is another Ipswich to keep an eye on. The 17-year-old has already represented Great Britain at Under-16 level, and is set to rise through the ranks as he matures. Scoring a team high 15 points against Sweden at last year's European Championships was a sign of the potential Eze possesses.
Westminster Warrior's Justin Hitchman, "It's an amazing feeling to reach the Patron Cup Final for a second consecutive year and have the opportunity to defend our title. We've given it our all and now we're one step away from achieving one of our goals for the season. I expect Ipswich to give it their all and I'm looking forward to doing everything I can to overcome the challenges that they'll provide. I have every faith that we as the Warriors will put on a show and retain the title."
Ipswich Head Coach John Ellis, "This is a great achievement by our young squad. The guys have played their hearts out, and have never backed down from a challenge all season. But we haven't achieved anything yet - we've only set the table, now we have to eat. It's going to be a challenge, but as long as our whole team carry out what we work on in practice, and we respond and stay together in adversity, we will be right in the game. We are ready."
National Trophy Final – Worthing Thunder v Loughborough Riders
In what is sure to be a highly anticipated Final, two great teams come together to battle it out for the National Trophy.
Worthing Thunder are the reigning NBL Division One Playoff champions after a 67-57 victory over Hemel at the National Basketball Performance Centre in Manchester last April. That title has acted as a springboard to further success with Thunder currently 12-3 and fighting it out with fellow South coast side Team Solent Kestrels for top spot in D1 2018/19. One of the reasons for that is an offensive mentality that sees Worthing averages over 88 per game.
Former BBL standout Zaire Taylor continues to lead a talented Thunder roster. Averaging a touch under 20 points per game on the season to go with 7.8 rebounds, he is a difference maker without question but far from Worthing's only weapon. American Alex Owumi is another former BBL player, most recently with Worcester, London Lions and Surrey, he averages 21.8 points a game as one of the top scorers in the division. Add in talented guard Jorge Ebanks and influential captain Brendan Okoronkwo and the Thunder can be a match for anyone in the division. It is also worth mentioning that Coach Goddard's side have defeated Surrey Scorchers in the BBL Trophy this season, showing that the franchise is able to mix it at the next level on their day.
Loughborough may currently occupy 6th in the D1 table, but that's a deceptive position considering the number of fixtures they still have to play. At 8-4, they're just one defeat behind Worthing and two behind leaders Solent if they can win their games in hand. The Riders will be looking to capture their 2nd piece of silverware on the season after winning January's National Cup Final following an 82-63 victory against Solent. Couple that success with a 97-71 triumph in Worthing last December and Loughborough have a lot to be confident about coming into today's Final.
Cup Final MVP Lucien Christofis is an important part of the Riders' game plan each week, but the reigning D1 regular season winners are finely tuned at sharing the ball and utilising a long and talented bench. Young point guard Alex Roberts is a skilled shooter and sure to cause damage from range given the opportunity. Hosana Kitenge is a powerful presence both in the paint and on the board and forward Jonas Dieterich is a solid leader for this unit. In Loughborough's recent match up against Nottingham, all but one of their players scored, with five players making into double digits during a 92-74 win. There's a lot to like about this versatile Riders team.
Worthing Thunder Head Coach Josh Goddard, "We're thrilled to have made our first Final of the season. It's what we've been working towards since September and all the work we've been putting in at practice has paid off. We're playing a different style of basketball to the beginning of the season and everyone's settle into their roles well. Our team cohesion is getting better week in week out and I'm really looking forward to seeing what we can do on the bigger stage. Loughborough are a strong team with a lot of depth off the bench, and I'm sure our match up with them will make a good game."
Loughborough Riders Head Coach Mark Jarram, "It's obviously great to make our second Final of the season and we want to make sure we do not take that for granted.  We are fully aware of the fire power Worthing have and we must ensure our defence is a priority on the day.  Nothing changes, we will try to play the same brand of basketball that helped us reach the Final.  We must ensure we put a consistent performance for 40 minutes, but most importantly we must enjoy it!"