The opening day of the 2019 U13 Aspire Tournament provided some great basketball as the stars of tomorrow seized the opportunity to continue their development and improve on the courts of Manchester's National Basketball Performance Centre.
The Aspire Tournament provides an opportunity for regional players and coaches to come together and demonstrate what has been learned during the last 10 months of coaching across the country. The tournaments also provide a competitive environment to test that learning as observers and national team staff cast an eye over proceedings.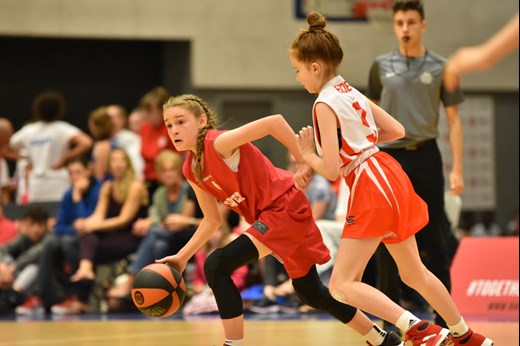 "It's been an exciting day. After watching the play today, there is a lot of potential at this U13 Aspire Tournament," said Basketball England's Technical and Talent Performance Manager Steve Bucknall.  "Today was a baptism for a lot of these players on their talent pathway journey. That said, I was impressed with everyone's sportsmanship, effort, pride and passion in competing for their respective regions. It has been an excellent day of basketball and I look forward to more of the same tomorrow."
The day's spoils largely belonged to London as both the region's boys and girls topped their pools with unbeaten 4-0 records. In Pool Y of the girls' competition, it was Yorkshire that finished top of the pile there as they also went 4-0. The boys from the South East and South regions carried spotless 3-0 records into their last game of the day before a victory for the South East confirmed them as Pool B winners and consigned South to 2nd place.
With the pool stage now completed, Sunday's schedule is set and can be viewed from the button below.
With the players learning on court, the day's play also provided an opportunity for both coaches and officials to continue their development as well.
With a number of observers on hand, including Basketball England's Regional Talent Managers, regional coaches that were new to the talent pathway were observed and provided with feedback on their communication and game management.
During the afternoon, three England Talent Programme (ETP) coaches in Zach Meekings, Chris Bourne and Cristina Stanciuca were able to meet with the regional Aspire coaches to pass on their experiences of being involved with last month's Copenhagen Invitation Tournament and the ETP as a whole, sharing valuable knowledge and feedback amongst the coaching network.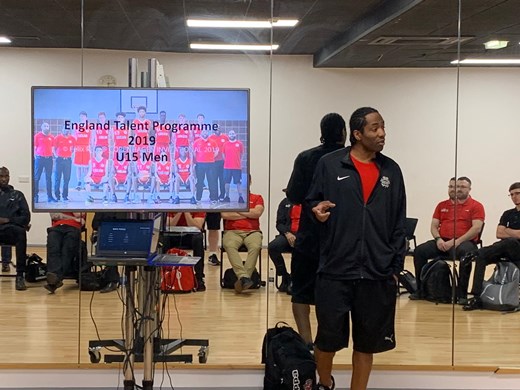 On the officiating side, referees were able to take part in a mechanics workshop with FIBA Instructor Kate Unsworth, with a particular focus on individual officiating technique. Experienced observers were once again on hand to offer feedback to the referees on their mechanics and game management as the day wore on.
Several of the table officials at the event were also involved in a teamwork and mechanics workshop, focusing on working together with their co-officials whilst also being observed as well.
Over on court 5, each team was put through their paces in the Shooting Challenge, utilising two Dr Dish shooting machines to test each player's shooting prowess in a timed drill. The following players have advanced to tomorrow's final shootout:

Girls - Alleke Allum (South East), Brooke Beverridge(South West) & Daisy Cullen (Yorkshire)
Boys - George Crompton (North West), Joseph Lloyd (South East) & Edward Astley (London)
Tomorrow's play gets underway at 9:00am and there is no cost to come down and take in some of the action. We'll once again have coverage on our Twitter and Instagram platforms with updates, images and more throughout the day.