Basketball will have an eye-catching home right in the heart of Birmingham for the 2022 Commonwealth Games.
And with two years to go until the showpiece event, Team England stars, players and coaches from City of Birmingham Rockets and NBA legend Hakeem Olajuwon, turned about to help show off the Smithfield site where the action will take place.
The former market place will be redeveloped ahead of Birmingham 2022 with the 3x3 basketball event taking centre stage on outdoor courts, along side 3x3 wheelchair basketball and beach volleyball.
Players Rheanne Bailey, Hannah Shaw, Georgia Jones, Jamell Anderson and Kofi Josephs were on hand to talk to the nation's media about the introduction of the quickfire form of the sport to the Games and celebrate two years to go until the big event and Julius Joseph of 3x3 leaders Ball Out was present too.
Sports Minister Nigel Huddleston and Ian Metcalfe, the Commonwealth Games England chair, were also in attendance, along with Basketball England CEO Stewart Kellett, who said: "What a great way to start the countdown to what should be a spectacular, exciting event on a great stage.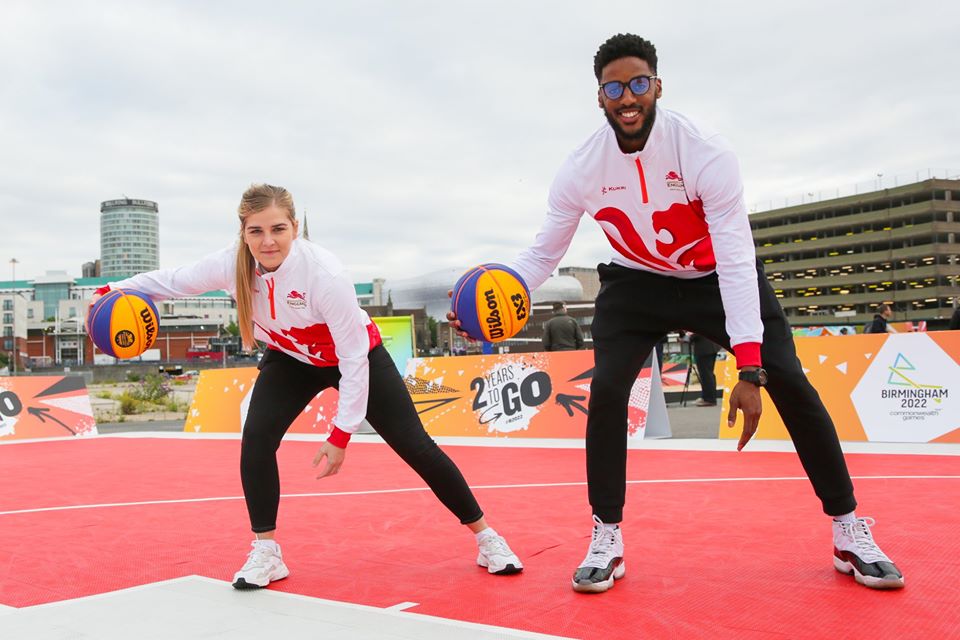 "It's exciting for basketball to be part of this and, talking to everyone here today, it's clear to see the appreciation for 3x3 basketball and it being a real focal point for the Games.
"We're excited, too, about the prospect of using the Games to inspire the creation and rejuvenation of great outdoor places to play basketball across the country through our expanded Project Swish initiative.
"We've seen evidence recently that individuals, clubs and communities can take up the challenge, with our help, of rediscovering and revitalising outdoor courts in a way that benefits neighbourhoods and the whole game.
"That, along with winning medals, is what we want to see born out of Birmingham 2022."
Local heroes looking forward to the Games