Basketball England have continued their commitment to renovating popular outdoor courts as part of the #ProjectSwish initiative by teaming up with Wilson Sporting Goods to overhaul the Hendon Park court in Barnet, North London.
A run down but popular spot for players in the Capital, Hendon Park is in a great location, close to a Tube stop, and with a nearby café, toilets and other sporting facilities. The court just needed some attention so that its quality could match the setting.
Wilson Sporting Goods and Basketball England teamed up to help, cleaning and painting the floor, updating the line markings and repairing and replacing the backboards and rings to create an inspiring location for people to play basketball in the borough.
BE's Interim Chief Operating Officer Peter Griffiths said:
"It's great to have worked with Wilson Sporting Goods to support the refurbishment of Hendon Park court, it was in desperate need of new equipment and surfacing works and this small project has made a big difference to the local basketball community.
"Outdoor basketball courts are easily accessible and often free to use as well. Many people play outdoors, and it is often the first place that people will go to play basketball.
"Creating high quality, and safe courts in good locations like this will definitely attract more people to the game."

Andy Meddings from Wilson Team Sports said:
"Wilson Sporting Goods are delighted with the newly refurbished basketball facilities at Hendon Park.
"Grassroots and Community Basketball is at the heart of Wilson Basketball and we are excited to see the new courts being used by the local community and players.
"We look forward to working on future similar projects with Basketball England and #ProjectSwish."  
Cllr Dean Cohen, Chairman of Barnet Council's Environment Committee, which is responsible for the borough's parks, added:
"Basketball is hugely popular in Barnet and this refurbished court in Hendon Park is a great facility for people of all ages to enjoy the sport for free.
"The council has partnered with Basketball England and Wilson to fund this court and encourage more people to play. We're now looking at other opportunities with our partners to invest in better basketball courts in parks around the borough."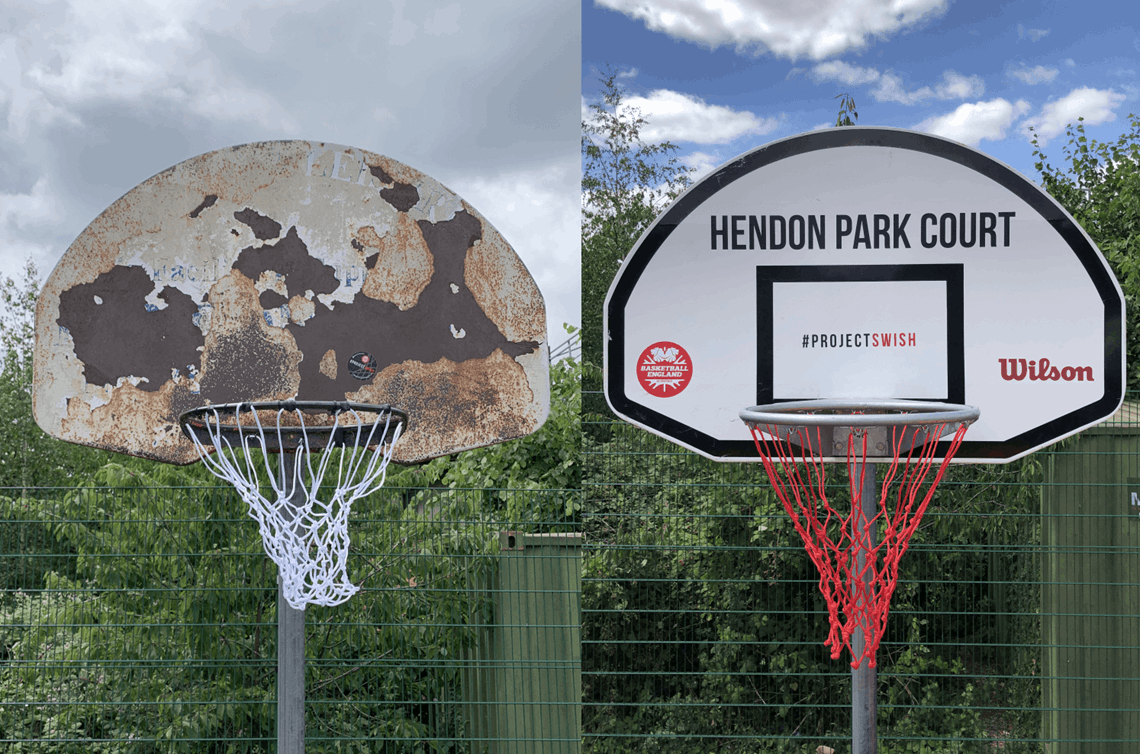 The court was brought to Basketball England's attention last summer by renowned 3x3 player and street baller Tarryn Algar as part of #ProjectSwish. The location has long been a popular spot for local players and has hosted Ball Out 3x3 events in previous years.
The work on the Hendon Park court is part of the wider #ProjectSwish initiative that aims to renovate outdoor courts across the country with the help of interested parties.