To celebrate Black History Month, Basketball England is taking a look at some of the players, officials, coaches and volunteers who played key roles in shaping the sport in this country.
In a multi-part series, we'll look at all levels of the game to recognise people who made a real impact, as pioneers, role models and inspirations for others to follow.
A far from exhaustive list, hopefully the information below will be a starting point for others to tell us their own personal inspirations.
Tell us about yours - whether superstars or unsung heroes - through social media. Use the hashtags #BlackHistoryMonth and #TogetherWeAreBasketbALL.
Jimmy Rogers
The inspirational Rogers left his mark in South London, but his influence stretched far and wide throughout the sport.
As the founder of Brixton Topcats, Rogers built a programme that not only nurtured some of the country's leading talents, but also offered an opportunity for so many more to fall in love with the game.
Tough, straight-talking and generous to the core, Rogers passed away in 2018 at the age of 78.
During his time at Brixton he helped to shape the careers of players such as Luol Deng, ex-WNBAer Andrea Congreaves, plus Great Britain players including Justin Robinson, Eric Boateng and Matthew Bryan-Amaning.
Deng said: "Jimmy is Brixton. He has done so much for the community helping thousands of kids get off the streets and do something constructive with their lives."
Find out more about Jimmy Rogers
Andrea Congreaves
It's hard to find a player across the sport with a CV that compares to Congreaves', male or female.
Hailed as one of the greatest women to play the game from these shores, she is:
A Commonwealth Games bronze medallist.
The first British woman to play in the WNBA, with 84 appearances over her first three seasons.
A highly successful professional with stops in Italy, Spain, Turkey and France.
A multiple winner of the WNBL Division One with Rhondda Rebels.
She has also enjoyed coaching roles in the NBL, including Mansfield Giants and University of Nottingham.
Mike Shaft
An instantly recognisable voice to basketball fans across the country, Shaft has been involved with the sport for decades.
After moving to the UK from Grenada in 1968, Shaft's work across radio and television eventually led him to becoming Sky Sports' lead basketball commentator in the mid-1990s.
Shaft still works in the sport, carrying out the play-by-play duties for both the Sheffield Sharks and Cheshire Phoenix in the BBL whilst continuing to operate as a highly respected broadcaster, presenter and announcer.
Sadie Mason MBE
As a 10-year England international from 1984 to 1994, Mason has been involved in the game at all levels for most of her life.
A former GB Students player at the World University games of 1983, '85 and '87, Mason has more recently become a prominent Team Manager, working with the GB and England Under-18s between 2012 and 2018.
A University of Brighton graduate and the CEO of Active Sussex, Mason still has the basketball bug and is the current captain of the GB Masters Women's team.
Recognised for her contribution to sports development, she was awarded an MBE in 2014.
John Amaechi OBE
Another high achiever on and off the court, Amaechi was an NBA star with the Cleveland Cavaliers, Orlando Magic and Utah Jazz, played 18 times for England and won a bronze medal at the 2006 Commonwealth Games.
Born in Boston but raised in Heaton Moor, Stockport, his career also involved stops in France, Greece, Italy and the BBL as he cemented a legacy as one of the best big men this country has produced before returning home to invest in the grass roots of the game in Manchester.
Outspoken and articulate on equality issues, Amaechi now enjoys a successful career in psychology, and is a member of both the American Psychological Association and the British Psychological Society. His company, Amaechi Performance Systems, is a well-known consultancy firm that helps organisations improve leadership, communication and diversity.
Temi Fagbenle
Still currently flourishing in her playing career, Fagbenle has already established her legacy as one of the Great Britain's best ever.
As part of the Minnesota Lynx, the Londoner won the WNBA title in 2017, making her the only Brit to win an NBA or WNBA championship.
The talented forward - a Harvard graduate - continues to be an integral member of the GB Women's side that came an impressive fourth at the 2019 EuroBasket Women, eventually being chosen as one the tournament's All-Star team after averaging over 20ppg throughout the competition.

She also recently added to an illustrious list of titles in her pro career after helping Mersin win the Turkish Cup as Finals MVP.
An impressive CV with plenty more to come.
Kevin Cadle
As an incredibly decorated coach in England as well as Scotland, Cadle collected 17 BBL trophies including five league titles, five play-off crowns and five cup wins. North of the border, he won the Scottish Cup and play-offs twice each, while also piling up an astonishing seven English Cup wins.
Through the 80s and 90s, Cadle was synonymous with success and was recognised as Coach of the Year in England or Scotland nine times over a 12-year period. He also took charge of the England Men's team from 1991-1993, and GB Men in 1991/92.
After retiring in 1997, Cadle became a popular and successful TV presenter for Sky Sports, covering a number of sports including basketball and American Football. The basketball community was deeply saddened in October 2017 when the much-loved American died unexpected at the age of 62.
Robert 'Dip' Donaldson
A familiar name around the West Midlands and beyond, 'Dip' Donaldson helped to put Coventry Crusaders on the NBL map in the mid-90s.
Following stints in the BBL with Leicester and Manchester, averaging 17.5ppg in 1988/89, Donaldson led the Crusaders to an NBL league and playoff double in 1993/94 at the age of 34.
Coventry would remain a force for a number of years as Donaldson continued to wow NBL fans, before the talented forward eventually moving into an off-court role.
Donaldson's son Sydney turned out for Reading Rockets in NBL D1 as recently as 2018/19, with Dip now the President and CEO of Crusader International Basketball, a non-profit basketball academy and coaching company.
Patricia Fairclough OBE
An unmistakable presence the length and breadth of the country, Patricia has been involved in the sport in a variety of roles for over 50 years.
As an administrator, table official, tutor, regional chair, All Girls advocate and more, Patricia is as talented as she is well known across the basketball community.
Awarded an OBE for services to basketball in the 2000 New Year's Honours List, she has helped to develop and nurture thousands of players, officials and volunteers that now help the sport to grow and flourish.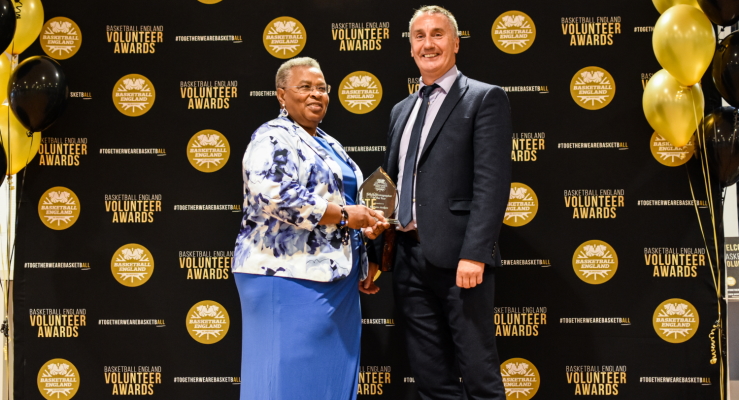 Steve Bucknall
The trailblazing first Englishman to play in the NBA, Bucknall started as a junior at Crystal Palace before moving to America and the University of North Carolina.
After being drafted by the LA Lakers, he went on to enjoy a lengthy career both domestically and across Europe that also involved a 2006 Commonwealth Games bronze medal.
Now a well-respected coach, Bucknall oversaw the England U18 Men's side that gained promotion to Division A in 2012, before earning a highly respectable ninth place finish in the top tier in 2013.
Bucknall now works as Basketball England's lead on all things performance, overseeing the next wave of talent that hopes to follow in his footsteps and one day crack the NBA.
Tell us about your Black History Month inspirations - whether superstars or unsung heroes - through social media. Use the hashtags #BlackHistoryMonth and #TogetherWeAreBasketbALL.