Basketball England is deeply saddened to learn of the passing of Pauline Prior following a battle with cancer.
Prior was a founding member of Nottingham Wildcats, playing for a total of 16 seasons, primarily in the top flight of British Women's Basketball. Following her playing career, she devoted an enormous amount of time to the sport in a number of capacities, including team managing a variety of successful international sides and playing an influential role in establishing the Wildcats as one of the countries' most recognisable clubs.
Basketball England's CEO Stewart Kellett said: "Everyone in the game knew Pauline for her pioneering efforts with the Wildcats, her love of basketball and generous support for others. Her impact on thousands of people will never be forgotten."
Basketball England's Relationship and Co-ordination Manager and Nottinghamshire native Laura Doherty added: "Pauline was a brilliant woman and always had a way of making you know that she cared, even when she was going through so much herself. She will be sorely missed and fondly remembered."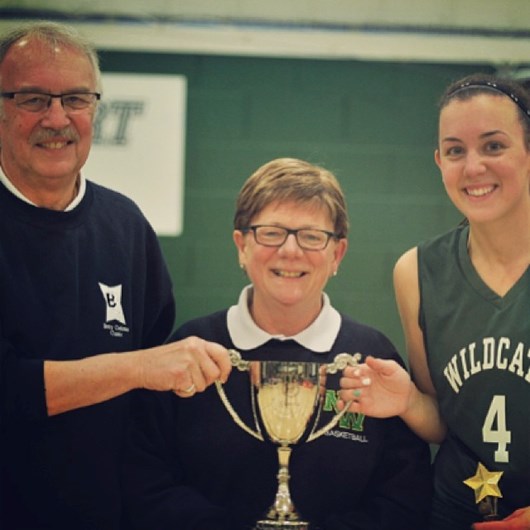 Pauline Prior (centre) with husband Chris (left) and daughter Siobhan (right) after Nottingham won the Betty Codona Classic in 2013.
A former England U17 and U19 player during her youth, a highlight of Prior's playing career came in 1983 when the Wildcats played in the FIBA European Cup Winners' Cup. In their first round, the Wildcats took on the previous year's runners up, French side Villeurbanne from Lyon. In the home leg Pauline led the team in scoring and assists and was awarded the MVP of the game.
In 1990, in the role of team manager, Pauline represented England's U17 Women during the European Championships. One year later, in 1991, Pauline was promoted to team manager of England Senior Women. During that year she won a Gold medal at the Commonwealth Championships in Scotland. 
Pauline continued her team manager duties to the Senior Women for 10 years. Her last international team manager appointment was in the European qualifying tournament in 2011.
In recent years, Pauline's work as part of the Wildcats has continued. An instantly recognisable  face to all at the club, she founded the Mini-Ballers programme in 2008 whilst coaching the U14 team with Karen Burton, becoming the first Wildcats junior team to win a national title.
Her work with 5-11 year olds through the Mini-Ballers went from strength to strength and Prior's efforts at a junior level have influence a great number of players that still play across the sport today.
In April 2019, Prior became the first ever inductee to the Nottingham Wildcats Hall of Fame and later that month the Pauline Prior International Challenge was created. With England's U15 girls, Great Britain's U16 women and Ireland's U16 women all taking part, the tournament was held at Nottingham Wildcats Arena and proved to be a success for both the teams involved as well as local supporters.
Our thoughts go out to Pauline's husband Chris and their daughter Siobhan at this most difficult of times.