The GB Women's training squad has today been confirmed as the team prepares to fly to Serbia for the FIBA Olympic Qualifying Tournament, which takes place in Belgrade from 6th-9th February.
With the competition being switched from Foshan to Belgrade, the new dates for the games have also been confirmed. The opening games against China and Korea will both tip at 11am GMT on the 6th and 8th respectively, whilst the final game v Spain will tip at 1:30pm GMT on Sunday 9th.
Eleven of the 12 who led GB to a historic fourth place finish at EuroBasket Women last summer have been named in the squad, with Stef Collins the only player set to miss out due to injury.
Out with last summer's roster, Nicolette Fong Lyew Quee is back with the squad, having been part of the training camp in the build up to last summer's tournament. Chantel Charles returns after making her debut for the senior side during GB's EuroBasket 2021 Qualifier v Belarus in November last year, whilst forward/centre Kristine Anigwe is the newest face in the squad after committing to GB earlier this week.
The squad have been competing in club competitions all over Europe throughout 19/20, with players representing Great Britain in Turkey, Belgium, Spain, Poland, Czech Republic, Italy and the UK.
Training Squad
Kristine Anigwe, Mollie Campbell, Chantel Charles, Temi Fagbenle, Nicolette Fong Lyew Quee, Cheridene Green, Chantelle Handy, Georgia Jones, Jo Leedham-Warner, Janice Monakana, Karlie Samuelson, Hannah Shaw, Eilidh Simpson, Rachael Vanderwal.
A new face is included
Great Britain newcomer Kristine Anigwe says it is a 'dream come true' to join Chema Buceta's squad for the Olympic Qualifying Tournament in Serbia.
And GB are just as delighted at securing a WNBA player who tore up the scoring and rebounding record books in a highly impressive Pac12 career with the University of California's Golden Bears.
The London-born 6ft 4ins 22-year-old grew up in Phoenix, Arizona and was a first-round draft pick for the Connecticut Sun before moving to Dallas Wings where she played alongside new GB team-mate Karlie Samuelson.
The move represents a big boost for GB ahead of the Belgrade showdown against China, Korea and Spain next month and gives them a third player – along side Samuelson and Temi Fagbenle – with WNBA experience.
"I'm really excited to join my new team-mates and join a whole new family," she said.
"It's a blessing. I'm expecting a lot of fun and a lot of competition. I know it's a really tough bracket but I really believe in this team and believe we can shock a lot of people and make history.
"I've been talking with the coach for a while now and everything has been coming together for me to be on the team."
Anigwe, currently playing for Izmit Belediyespor in Turkey outside the WNBA season, became friends with Samuelson during their time together at Dallas, but took time to do her research ahead of committing to her home country's programme.
"I had to do a lot of homework," she added. "I know Karlie from playing with her in Dallas.
"We were able to bond. I know about Temi (Fagbenle) too so I'm really excited to be able to play with those two and the rest of the team.
"It's really quite exciting because I had never dreamed of playing in the Olympics, at least at my age, so having that chance to play with really good players on a really good team is a dream come true."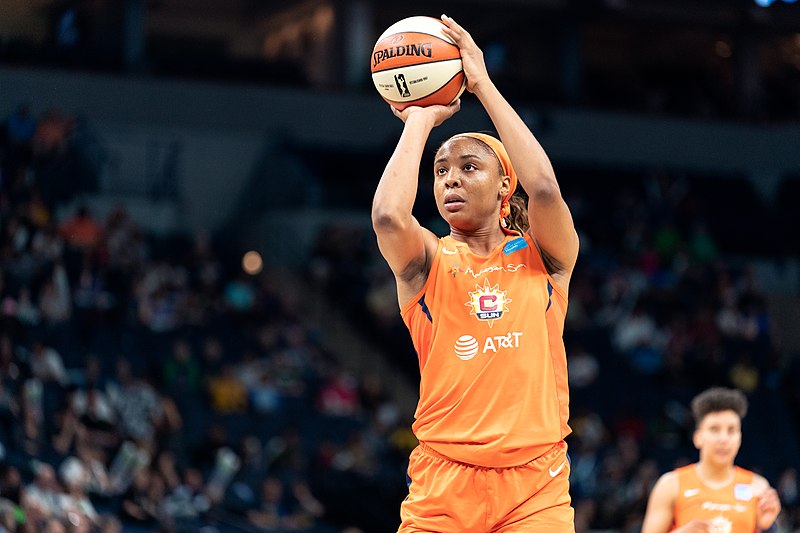 Anigwe made a big impression in college.
After breaking a host of records and winning awards nominations, she became the third Golden Bear to score 2,000 career points in 2018, setting multiple school and conference records during her senior season.
Last year she broke California's scoring and rebounding records and in her final regular-season college game on March 3, 2019 at Washington State, Anigwe scored 32 points and added 30 rebounds.
She added: "I think I bring a lot of hard work. I played at California Berkley for four years where I was able to grow as a player and a person.
"I work really hard – I play defence, I rebound, I score – so I'm looking forward to bringing that to this team. I'm really looking forward to this experience."
#AllGirls
Basketball England has launched a campaign called All Girls to engage more women and girls with our sport as fans, players, coaches, officials, volunteers and ambassadors.
Use the hashtag #AllGirls to celebrate the Great Britain Women's team as they bid for Olympic qualification and to shout about female events, successes and stories at your club, school or college or in your region.
Find out more about the campaign here.