The UK Government has imposed a four-week national lockdown as part of increased measures to tackle the spread of Covid-19 following a vote by MPs on Wednesday November 4.
Basketball England have sought guidance from the Department of Media, Culture and Sport (DCMS), Sport England and UK Sport and can confirm that, from Thursday 5 November, the following restrictions must be observed. 
What basketball cannot take place during lockdown? 
All non-elite basketball (training and competition) must stop from Thursday for the duration of the lockdown and regress to Level 4 of Basketball England's Return to Play guidance, this includes: 
NBL Division Two and Three club training and competition 

All Jnr. NBL training and competition. Following Government feedback NBL U18 Premier is no longer deemed as 'Elite' and therefore will also move to Level 4 

All other Senior and Junior local league, recreational training, and competition 

EABL, WEABL and ABL competition is postponed until at least January 2021 in line with AoC Sport guidance 
What basketball can take place during lockdown? 
BBL/WBBL and NBL1/WNBL1 training and competition - permitted under the Government's 'elite' exemption. NBL1/WNBL1 subject to viability (venue access etc) and receiving financial support from DCMS 

Basketball within Education – If sporting activity is part of an educational course, 

training must comply with Level 2 of Return To Play guidance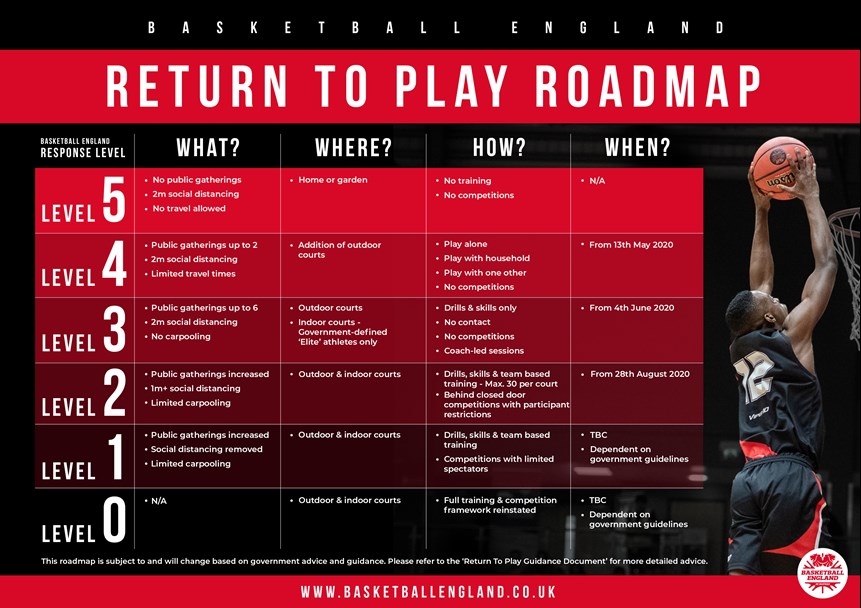 Although the initial period of the lockdown is four weeks, it is unclear whether this will be extended by the Government and what local restrictions (venue access etc) will be in place when the country returns to the three-tier alert system. 
With the exception of the BBL/WBBL and NBL1/WNBL1, Basketball England will suspend the 2020-21 season until early 2021 for all leagues and competitions under our jurisdiction. 
As and when the country returns to the Government's three-tier alert system, we will reassess the situation. 
Basketball England CEO Stewart Kellett said: 
"Although this announcement and the temporary halt to the sport is disappointing and frustrating, we must all continue to play our part to follow the Government's ruling and help the country get the virus under control. 
"Getting basketball prepared for a return to play has taken real determination and commitment from members and volunteers across our game and I want to thank everyone for their vital contributions.  
"However, the health, safety and well-being of our members and the wider basketball community remains our priority, so it is extremely important clubs, players, coaches, officials, officials, volunteers, parents, carers and facility providers adhere to the Government's new national restrictions during this period. 
"We will continue to talk to DCMS and hope to be able to resume activity as soon as the Government says that is possible." 
We will keep everyone in the basketball community updated as Government rulings change. If you require further help, please email [email protected]