Ahead of this weekend's National Cup Finals at the University of Essex Sport Arena, we take a look at all four of Saturday's age group finals.
U16 Girls Final – Richmond Knights v Newham Youngbloods
It's an all London affair in the U16 Girls Final as Premier South teams Richmond Knights and Newham Youngbloods match up in what is sure to be an exciting contest.
The Knights booked their place in the final following wins against Manchester Mystics II and Sevenoaks Suns, before a nail-biting 66-63 semi-final victory against Premier North outfit City of Sheffield Hatters.
Unlike their opponents, the Youngbloods have had a much simpler route to the showpiece with double digit wins over Ipswich, Oaklands, Exeter and Southwark Pride.
These two sides have already met in league play this season, with Newham taking a 66-62 home win back in early November. If that'll give the Youngbloods an advantage or not remains to be seen, but both teams are currently flying high in the league and will no doubt be well matched.
Richmond head coach Isaac Omirin: "We are excited to reach the final this year, especially after losing in the semi-final last year at the buzzer. It was very emotional.
"This season we have worked very hard to be in this position and I am proud of all the girls. We look forward to the game against a very good team in the Youngbloods. We expect a fast paced, tough game but once again we are very humbled to be in the finals."
Newham head coach Caroline Charles: "I just love this game of basketball so much. I love my team. We work together as hard as we can to reach our goal. In the end it's five people moving a peripheral thing, creating entertainment."
U16 Boys Final – Team Solent Kestrels v Manchester Magic
It's a Premier North v Premier South battle for the U16 Boys National Cup as Team Solent Kestrels take on Manchester Magic.
Manchester won this competition back in 2017/18 following a 75-57 win over Sussex Storm, no doubt they'd love to take the trophy back to the North West once again.
The Magic's most difficult game on their way to the final was undoubtedly back in mid-November when they needed a period of OT to sneak past Conference outfit London United, eventually coming out on top 83-81. Home wins against Newcastle and Luton followed as Manchester punched their ticket to Essex.
Team Solent also survived a few close calls on their road to the final, including an 83-80 win on the road against London Greenhouse Pioneers and a tight 70-68 semi-final victory over Reading Rockets. Both fixtures demonstrated the resilience of this Kestrels team, they'll be a tough nut to crack.
Solent's head coach Khalid Missouri: "Congratulations to Manchester Magic on making the final. We know they will be a tough opponent, but we have faced tough opponents throughout this journey to the final so would expect nothing less. This is a special moment for this team, some of whom have been together since they were U11s."
Manchester captain Mandre Costa: "It's been a season full of learning and we continue to improve every day. This is because we play hard against each other in training, holding ourselves accountable for any mistakes. The final is going to be a really tough game for both teams. It's going to be a great game to watch."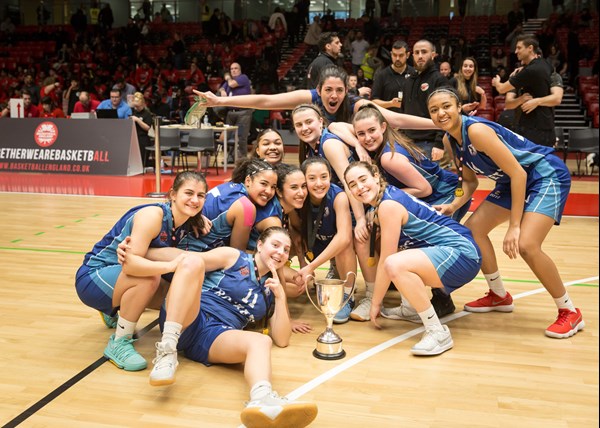 U18 Women's Final – Reading Rockets Academy v Ipswich
Reading Rockets will be looking to defend the U18 Women's National Cup after their win over Charnwood a year ago.
A narrow 65-60 win over the Riders was enough to crown the Rockets as champions for 2018/19, and it'll be Ipswich's turn to try and dethrone Reading this time around.
To help the Suffolk side get to the final, they overcame Solent and Southwark before an exciting 57-54 road win over Manchester in January's semi-final. Reading have also walked a similar path, with their cup run involving a win over Charnwood and a 63-61 victory over Nottingham in another nail-biting semi-final.
Reading head coach Antonio Acuña: "We're so excited to be in the National Cup final. Our quarter-final was a really tough game against Charnwood Riders and in the semi-final against Nottingham we only won by two points in the last few seconds, so it's been a good run so far.
"Now we are playing against Ipswich, one of the best teams in the country at U18s. They have players who can play in different positions, with experience in important games and they are very well coached. Together, as a team, we are working so hard to get what we want and that I believe is our strength, the team."
Ipswich's Charlotte Redhead: "It's really exciting to play in the National Cup final, we have worked really hard to get here. We know that Reading are a great team so we'll need to be at our best to lift that trophy."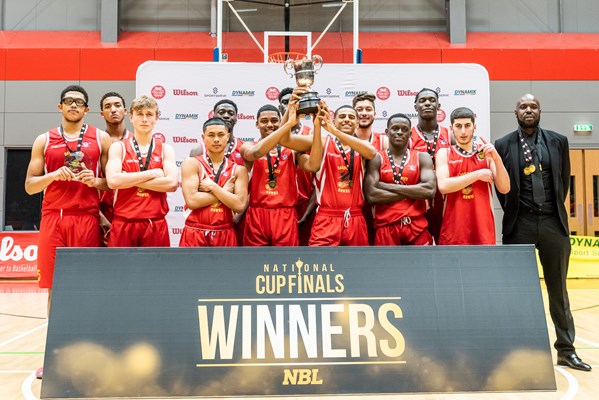 U18 Men's Final – Haringey Hawks v Myerscough College
Two powerhouse programmes at the U18 level meet in the last action of Saturday's schedule as current National Cup holders Haringey Hawks go up against reigning U18 playoff champions Myerscough College.
Premier South leaders Haringey have strolled into the final, scoring north of 130 points in three of their four games. In the semi-final they still hit triple digits with a 105-63 win against Reading, and they'll be a formidable opponent in Essex.
Myerscough also enjoyed a comfortable semi-final performance, defeating Bristol Academy Flyers 84-47 after wins against Durham, Southwark and Team Birmingham.
These two sides last met in the 2018/19 U18 playoff final, with Myerscough coming out on top 52-50. As two well matched teams, fans can likely look forward to another exciting contest to bring down the curtain on day one.
Haringey coach Antony Distras: "I am proud of our guys for reaching the final again and having an opportunity to go back to back after last year's success.  We're glad it's against a team who has always given us a good game each time we play.  We know if we execute our game plan and play hard throughout, we'll be successful.  I'm looking forward to it!"
Myerscough captain Amari Williams: "Being in the cup final this year is a great achievement for us. We're the second to reach this stage from Myerscough and, after what happened last year, it just makes the feeling even better by knowing that we have earned it.
"We're expecting Haringey to come out with a game plan to stop the things that we're good at so we we'll need to stay focused."
There's still a limited number of tickets available for the National Cup weekend, and you can pick some up from the button below.
The two senior finals will be previewed on Wednesday.