Sunday's senior finals provide a fitting conclusion to the National Cup weekend, with two games to look forward to.
WNBL National Cup Final – Anglia Ruskin University v Nottingham Trent University
Reigning WNBL Division One playoff champions Anglia Ruskin University will be looking to add more silverware to their trophy cabinet as they take on fellow D1W side Nottingham Trent University for the Women's National Cup.
Despite only joining the NBL in 2016/17, Nottingham's rise through the divisions has been swift. A 12-0 regular season a year ago in Division Two led to an eventual playoff crown and with it, promotion to D1. After a slow start to life in the top flight, NTU have since picked up the pace and should secure a post season spot come April.
Anglia Ruskin have won back to back D1W playoff titles, beating Essex in 2017/18 and Reading in 2018/19. No strangers to the big stage, ARU would love to continue their winning streak and add a National Cup to their growing list of honours. These teams also met last weekend in D1W with Anglia Ruskin claiming a 74-64 win, and with it, an early psychological advantage.
To reach the final, Anglia Ruskin easily navigated Derby Trailblazers in the quarter finals before a tight semi-final on the road in Bristol. With the Flyers giving ARU everything they'd got, the Rhinos eventually claimed a 66-65 win after a period of overtime.
Life was a little easier for Nottingham on route to Essex, beating Thames Valley before a quarter-final bye and a 71-65 win against last season's beaten cup finalists Reading in the semis.
Anglia Ruskin head coach Michael Hanson-Morris: "It's a great opportunity to be playing in the club's first ever senior cup final. Bristol prepared a great game plan for us in the semi-final and caused us some major challenges.
 "I must give full credit to the players for staying composed and executing at the end of the game to force overtime and then eventually win the game."
Anglia Ruskin captain Katrin Hulme: "It's going to be a challenging situation playing Nottingham in back to back weeks and we're fully aware we will have to deal with some unique defensive challenges that Nottingham provide, particularly in playing a very small line-up. I'm sure it will be another great occasion and we are excited to have an opportunity to compete for silverware again."
Nottingham head coach Louise Waghorn: "It's a great achievement for the programme and players to reach a National Cup final. We are in good form and have made massive strides from the start of the season. This as a coach is what it's all about, seeing those improvements and it paying off.
"We are obviously up against an established team with some of the league's top players. Coming in as the underdog is exciting and we are certainly going to leave it all on the floor."
Nottingham captain Vicky Gray: "I'm already proud of the team for making the final in our first year in Division 1. It is a credit to how far we've come since the start of the season and proves that we can compete at this level.
"ARU will be a tough team to play tactically, but if we bring the energy we showed throughout our semi-final, it really is anyone's game!"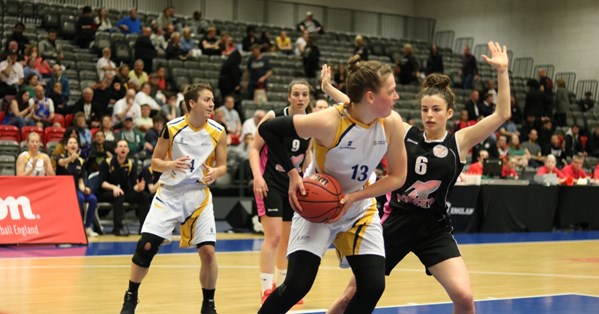 NBL National Cup Final – Team Solent Kestrels v Reading Rockets

Team Solent Kestrels' quest for a perfect season continues this weekend as they take on Reading Rockets for the Men's National Cup.
With a 15-0 record in NBL Division One, Solent have taken on all challengers this year, showing little sign of slowing down. With 11 games to go until the end of the regular season, the Kestrels are past the halfway mark of their schedule and still going strong.
Reading currently occupy 3rd place in D1M, and following wins against Liverpool and Barking, the Berkshire side enter this weekend's final with an impressive 13-5 record.
After dispatching lower league opponents Surrey Rams 120-37 to begin their cup run, Solent needed to beat a string of fellow D1M sides to make it to Essex. An 87-77 win over Bradford was followed up by a 97-87 road victory over Hemel, topped off by an 86-70 W over defending National Cup champions Loughborough in the semi-final.
Reading opened their road to the final with a 101-52 win over D2 side Birmingham Elite, before a highly entertaining 78-77 victory over Nottingham Hoods. A 98-82 win over Essex & Herts Leopards in the quarter-final was more straight forward, before the Rockets ended D2 side Myerscough's cup dreams with a 77-58 victory in the semis.
Having already met once this season in league play, with Solent taking a 106-89 victory, the Rockets will no doubt be itching to try and set the record straight here and claim the National Cup for the first time since 2013/14.
Solent head coach Matt Guymon: "I'm so pleased that our players and club get another opportunity to play in the final of this prestigious competition. We have a fantastic group of players who have worked through an extremely tough cup run to reach this stage and we can't wait to see if we can secure the only silverware that has eluded us.
"Reading Rockets are an excellent organisation, with a rich history. This promises to be a great game that I'm sure the fans will enjoy."
Solent captain Elliot Dadds: "Reaching the final and having the opportunity to win silverware is something we have set out to achieve as a team since our first training session and something we have been working towards, week in and week out.
"It's going to be a tough game against one of our local rivals, so we need to make sure we prepare ourselves in every way possible. I know how excited our guys are for the challenge."
Reading head coach Alan Keane: "Reaching any final always brings great joy to the club and excitement in keeping the cup run alive. While the excitement grows ahead of the final, we will maintain a focus on our preparation. We have played Solent once already this season and have great respect for what they are building. We are very familiar with their strengths and will prepare accordingly.
"However, regardless of preparation for our opposition, we must show up with only the very best we have to offer and a high performance mindset for a full 40 minutes."
Reading's Ben Dixon: "We're a young team that has been working to build an identity all season, and I feel we're really starting to find out who we are, and what we're capable of.
"The excitement and pressure of a final is going to be a great test for the squad, however all the adversity we have been able to overcome has us prepared and ready for anything. Backed by our loyal fans, we look forward to putting on a strong performance against another talented side."
There's still a limited number of tickets available for the National Cup weekend, and you can pick some up from the button below or pay on the door.