Rebound's Team of the Week has been another tough one to select for Chris Hughes, especially with so many high-quality performances this past weekend.
Chris, also a YouTube host and commentator, was left with no shortage of options following four great games in NBL1.
Have your say on this week's choices and give a shout-out to the players you think deserve one using the hashtag #NBL2021. Don't forget to tag us!
Twitter: @NBLengland / @Rebound__
Facebook: @NBLengland  / @ReboundNBL
Instagram: @nblengland / @reboundnbl
How it works
The Basketball England NBL Player of the Week goes straight into the starting line-up.
The other four players are picked with the following factors in mind:
Efficiency
Stats
Team and opposition strength
Periods of influence in the game
The Rebound team of the week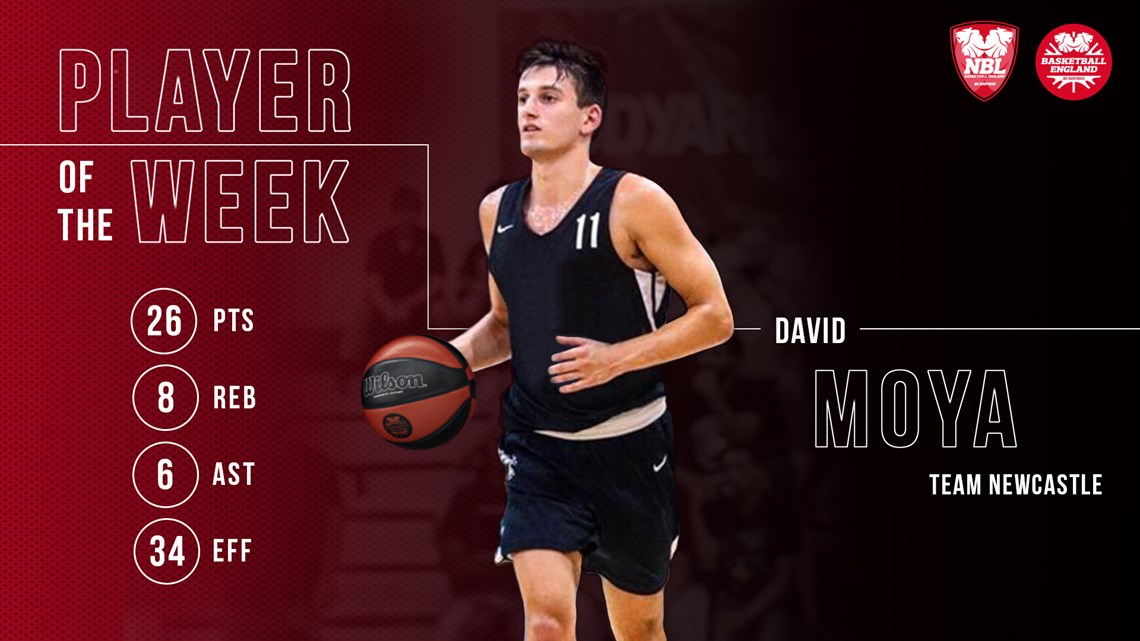 David Moya – Team Newcastle University, guard
26 POINTS, 8 REBOUNDS, 6 ASSISTS, 5 steals, 34 EFFICIENCY
The former Barry University Buccaneer enjoyed a plunder versus a more than competent Loughborough Riders side this weekend.
Newcastle started the game going 0-3 from the field, missing a second and third chance opportunity before Loughborough grabbed the defensive rebound and Jonas Dieterich hit a triple at the other end.
Having missed his first shot in reply, David Moya then made light work of the Riders' defence and matched Dieterich's three with one of his own.
Facing off against the league's assist leader in Kyle Jimenez, Moya was able to steal possession off the Loughborough guard three times during the game, finishing with five total to lead all players.
Moya led his team in points, rebounds, assists and steals in an all-round dominant performance, upping his NBL D1 average to 16.8p/6.4r/4.6a/2s in the process.
Ian Smith – Team Solent Kestrels, guard
29 POINTS, 3 REBOUNDS, 7 ASSISTS, 1 STEAL, 34 EFFICIENCY
The reigning D1M MVP showed in Solent's derby win over Worthing the type of form that saw him pick up that accolade a year ago.
It was an impressive performance in many areas, ranging from shooting (4-6 3PM), passing and decision-making (seven assists and +/- of 33), ball handling and speed, especially on fast breaks.
As is so often is the case, Solent really went through the gears in the third quarter. After a time out midway through the period and with the Kestrels' lead sat at 14, whatever coach Matt Guymon said must have done the trick.
Smith made back-to-back threes as part of an 8-0 run and Solent would finish the quarter strong, closing with a 19-point advantage.
With 62 of Solent's points shared equally between the third and fourth quarter, Smith also dropped 22 of his 29 points during the second half, only missed one shot.
Smith's box score for the second half was 22p/1r/1a/1s, an impressive effort against the local rivals.
Victor Olarerin – Nottingham Hoods, guard
22 POINTS, 6 REBOUNDS, 2 assists, 8 STEALs, 1 BLOCK, 29 EFFICIENCY
If the NBL were to do a Most Improved Player award right now, Olarerin would certainly be in the conversation.
Minutes-wise, the young guard has seen a meteoric rise from an average of 14 to almost 32 minutes per game. That's also transferred to his role on court, as he is also a leading figure in this predominantly young side.
In the second and fourth quarter this weekend, Nottingham held Bradford to six points and 11 points.
Olarerin was in fine form during those periods, contributing three and four steals respectively as well as his sole block in the final frame. Those plays and his overall effort were key in restricting the Dragon's offence.
It wasn't all one way traffic for the former ABL man though. Olarerin was on the offensive in the third, ensured the Hoods stayed in control as the Dragons attempted a comeback. With Olarerin going 8p/1r/2a/1s and only missing one shot, Bradford claimed the frame 29-20 but Nottingham still retained the lead, and from there, grabbed a valuable win.
Oliver Stanley – Derby Trailblazers, centre
16 POINTS, 18 REBOUNDS, 2 ASSISTS, 1 steal, 3 BLOCKs, 34 EFFICIENCY
In a dominant 40-point win, Oliver Stanley's second double-double performance of the week really stood out.
Derby Trailblazers out-rebounded the Warriors 61-34 and Stanley's own rebounding at the defensive ended coupled with his game leading three blocks really limited Leicester's ability to make buckets and get second chance opportunities.
This off course was not a one off as Stanley currently leads the league in average rebounds and blocks per game.
The Derby centre also leads the league in total efficiency, though that needs to be taken with a pinch of salt as Derby have played more games than most. It still however highlights how the talented centre goes about his business.
Compared to earlier games this season, this performance is on a par with his staggering 22p/20r master class versus Team Newcastle University.
Orlan Jackman – Team Solent Kestrels, forward
10 POINTS, 13 REBOUNDS, 6 assists, 3 steals, 25 EFFICIENCY
The former Team England forward got his first double-double in NBL action for the Kestrels this weekend.
Jackman's defensive effort showed up in the box score as he lead his side in both rebounding and steals. His individual defensive effort as part of coach Guymon's game plan also allowed Solent to keep all but two Worthing players under 11 points.
The self-confessed physical threat was a tough cover for Worthing this weekend as he dominated the low post match-ups, getting all of his 10 points there. The off-court gamer was not playing around this weekend.
In the third quarter, Solent stretched the 10-point half time lead to almost 20. It was Jackman's passing that caught the eye during that stretch as the former BBL man assisted three of Solent's first five buckets as well as assisting on two of Solent's triples in the quarter.
Jackman's presence on the court and in the post also allowed more spacing for perimeter shooters. It may seem coincidental but in the third quarter with Jackman on the floor, Solent were a perfect 3-3 from range, compared to 0-2 when he was on the bench.
Team basketball
Newcastle come Back to tame the riders
At half time, the hosts were 16 points down having lost both the first and second quarter. A strong effort after the break made for an entertaining finish though as the Knights stormed back to claim the W.
When you break down how Newcastle made it happen, it's hard to look past the final quarter. The hosts started with a 6-0 run, but resilience was needed as Loughborough would go on a 6-0 run of their own.
Coach Elderkin's side wouldn't be deterred though, enjoying both a 9-0 run and an 8-0 run to complete the comeback.
Defensively in the fourth they forced Loughborough into six turnovers and blocked three shots, none bigger than the two produced by Ronald Blane right before the buzzer.
Newcastle are now up to fourth in the standings following the win and look a credible play off side.
It's hoody season outside, is it the Hoods' season in D1M? 
Nottingham Hoods have a .500 record in all competitions and have made the L Lynch quarter-finals.
Coach Stanley decided to use an uncharacteristic smaller rotation (eight players) this weekend, with eighth man Izaak Patrick playing under two minutes. It seemed to work for the Midlands side though, knocking off previously undefeated Bradford.
Guard duo of Delaney Powell and Victor Olarerin really ran the show at both ends, and finished with strangely similar stat lines. Both players went 9-17 from the field and the pair enjoyed a remarkable eight steals apiece. Matt Ward-Hibbert also contributed well to go 50 FG% off the bench.
The less said about the Nottingham 3-point shooting, the better though. As a team the Hoods went 2-11, but Samii Bieeu did manage to hit 1-2 from beyond the arc. On an afternoon when little dropped, it didn't affect the outcome in the end.
Honourable mentions
Delaney Powell (NOT) – 23P/4R/4A/8S/24EFF
Brendan Okoronkwo (TSK) – 14P/9R/3A/2S/23EFF
Andre Arissol (TSK) – 17P/4R/4A/2S/23EFF
Ronald Blain (NEW)– 25P/5R/3A/1S/2B/21EFF
Kyle Jimenez (LOU) – 13P/9R/16A/24EFF