To recognise the stand-out players and performances each week, NBL observer Chris Hughes from basketball website Rebound picks his team of the week.
Chris, also a YouTube host and commentator, gives his view based on three NBL D1 games and the sole L Lynch trophy game from this past weekend, involving seven NBL D1 sides and one NBL D2 side.
Have your say on this week's choices and give a shout-out to the players you think deserve one using the hashtag #NBL2021. Don't forget to tag us!
Twitter: @NBLengland / @Rebound__
Facebook: @NBLengland  / @ReboundNBL
Instagram: @nblengland / @reboundnbl
How it works
The Basketball England NBL Player of the Week goes straight into the starting line-up.
The other four players are picked with the following factors in mind:
Efficiency
Stats
Team and opposition strength
Periods of influence in the game
The Rebound team of the week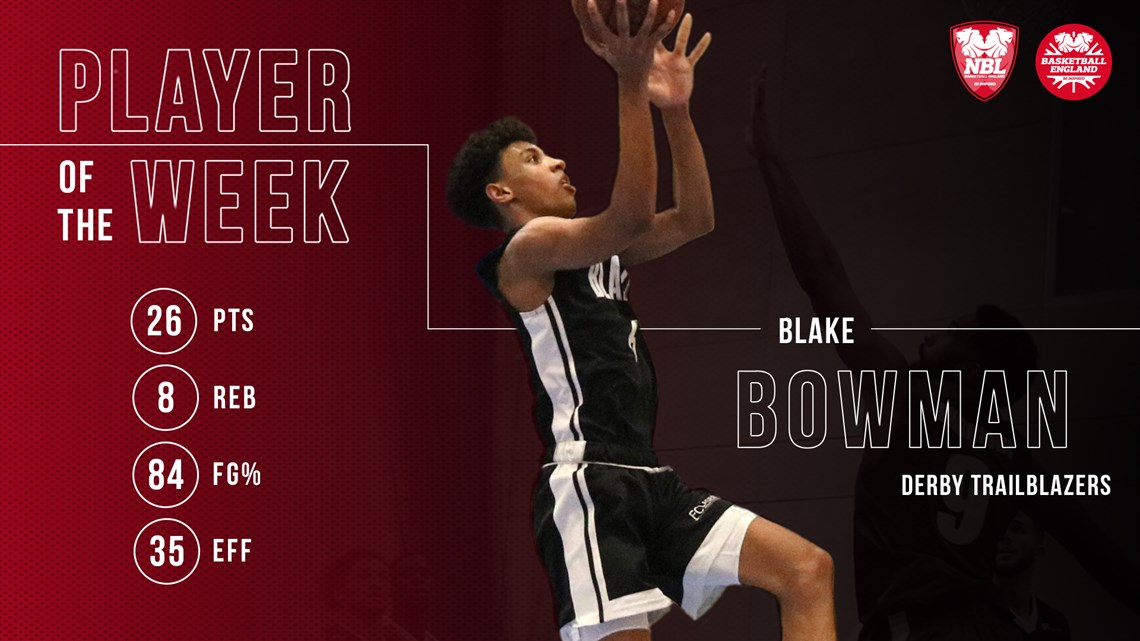 Blake Bowman – Derby Trailblazers, forward
26 points, 8 rebounds, 5 assists, 2 steals, 1 block, 35 efficiency
My performance of the weekend!
Season two for Blake Bowman in the NBL started with a new personal best in points (previous best, 20 v Reading Rockets). After this weekend's performance we may well see a big improvement from last season's NBL D1 average of 9.3p/4.2r/2a/0.7s/0.2b.
Blake really impressed in the second half with an impressive dunk in the third quarter and a block on Cam  Hildreth. The talented scorer was a major catalyst in the fourth, starting with a bucket when Derby was trailing and then later to extend the lead.
Ultimately, Bowman would finish with an impressive fourth-quarter return of 10 points, two rebounds, an assist and a steal.
You can catch his highlights below!
Cameron Hildreth – Worthing Thunder, guard
35 points, 11 rebounds, 10 assists, 7 steals, 42 efficiency
'Killa Cam' came away with the triple-double and was three steals shy of a quadruple-double. What impressed me most was how he started the game!
Using his ability to get to the charity stripe early and often, Hildreth was cool as ice at the free throw line to make 10 out of a possible 11. Cameron is an amazing talent, frequently making shots other players don't have the ability or confidence to make.
Harrison Gamble – Loughborough Riders, forward
27 points, 11 rebounds, 4 assists, 30 efficiency
With 05:45 left in the game after a Victor Ndoukou's lay up, Loughborough were trailing by two points. Harrison Gamble entered 'clutch mode' and went 4/4 3PM and 1/2 FTM to contribute 13 late points in Loughborough's 11-point win.
Gamble will be one to watch this season, providing BBL experience, an inside threat as well as three-point shooting, all of which were on show this weekend.
Did you know? Harrison Gamble was the only player in the NBL to get 30 points versus champions Solent last year.
Ian Smith– Team Solent Kestrels, guard
16 points, 9 rebounds, 6 assists, 1 steal, 27 efficiency
Smith enjoys his third straight selection to our Team of the Week after a string of impressive performances and through four games this season, the American guard is yet to register a turnover.
The second quarter against Essex was Solent's highest points tally (30) this weekend and Smith's playmaking was influential with four assists plus stealing a possession to make his own bucket.
His overall contribution in the second frame via assists and points contributed to 14 of the Kestrels 30 points.

Click here or on the image above to take advantage of this great offer
Greg Wild – Charnwood College Riders, guard
28 points, 7 rebounds, 3 assists, 25 efficiency
Charnwood gave D1 hosts Loughborough a tough game in the L Lynch Trophy this weekend, forcing the hosts to keep their starting five on the court most of the game.
Wild led all players in points, three-pointers made and was one of Charnwood's go to players for rebounds and assists. The former Manchester Magic prospect also had the best FG% of all players who shot more that once in the contest (55FG%).
Team basketball
'Blazers Heating Up!
Considering this was their first competitive game since last season, Derby already look like a force to be reckoned with. The American duo of Malcolm Smith and Jacob Conway look impressive. Shooting was not a problem with four players enjoying 20-point plus performance. The team also shot an impressive 50 FG%.
An impressive 39-point final quarter was pivotal in subduing the Thunder's efforts. Overall they made Worthing reach team fouls multiple times whilst still out rebounded and out blocked the visitors.
It is also worth mentioning they did all this without key player Rema Lascelles.
Defeated Charnwood put on 'elite' performance
Try telling Charnwood that D2 is not elite. For 35 minutes or so they more than matched their bigger brother (both teams are part of the Leicester Rider's family). They faced a roster containing USA, BBL and NBL D1 talent and experience; yet the youth of Charnwood did not crumble and the likes of Greg Wild, Victor Ndoukou, Giovanni Emejuri and Kanu Gudza all impressed.
Emejuru was one of three players this weekend to get a double-double. The young prospect finished with 10 points and 13 boards in just shy of 23 minutes on the court.
Honourable mentions
Jordan Santiago (OAK) - 23P/6R/4A/4S/23EFF
Elliot Dadds (TSK) - 15P/6R/4A/21EFF
Brendan Okoronkwo (TSK) - 20P/7R/2A/1S/23EFF
Travis Charles (TSK)  - 24P/9R/2A/26EFF
Jacob Conway (DTB) – 26P/5R/1S/1B/26EFF