Basketball England is proud to announce the winners of the 2020 North East Region Volunteer Awards. 
 
The annual volunteer awards programme sees nominations gathered from the public across the 10 English regions, with winners selected in partnership with the Regional Management Committee Chairs. 
 
Commenting on the achievements of the winners, North East Regional Chair Howard Leighton said:  "I'd like to offer my congratulations to all our winners in the Volunteer Awards. Volunteers are the lifeblood of our sport, helping to provide amazing opportunities for people of all ages and abilities to take part in many different basketball activities. 
"It is great to see the names on today's list rewarded for all their efforts and outstanding contributions to basketball around the North East." 
 
Amongst the winners are Victoria James (Volunteer Of The Year) who helps run several clubs across Morpeth, Gosforth and Ryton. Victoria works extremely hard to ensure everything runs smoothly for each club, all in return for seeing young people play the game they love.  
 
Also recognised is Ellen Totton (All Girls Inspiring Female of the Year), who has risen through the ranks of local basketball and national league at the Newcastle Eagles. Ellen is still playing for Northumbria University's BUCS team, coaching an U14 girls Jnr. NBL side and is also an All Girls ambassador for Basketball England in the North East. All that whilst simultaneously studying for an undergraduate degree! A tireless effort to the sport and one that is rightfully being recognised. 
The full list of winners is as follows: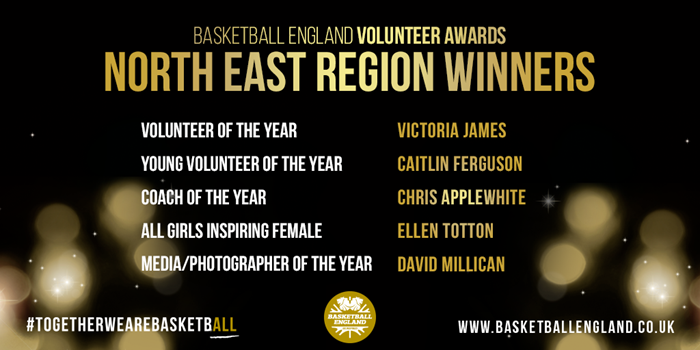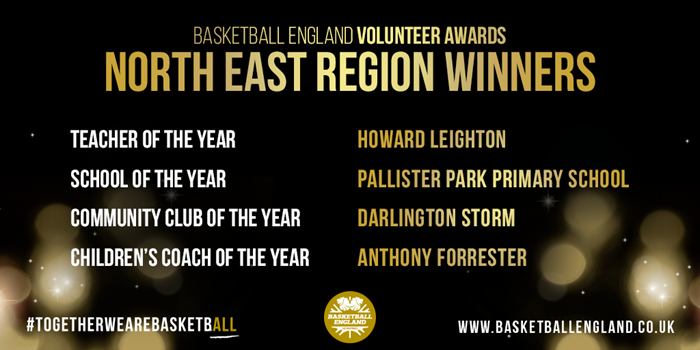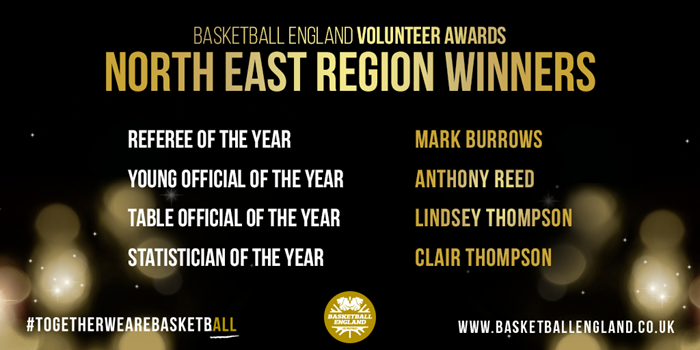 "We are thrilled to showcase those whose tireless work often goes unnoticed," said David Dunwell, Senior Relationship and Co-ordination Manager for Basketball England.
"Much like many other regions across the country, the North East has an amazing reputation for producing dedicated volunteers who go well out of their way to help grow the sport they love. Well done to everyone!" 
All the regional winners across the 13 award categories will be reviewed by a panel, with a total of three nominees per category then being shortlisted to be considered for National Awards.  Due to the current situation across the country, Basketball England will not be hosting a traditional awards dinner in 2020, but national winners will still be selected. News on how these winners will be announced will be made in the coming weeks.
Regional award winners will be announced daily over the coming two weeks, with the North West region next up tomorrow.