B
asketball fans 
will 
attend a game this weekend
 for the first time since the Covid-19 pandemic began in March
.
Following a tough period for the sport and the country, Ipswich's WNBL1 home fixture against Team Solent Kestrels on Sunday is set to break new ground for the 2020/21 season with a limited number of invited family and friends in attendance at Copleston Sports Centre. 
The news provides a huge boost to NBL and WNBL clubs with fans able to return to watching their favourite teams on a regular basis.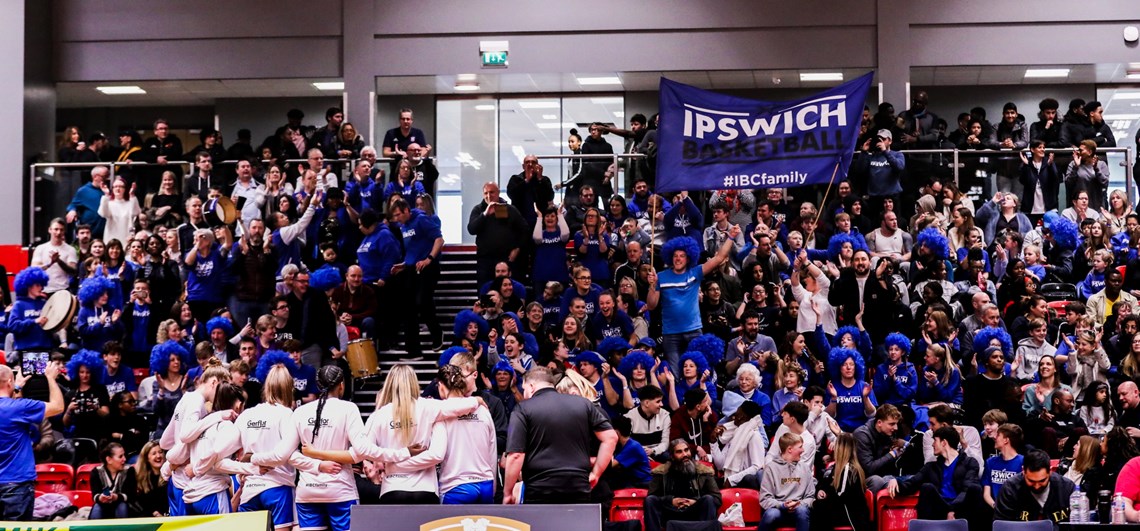 Normality
Ipswich chairman Josh Carson said: "The effort the basketball community has put in to get a season going is just incredible.  
"We hope this is another step towards getting back to some normality, as safely as we can. 
"Without the support of our committee and members, along with the work BE have done to guide us, this just wouldn't be possible, so thanks to everyone who helped get us to this point. 
"I hope the spectators – both in person and watching on our live stream through Facebook – enjoy the game Sunday." 
Hard work and resilience
With fan attendance being closely managed by Ipswich in conjunction with Basketball England and the Return to Play guidance announced this week, the game should also provide a productive trial run for new spectator arrangements. 
With provisions in place for staggered spectator arrival times, 'bubbled' seating set-ups, Covid-19 screening stations, one-way systems and signage throughout the venue, Ipswich deserve credit for creating a safe environment for basketball fans to return to watching the sport they love. 
Basketball England's Interim Chief Operating Officer & Talent Programme and Pathway Manager Charlie Ford said: "We are extremely pleased to be in a position to welcome spectators back into venues for the first time since March.  
"It's credit to the hard work and resilience of everyone in the basketball community that we are now able to re-open the doors and allow our clubs to re-establish and reconnect with their fans. 
"It's great that Ipswich have taken the opportunity to put detailed plans in place to allow for the return of their loyal supporters and we'll take the feedback from this weekend and use it to help other WNBL and NBL clubs to do the same." 
A job to do
Last season's league winners are in fine form for 2020/21, sitting atop the WNBL1 standings once again with a 5-0 record.  
After playing all five games on the road, it will no doubt provide a huge lift to the club to not only be returning to Suffolk to play, but to be able to do so in front of their own fans as well. 
"We are really excited to be playing at home, and the added bonus of having some of our supporters there will make it even more special," added Ipswich head coach Nick Drane. 
"But it is key that our focus remains on the game and what happens on the court. We have a job to do and it's important that we keep that in mind." 
This weekend's development follows the Government announcement that from the 2 December 2020, 'Elite' indoor sporting events and fixtures in Tier 1 and 2 areas will be able to host spectators. 
A maximum of 1,000 supporters or 50% of the venue's capacity – whichever is lower – will be allowed access. 
Other NBL1 and WNBL1 clubs wishing to allow spectators back into their venues should click the button below to view the guidance and complete the form attached.