To recognise the stand-out players and performances each week, FocusHoops' Darren Paul picks his WNBL team of the week.
As a writer, commentator, podcaster and more, Darren gives his view based on games from week two of the WNBL season.
As the start of a regular feature, you can also check out Rebound's Chris Hughes and his take on the NBL1 team of the week!
Have your say on this week's choices and give a shout-out to the players you think deserve one using the hashtag #NBL2021. Don't forget to tag us!
Twitter: @NBLengland / @FocusHoops
Facebook: @NBLengland  / @FocusHoops
Instagram: @nblengland / @focushoops
How it works
The Basketball England WNBL Player of the Week goes straight into the starting line-up.
The other four players are picked with the following factors in mind:
Efficiency
Stats
Team and opposition strength
Periods of influence in the game
The FocusHoops team of the week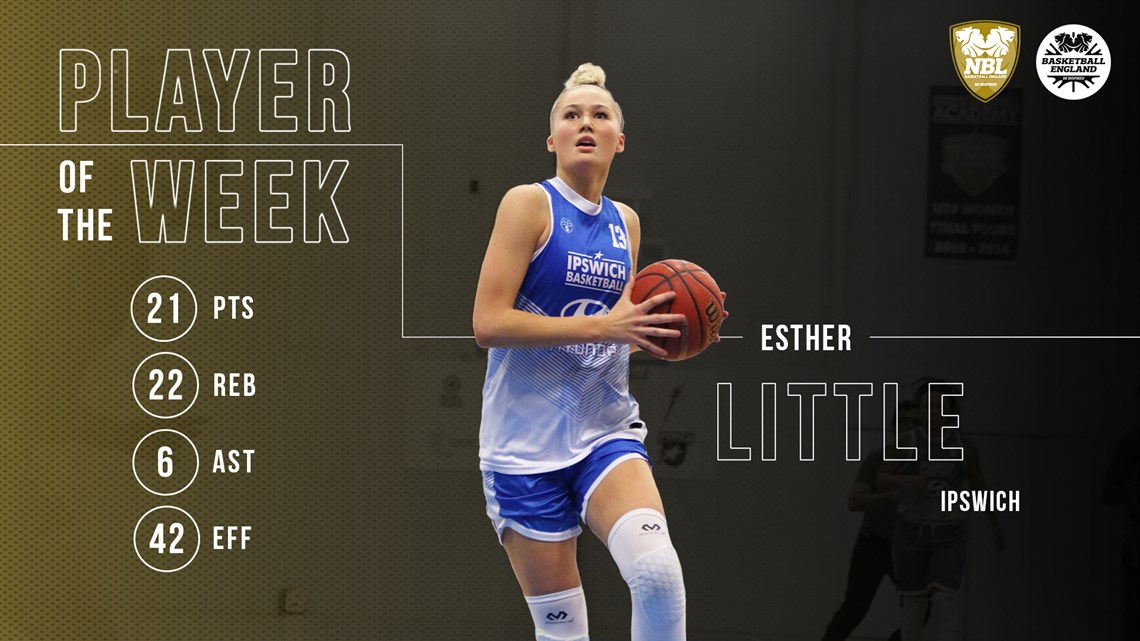 Esther Little - Ipswich, wing
21 points, 22 rebounds, 6 assists, 3 steals, 3 blocks, 42 efficiency

 
The Gonzaga commit put up Playstation numbers in her stat line this weekend, helping her team to a 99-60 win over BA London Lions II.
Little did a bit of everything in the victory, erasing mistakes with three blocks, as well as grabbing an eye-watering 22 rebounds, with seven coming on the offensive glass. The GB age-group star also shot an efficient 8/12 from the floor, and played almost the full 40 on her 2020 debut.
Little missed time last season through injury, and is looking to making all WNBL honours before her move to the States next season.
You can check out Little's highlights in the video below.
Harriet Welham - Ipswich, guard
 37 points, 10 rebounds, 3 assists, 1 steal, 1 block, 33 efficiency
The 2020 WNBL D1 MVP picked up where she left off last season with a 37-10 double-double. Welham once again showed that she is one of the elite scorers in the WNBL, and in her last season with Little will be going all out to make the most of the big two at Ipswich.
Welham, Little and Taylor-Willis in particular ran the Lions ragged, allowing Welham to set a benchmark in scoring that may not be eclipsed this season.
Courtney Gray - Anglia Ruskin University, forward
 14 points, 11 rebounds, 2 assists, 1 steal, 21 efficiency
Courtney Gray made he debut for Anglia Ruskin University this weekend, and made an immediate impact on the game in a slightly unfamiliar role.
Gray's 14 points had her as one of the leading scorers in the game, but her efficiency and leadership shone through in a tricky match-up against CoLA Southwark Pride, earning the forward team of the week honours.
Going perfect at the line, and generating a lot of second-chance opportunities, whilst keeping out of trouble, stands her in good stead to make a major impact this season.

Click here or on the image above to take advantage of this great offer
Faye Endean - Team Solent Kestrels, guard
17 points, 5 rebounds, 4 assists, 4 steals, 18 efficiency
In the closest match-up of the weekend, WNBL debutant Faye Endean shone brightest with a game-high 17 points, including 6/8 from the charity stripe. Endean did a fantastic job of contributing on both ends of the floor, racking up four assists and four steals in a hard-fought game.
In a game where fouls were an issue for some, Endean was able to keep it clean whilst generating fouls from the opposition.
Solent are tipped by some to make another strong run, with Endean in this form, they will be a force to be reckoned with.
Molly Lavin - COLA Southwark Pride, wing
14 points, 10 rebounds, 1 assist, 2 steals, 16 efficiency
Lavin was the standout on the CoLA Southwark Pride this weekend, as they went toe-to-toe with the two-time playoff champions ARU. Lavin's range of offence was on display with outside shooting, as well as excellent play inside that saw the young talent finish with a team-high 14 points.
It was her work on the glass and her unselfish play off the ball which stood out, helping put her team in good positions and prevented Anglia Ruskin from being able to coast at any point.
Lavin played an excellent, disciplined game of basketball, going the full game without fouling, making four trips to the line herself.
Team basketball
Team Solent Kestrels share the load
Solent came together and won the toughest of match-ups this weekend. Both Solent and opponents Bristol have been tipped by pundits, including FocusHoops' and WNBL D1 Coach of the Year 2019 Michael Hanson-Morris, to do well this season and make a top-five finish with a play-off run.
Ultimately, the game came down to three free-throws and a made field goal, but in close games, if you get to the line 32 times you're going to put yourself in positions to succeed.
In addition, Solent played some excellent team basketball, racking up 14 assists on the way to a debut victory in 2020/21.
Honourable mentions
Jazmin Gyulai - 20P/6R/2A/5S/21EFF
Jazmin Gyulai, was a close call for team of the week. Her incredible second-quarter scoring was crucial as ARU came back from a slow start against a driven CoLA team. Gyulai scored in bunches and at a great efficiency from three, and will be a star of this team again in 2020/21.
Fatma Abdelaziz - 12P/9R/12EFF
Just a rebound shy of a double-double and against one of the top teams in the country going all out, Fatma Abdelaziz made a great impact for her side in just 24 minutes of play. With more offensive than defensive rebounds, Abdelaziz will be looked to make these contributions all year long.
Autumn Kallis - 13P/12R/16EFF
Erica Meyer - 13P/8R (5OFF)/2A/1B/16EFF (10FLS ON)
Krtsztina Velkey - 8P/6R/3A/6S/16EFF
Fiona Fox - 10P/9R(7OFF)/3A/19EFF (71.4FG%)
​Main image credit - Nick Winter