Five games, including a big contest between CoLA and Loughborough, made up week 11 in the WNBL.
As a writer, commentator, podcaster and more, FocusHoops' Darren Paul once again had the tricky task of sifted through them all to pick out his Player and Team of the Week selections.
Have your say on this week's choices and give a shout-out to the players you think deserve one using the hashtag #NBL2122. Don't forget to tag us!    
Twitter: @NBLengland / @FocusHoops  
Facebook: @NBLengland  / @FocusHoops  
Instagram: @nblengland / @focushoops  
How it works  
Darren will pick a Player of the Week and four other selections to round out his Team of the Week, paying attention to the following criteria:
Efficiency 

 

Stats 

 

Team and opposition strength 

 

Periods of influence in the game 

Being on a winning team (exceptional performances from players on losing teams will be considered for TOTW)
Other players will also receive a shout out as honourable mentions at the bottom of the piece.
The FocusHoops team of the week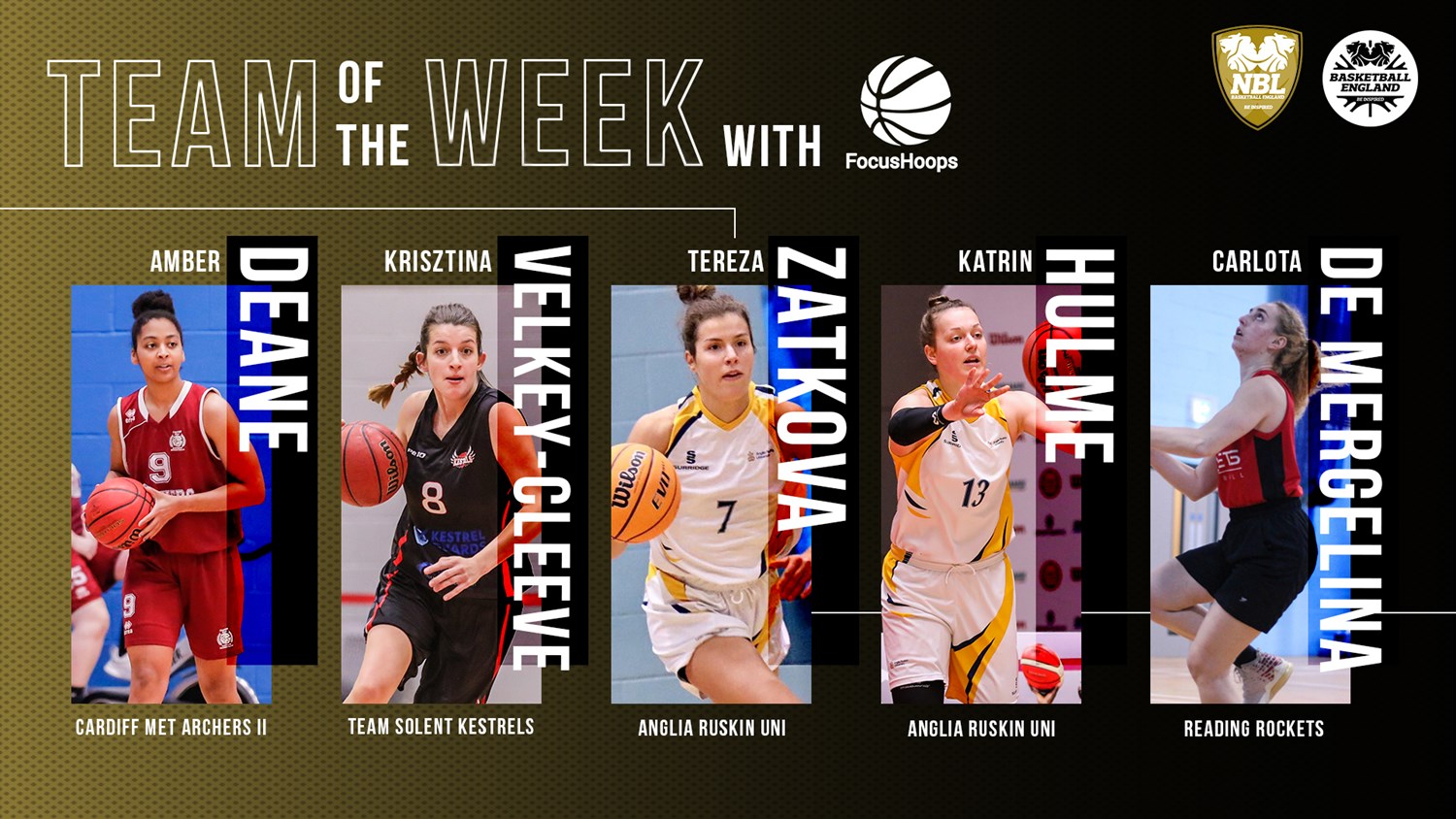 PLAYER OF THE WEEK
Amber Deane - Cardiff Met Archers, guard
17pts, 8reb, 4ast, 6stl, 33eff
Cardiff's Amber Deane clinched Player of the Week honours thanks to an efficient performance as the Welsh side continue to make a charge up the D1 standings.
Deane played 24 minutes and in that time went a perfect 5-5 from the floor with seven more points coming from the stripe.
The American also pulled down eight boards, dished four dimes and snagged six steals in another all around performance as her side won on the road in Bristol.
Krisztina Velkey-Cleeve - Team Solent Kestrels, guard
9pts, 14reb, 8ast, 3stl, 29eff
Krisztina Velkey-Cleeve's return to Team Solent Kestrels has been fantastic and just three weeks in she finds herself back in the Team of the Week.
After a great performance that saw the talented guard fall just short of a triple-double, Velkey-Cleeve finished her 26 minutes with an incredible +44, the highest of any player in Solent's big win over Worcester.
The former Kestrels' captain looked back to her best as she shot 4-7 from the floor and impressed on the glass, pulling down 14 boards, in addition to her eight assists and three steals.
Velkey-Cleeve putting up numbers like she's has never been away is always going to be great to see in the WNBL.
Tereza Zatkova - Anglia Ruskin University, guard
23pts, 9reb, 5ast, 22eff
Tereza Zatkova makes her bow in the Team of the Week as Ruskin's sharpshooting guard kept the scorers busy as ARU took down rivals Ipswich at the Bunker on Saturday.
Zatkova had the green light from long range as she drained five triples and went 4-7 from two.
Finishing just short of a double-double, pulling down nine boards, the Slovakian youth international added five assists and finished with a couple of steals for good measure.
Katrin Hulme - Anglia Ruskin University, forward
15pts, 17reb, 6ast, 25eff
Another week, another great performance from the Anglia Ruskin University captain as "The General" finished with another double-double as ARU beat rivals Ipswich in a seven-point thriller in Cambridge.
Hulme racked up 15 points, including going a perfect 4-4 at the stripe, but once again put in work on the glass to finish with a weekend-high 17 rebounds, 13 on the defensive end.
Hulme's passing was also on full display to add six assists in another all-around performance from the Ruskin skipper.
Carlota De Mergelina Alonso - Reading Rockets, wing
10pts, 12reb, 2AST, 4stl, 24eff
Mergelina Alonso makes her debut in Team of the Week as Reading took down Nottingham Trent in a 12-point home victory. The win leaves Rockets just one spot out of the playoffs as we near the midway point on the year.
In 32 minutes of action, Mergelina Alonso was +18 and played an efficient game to finish with a double-double of 10 points on 4-5 shooting from the floor in addition to a game-high 12 rebounds, eight defensive and four offensive.
Alonso dished two assists and finished with four steals as Reading claimed a valuable win.
Team Basketball
Anglia Ruskin keep streak rolling with rivalry win
ARU moved to 5-2 on the season after a crucial victory over reigning champions Ipswich, winning 74-67 on Saturday afternoon.
Zatkova and Hulme made Team of the Week thanks to their performances in the contest while Ipswich were led by Ava Battese who finished with a 12-12 double-double, plus the tough play of Saruna Gudza who was fouled an eye-watering 9 times.
Ipswich fought back in the second half after losing their way in a 22-15 second period, but ARU rallied late to take a huge win and keep themselves in the chasing pack of four teams with a 5-2 record.
CoLA top at Christmas, down the Riders on the road
CoLA Southwark Pride will top the WNBL standings at Christmas as they improved to 9-0 thanks to a 58-57 victory over Loughborough Riders.
The Riders had the chance to clinch a crucial W over the league leaders but some excellent defence from Coach Gibbons' charges prevented Loughborough from getting off a potential game-winning shot before time expired.
Funmi Amode led the way for the Pride with her 16-6 performance as Emilie Black tacked on 17 points.
Alia El Shabrawy once again contributed well for the Riders with an efficient 16 points in the losing bid.  
Honourable mentions
Molly Danielson (TSK) - 21P/12R/5A/27EFF
Chandre Nunez (WOR) - 22P/10R/42/1B/18EFF
Alia El Shabrawy (LOU) - 16P/5R/5A/5S/22EFF
Denisa Molnar (CAR) - 17P/2R/5A/9S/21EFF
Carys Roy (CAR) - 16P/7R/5A/2S/3B/21EFF

.
Main image credit - Luke Simcock
Graphic image credits - Luke Simcock, Anglia Ruskin University, Reading Rockets