FocusHoops' Darren Paul enjoyed the opening round of the WNBL playoffs this past weekend, with four exciting contests catching his eye.
As a writer, commentator, podcaster and more, Darren took in wins for Ipswich, CoLA, Loughborough and Nottingham as he put together his penultimate Team of the Week for 2020/21.
Have a look over this week's choices and give a shout-out to the players you think deserve one using the hashtag #NBL2021. Don't forget to tag us!  
Twitter: @NBLengland / @FocusHoops  
Facebook: @NBLengland  / @FocusHoops  
Instagram: @nblengland / @focushoops  
How it works  
The Basketball England WNBL Player of the Week goes straight into the starting line-up.  
The other four players are picked with the following factors in mind:  
Efficiency 

 

Stats 

 

Team and opposition strength 

 

Periods of influence in the game 

 
The FocusHoops team of the week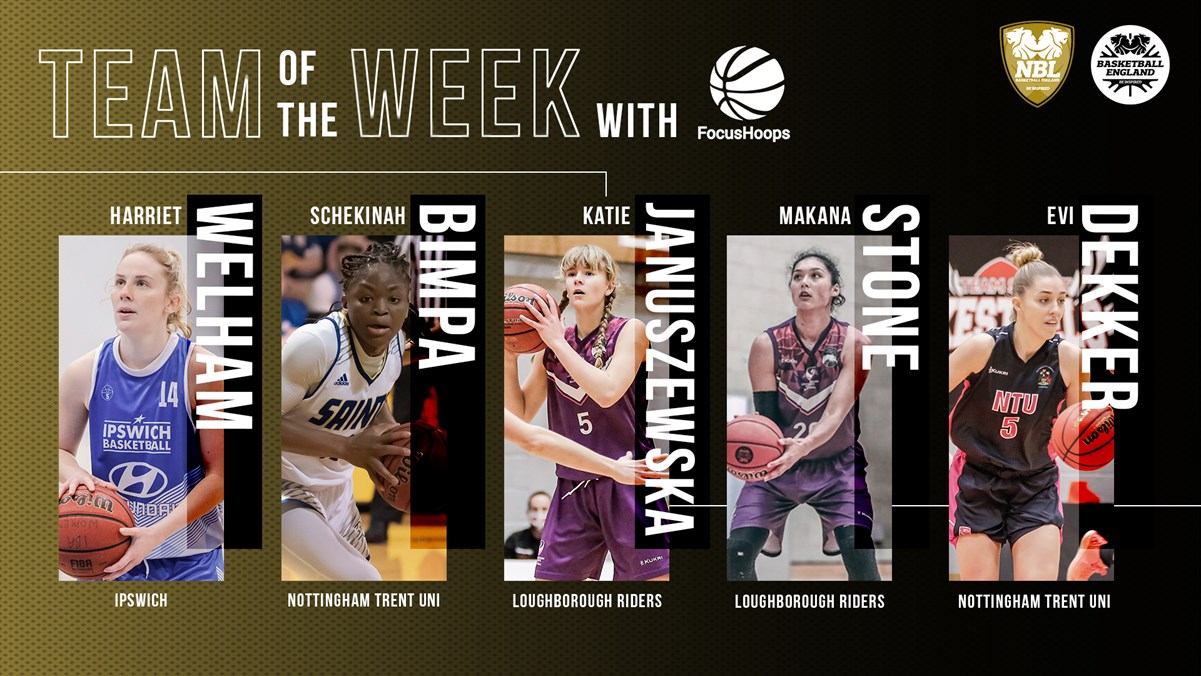 Harriet Welham - Ipswich, guard
35pts, 4reb, 4ast, 31eff
Harriet Welham is our Player of the Week thanks to an incredibly efficient performance on Saturday. The Ipswich captain bag 35 points after sinking five of seven attempts from three point land in Ipswich's 34 win over Thames Valley. leading her team to glory.
In addition to her incredible shooting from outside, Welham was strong from inside and excelled at the line, making 10-12 free throws after she was fouled six times in the ballgame, without conceding a single foul herself.
This was a big performance from Ipswich's captain and the Suffolk side will be hoping for more of the same as they continue their playoff journey.
Schekinah Bimpa - Nottingham Trent University, forward
20pts, 10reb, 2ast, 2STL, 24eff
Another week, another big performance from Schekinah Bimpa in Nottingham Trent University's 6 point upset over Team Solent Kestrels.
Bimpa shot well, scoring 53% from the floor and going a perfect 4-4 at the foul line. She also rebounded well in the contest, pulling down a joint game-high 10 boards, with three on offence.
The American was a force at both ends of the floor, picking off a pair of steals and dishing two assists as NTU booked their place in next weekend's semi-finals against top dogs Ipswich.
It's worth noting that Bimpa went off the last time she played the #1 seeds. Should she play, Trent will be expecting big things from a player who has excelled every time she's had the opportunity this season.
Katie Januszewska

- Loughborough Riders, forward
19pts, 13reb, 4ast, 2STL, 22eff
Katie Januszewska continues to have an incredible rookie season in D1W as her 19/13 double-double helped the Riders get by Reading 62-53.
Januszewska didn't have her most efficient shooting performance, but battled and made her way to the foul stripe seven times, converting five of them on her way to 19 points (including a pair of triples).
KJ also pulled down a team high 13 rebounds, including three offensive, and dished four assists as Loughborough booked a date with CoLA in the semi-finals.
In order for the Riders to make the final they'll be relying on a big game from Januszewska next weekend and the young star will no doubt be ready to do just that.
Makana Stone - Loughborough Riders, forward
19pts, 9reb, 1ast, 3stl, 22eff
Makana Stone is once again in the Team of the Week after her impressive outing in Loughborough's narrow win over Reading on Saturday.
The American star shot well from inside the arc, making 50% of her attempts, and going 7-9 from the foul line to tie Katie Januszewska and Gaila Comesana for game-highs in scoring.
Stone was just one rebound shy of yet another double-double as she grabbed seven defensive boards and two more on offence whilst also contributing an assist and three steals on the way to a hard fought victory over a Rockets side that have caused the Riders trouble this season.
Loughborough are now just one game away from the WNBL playoff final and with both Stone and Januszewska playing at their current level, anything is possible.
Evie Dekker - Nottingham Trent University, guard
17pts, 5reb, 3ast, 2stl, 18eff
Evie Dekker was a major player in NTU's victory on the road at Team Solent Kestrels as she scored 17 points, pulled down five boards and dished out three assists as the #5 seeds took up a place in the final four.
Dekker, an important member of the Trent team for a number of years, contributed with three shots from outside, also going 4-6 at the line as she drew five fouls in the contest.
The talented guard was efficient in possession, dishing multiple assists whilst committing zero turnovers, also nabbing two steals in an all-round impactful performance.
Nottingham Trent University beat Ipswich the last time the two teams met in Suffolk, no doubt NTU will be looking to Dekker for another strong performance if they hope to repeat that feat next weekend.
Team Basketball
CoLA share the load
CoLA Southwark Pride were Team Performers of the Week as they once again shared the minutes on their way to a decisive victory over #7 seeds BA London Lions II.
Pride were led in scoring by Emilie Black with 20 points but it was a big team effort that saw them book a semi-final clash at home to Loughborough Riders, especially without the impressive talents of Isi Ozzy Momodu.
NTU with the upset
Nottingham Trent University were the only team to get a win on the road last weekend as they knocked off #4 seeds Solent Kestrels.
It doesn't feel like much of a reward, but NTU set up a trip to Ipswich to face the number #1 seeds in the semi-finals. Still, the post-season features the best teams for a reason and no doubt Nottingham will be high on confidence after their win on the South coast.
Honourable mentions
Katherine Goldsby (TVC) - 13P/15R/5A/2S/1B/22EFF
Faye Endean (TSK) - 20P/4R/4A/3S/20EFF
Gaila Comensana (REA) - 19P/12R/2A/20EFF
Paula Puzule (BAR) - 17P/2R/16EFF
Emilie Black (COLA) - 20P/3R/16EFF