Week seven was a good one in the WNBL and FocusHoops' Darren Paul was on hand to sift through all the action.
As a writer, commentator, podcaster and more, Darren saw Thames Valley hand a first defeat of the year to Loughborough, and with wins for CoLA, Cardiff and Bristol too, there were plenty of top performances to consider for his Player and Team of the Week.
Have your say on this week's choices and give a shout-out to the players you think deserve one using the hashtag #NBL2122. Don't forget to tag us!    
Twitter: @NBLengland / @FocusHoops  
Facebook: @NBLengland  / @FocusHoops  
Instagram: @nblengland / @focushoops  
How it works  
Darren will pick a Player of the Week and four other selections to round out his Team of the Week, paying attention to the following criteria:
Efficiency 

 

Stats 

 

Team and opposition strength 

 

Periods of influence in the game 

Being on a winning team (exceptional performances from players on losing teams will be considered for TOTW)
Other players will also receive a shout out as honourable mentions at the bottom of the piece.
The FocusHoops team of the week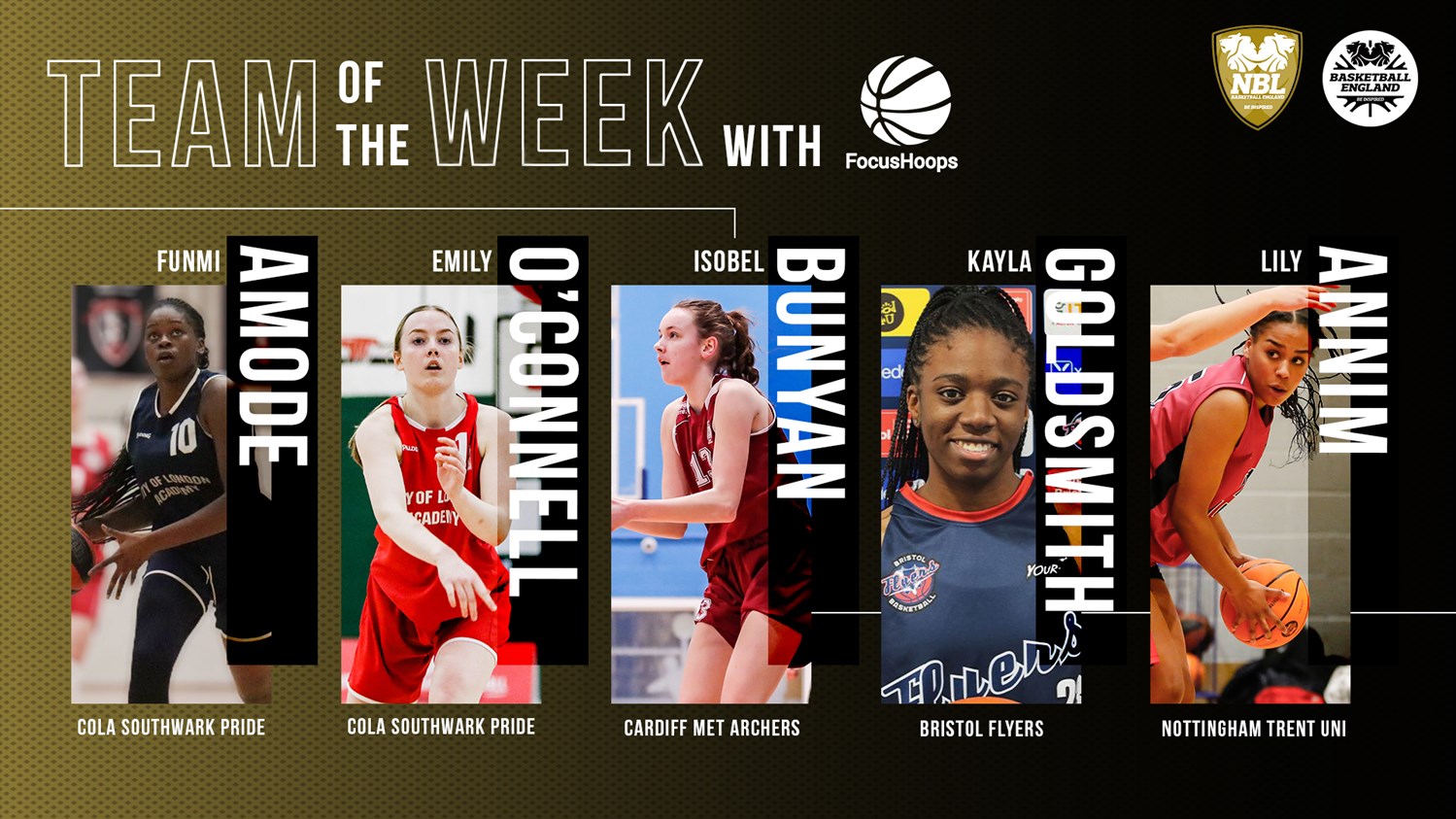 PLAYER OF THE WEEK
Funmi Amode - CoLA Southwark Pride, forward
24pts, 16reb, 3STL, 31eff
Funmi Amode earned Player of the Week honours thanks to her excellent 24-16 double-double in CoLA's big win over Team Solent Kestrels..
Amode's 24 points came from 68% shooting, but it was her total domination of the offensive glass that is the most eye-opening as she pulled down 11 offensive boards, plus five on defence, to finish with a game-high in that category.
Amode also contributed with three steals in the contest to complement her excellent offensive output as CoLA continues to dominate the WNBL.
Emily O'Connell - CoLA Southwark Pride, guard
20pts, 6reb, 2ast, 3STL, 26eff
Emily O'Connell had a big scoring day for CoLA, hitting 72% from the field to finish with 20 points in the 99-70 win over Solent.
O'Connell was a perfect 2-2 from the foul stripe and beyond the arc as well, adding in six boards and a pair of assists as the guard did a little bit of everything to help her side retain their perfect record.
O'Connell also finished with three steals to cap off an all-round excellent performance.
Isobel Bunyan - Cardiff Met Archers II, wing
20pts, 11reb, 4ast, 6stl, 3blk, 31eff
Cardiff Met Archers II returned to winning ways this weekend, spearheaded by Isobel Bunyan's double-double performance over Nottingham Trent University.
The Welsh junior finished the game with 20 points and 11 rebounds as Cardiff saw off Trent by 14 points.
Bunyan excelled on both sides of the ball this weekend, complementing her double-double with four assists, three blocks and an excellent six steals, whilst committing just a single turnover.
Overall, it was an excellent and efficient performance from the Archers' star.
Kayla Goldsmith - Bristol Flyers, forward
29pts, 2reb, 1STL, 27eff
Kayla Goldsmith makes her debut in Team of the Week this season after a fantastic scoring performance for Bristol Flyers as they downed the London Lions 71-48 at home on Saturday.
Goldsmith shone off the bench, finishing with a weekend-high 29 points, enjoying an excellent 80% shooting performance.
Goldsmith missed just once in the first half and increased her range in the second, demonstrating a versatile scoring touch from under the basket, at the elbow and even beyond the arc.
The American forward also made 4-6 at the line and contributed two boards and a steal in a comfortable victory for the Flyers.
Lilly Annim - Nottingham Trent University, forward
19pts, 11reb, 3STL, 2BLK, 22eff
Lilly Annim's Nottingham Trent University were on the losing end of things this weekend, but Annim made the Team off the Week thanks to an efficient performance that saw her finish with a team-high 19 points and a double-double in the 70-56 defeat.
The former Barking Abbey prospect hit her 19 points on 50% shooting, and made her free-throws to boot, going 5-6 at the charity stripe.
Annim worked hard on the glass to pull down 11 rebounds, 9 defensive, in addition to coming away with three steals and two blocks.
Team Basketball
CoLA stay top with statement Vvctory
CoLA Southwark Pride took another major victory in D1W this weekend with a 29-point win against Team Solent Kestrels.
A characteristically strong team performance, headlined by Player of the Week Funmi Amode and Emily O'Connell, saw Coach Gibbons' team remain at the top of the standings and things look all the better given Loughborough's home loss to Thames Valley Cavaliers.
CoLA finished with five players in double figures scoring, with another short but high scoring contribution from Isi Ozzy-Momodu who finished with 14 points in 13 minutes of action.
CoLA have the whole league on notice as we pass the quarter mark of the season.
Thames Valley Cavaliers stun Loughborough
Thames Valley Cavaliers kept their winning streak rolling as they handed title contenders Loughborough their first loss of the season in Loughborough on Saturday evening.
As is the way with TVC, everyone contributed, with four players in double-figures scoring and Chinwe Iwunze finishing with a 10-12 double-double.
Thames Valley blew open a very tight game in the third period, overcoming a half-time deficit to take a 10-point lead into the final quarter, a lead they never looked like losing.
The visitors dominated on the glass, winning the rebounding battle 61-39, and kept it very clean as they sent Loughborough to the line just nine times. It all added up to a pretty huge road win.
Honourable mentions
Detti Balla (TSK) - 20P/6R/3A/19EFF
Ezekiela Lisk (TVC) - 12P/6R/3A/14EFF
Fatmata Janneh (LL2) - 24P/11/3A/24EFF
.