FocusHoops' Darren Paul returns with five more picks for WNBL1 PLayer of the Week honours.
As a writer, commentator, podcaster and more, Darren casts his expert eye over three games from the weekend and selects his standouts.
Have your say on this week's choices and give a shout-out to the players you think deserve one using the hashtag #NBL2122. Don't forget to tag us!    
Twitter: @NBLengland / @FocusHoops  
Facebook: @NBLengland  / @FocusHoops  
Instagram: @nblengland / @focushoops  
How it works  
Darren will pick a Player of the Week and four other selections to round out his Team of the Week, paying attention to the following criteria:
Efficiency 

 

Stats 

 

Team and opposition strength 

 

Periods of influence in the game 

Being on a winning team (exceptional performances from players on losing teams will be considered for TOTW)
Other players will also receive a shout out as honourable mentions at the bottom of the piece.
The FocusHoops team of the week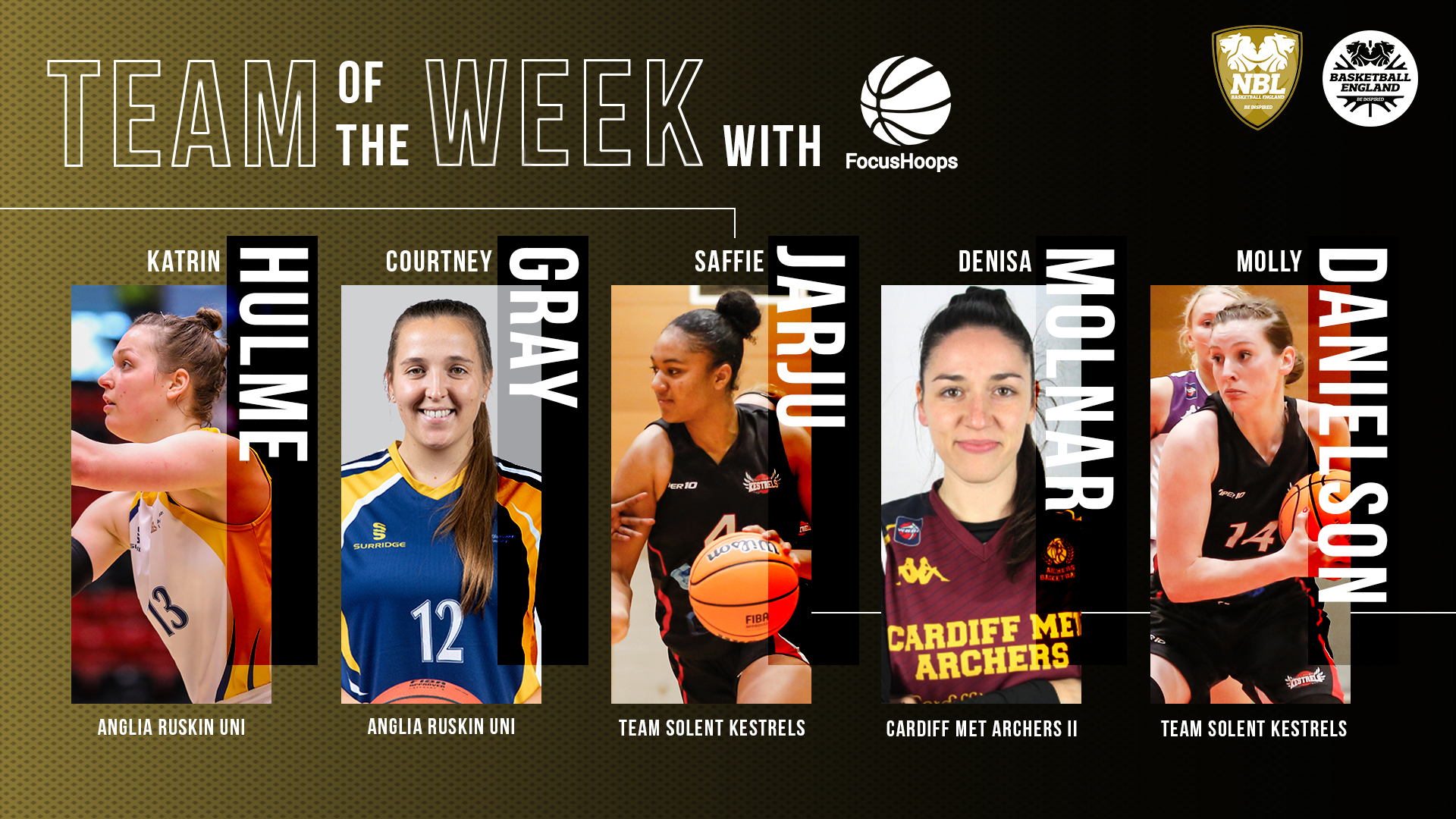 PLAYER OF THE WEEK
Katrin Hulme - ARU 
25-11-7-3stl 35EFF 
 Katrin Hulme is once again Player of the Week following her captain's performance as ARU took down Team Solent Kestrels 79-73 on Saturday. The General bagged herself another double-double with 25 points and 11 rebounds, and she get her share of assists leading her side with seven.  
 Hulme also contributed defensively, with three steals and two blocks as she continues to be one of the most complete players in the WNBL.  
Saffie Jarju - Team Solent Kestrels 
18-12-2 17EFF 
Despite the loss to Anglia Ruskin University, Saffie Jarju shone for the Kestrels as the young forward continues to grow in the game. Jarju finished with career highs in points and rebounds, finishing with 18-12 on 50% shooting and an even six offensive and six defensive boards.  
Jarju's patient and mature play in the post gave Ruskin trouble at times as she scored on some of the most experienced defenders in the league. CJ Lee will be hoping for more of the same from Jarju as TSK continue to grow into the season.  
Courtney Gray - ARU
15-6-1 19EFF 
Courntey Gray was in efficient form this weekend with 15 points on 85% shooting to complete six rebounds in her side's win over Team Solent Kestrels.  
Gray has a great connection with Katrin Hulme and the two of them made life tough for Solent on Saturday as Gray finished with a +10 in the 6 point victory, and has become a core piece of ARU on both ends of the floor.  
Denisa Molnar Cardiff Met Archers II 
26-7-0 25 EFF 
Denisa Molnar had an excellent individual performance in her side's narrow loss to CoLA Southwark Pride on Saturday, as she finished with a game high 26 points on 52% from the floor including a massive five made triples!  
Outside of her scoring Molnar was second in rebounds on her side pulling down 7 boards and dished two assists in the contest, which saw her side fall in overtime to the runaway league leaders.  
Molly Danielson - Team Solent Kestrels 
22-8-1 26 EFF 
Molly Danielson put in a very impressive performance in a losing effort at Anglia Ruskin University on Saturday evening. Danielson, who went toe-to-toe with Hulme and Neininger in the post, finished with 22 points on 64% shooting, all from inside the arc, and only three of her 14 shots coming from outside the paint.  
Danielson also went perfect at the stripe and added eight boards, dished one dime and finished with two steals in a performance that had a little bit of everything, and left those in attendance very impressed with her interior finishing.  
Team basketball
CoLA pushed to the limit, but get the job done over Cardiff
CoLA Southwark Pride continue their reign of terror atop the WNBL D1, but they were pushed to the wire at home to a Cardiff Met Archers without Carys Roy and Isobel Bunyan, but did see the return of Amber Deane and Denise Molnar who had two excellent individual performances.  
For CoLA they did what they've done all season, shared the scoring load and shared the minutes finishing with Funmi Amode, Emily O'Connell and Izi Ozzy-Momodu all finishing with double-digits in points and all but one of the 11 players who saw the floor scored points.  
Anglia Ruskin take down old rivals Kestrels in thriller at The Bunker 
Anglia Ruskin University picked up their third win on the year as they took a 6 point victory over Team Solent Kestrels on Saturday, thanks to 25 points from Katrin Hulme, 15 points from Courtney Gray and 11 points from Ilaria Zaffaroni. Zaffaroni has started the season very strong, especially on the defensive side of things, being a constant threat to the ball handler all the way up the floor, finishing with 4 steals but pressuring more mistakes than show up on the box score.  
The Kestrels pushed Ruskin close with a great performance from Jarju and Danielson, and at times Anna Nevison shone, but the hosts proved too strong for a short sided Solent. 
Honourable mentions
Amber Deane CAR 18-10-1-5stl 18EFF 
Isi Ozzy-Momodu SOU 10-13-0 
Funmi Amode SOU 12-8-3 
.