Just three D1W games were played this past weekend, but FocusHoops' Darren Paul still had plenty of fine performances to sift through in week 9.
As a writer, commentator, podcaster and more, Darren saw Reading beat London Lions II, Bristol ease past Nottingham and Cardiff knock off Solent as he looked to name his Player and Team of the Week.
Have your say on this week's choices and give a shout-out to the players you think deserve one using the hashtag #NBL2122. Don't forget to tag us!    
Twitter: @NBLengland / @FocusHoops  
Facebook: @NBLengland  / @FocusHoops  
Instagram: @nblengland / @focushoops  
How it works  
Darren will pick a Player of the Week and four other selections to round out his Team of the Week, paying attention to the following criteria:
Efficiency 

 

Stats 

 

Team and opposition strength 

 

Periods of influence in the game 

Being on a winning team (exceptional performances from players on losing teams will be considered for TOTW)
Other players will also receive a shout out as honourable mentions at the bottom of the piece.
The FocusHoops team of the week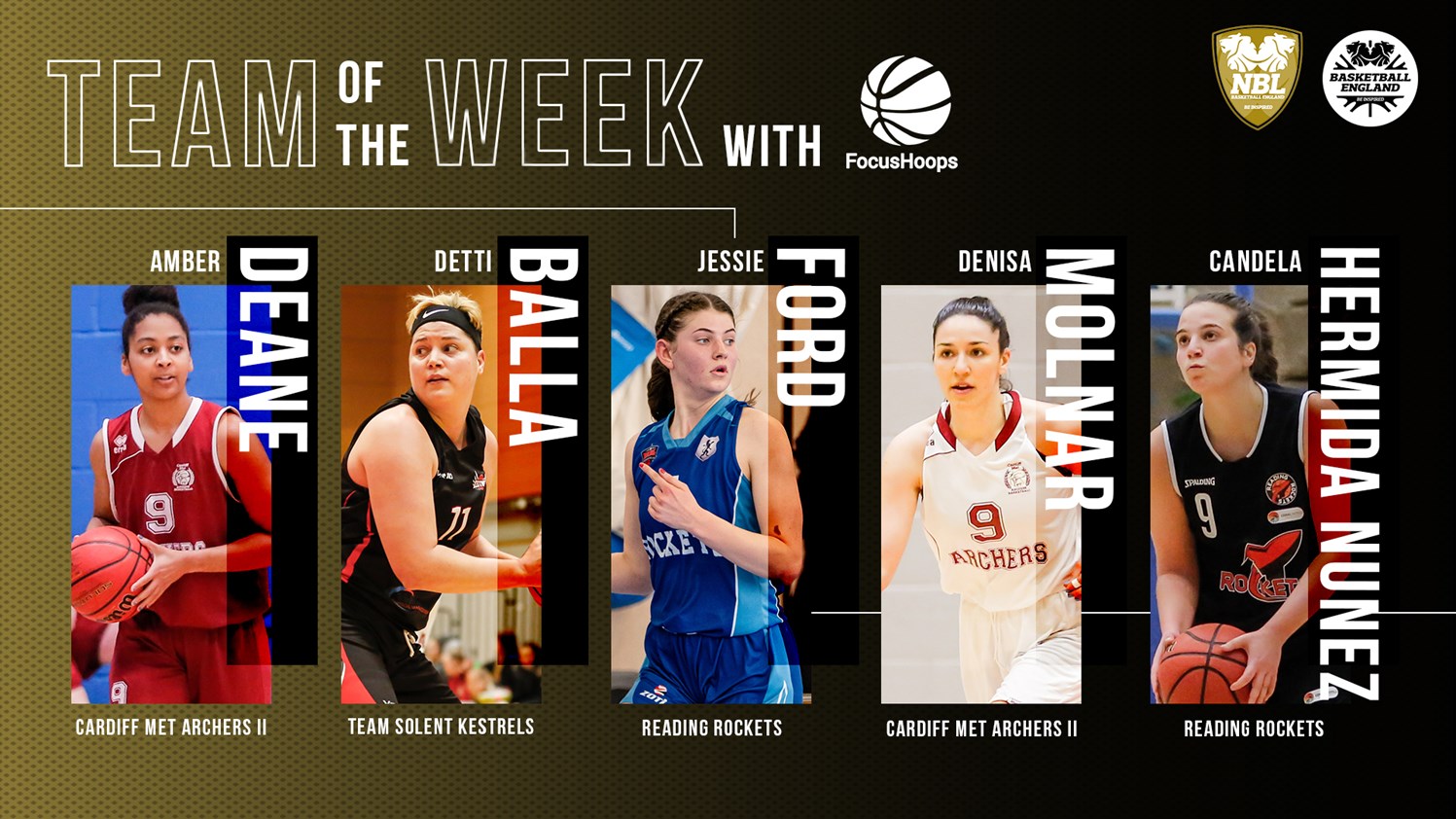 PLAYER OF THE WEEK
Amber Deane - Cardiff Met Archers, forward
29pts, 5reb, 5ast, 4STL, 33eff
Amber Deane is my Player of the Week after an exceptional scoring performance in Cardiff's statement win on the road in Solent.
Deane was clinical inside, finishing with 29 points on 58% shooting and went 9-10 from the stripe.
The American had a hand in everything Cardiff did, complementing an incredible scoring effort with five boards, five dimes and four steals to lead the Archers to victory.
Cardiff fans will be very excited at the prospect of an in-form Deane leading the charge into December and beyond
Detti Balla - Team Solent Kestrels, forward
30pts, 16reb, 1ast, 1STL, 2BLK, 36eff
Detti Balla returned for Solent this weekend and in some style with a huge double-double performance in a losing effort to Cardiff.
Balla finished as the game's leading scorer and rebounder with a 30-16 line and 66% shooting.
Balla's rebounds came evenly at both ends of the floor, taking a tremendous eight offensive boards and eight defensive in a performance any big would be proud of.
The forward also added an assist, a steal and two blocks to finish with a stunning 36 efficiency.
Jessie Ford - Reading Rockets, forward
25pts, 6reb, 1ast, 2STL, 1BLK 27eff
Jessie Ford led Reading in scoring on her way to Team of the Week honours as her side took down the London Lions on the road.
Ford shot the ball very well, going 7-8 from inside and making 3-5 attempts from range in a great outing for the Berkshire club.
Ford complemented her excellent scoring with six rebounds, two offensive, plus an assist, two steals and a block. It was a well balanced performance to help seal an important W.
Denisa Molnar - Cardiff Met Archers, guard
23pts, 2reb, 3ast, 4STL, 23eff
Denisa Molna returns to Team of the Week after a very efficient 23 points in Cardiff's win over Solent.
Molnar made her two shots inside, but lit it up from beyond the arc to sink six triples at a 50% clip. It was a fantastic shooting performance that helped elevate Cardiff to a .500 record at 4-4.
Molnar pulled down two boards and dished three assists, also affected the Solent offense to finish the game with four steals.
Candela Hermida Nunez - Reading Rockets, guard
19pts, 4reb, 7ast, 5STL, 25eff
Candela Hermida-Nunez makes my Team of the Week thanks to a total contribution in her side's crucial victory over London Lions.
Herminda-Nunez finished with 19 points on 50% shooting, going 3-4 from three-point-land. The influential guard also contributed four rebounds, all defensive, and as well as a game-high tying seven assists.
The Rockets' captain also found ways to affect the game on the defensive end with five steals and a block against the London outfit.
It allowed Reading to claim just their second victory of the season, thanks in part to the total basketball played by Hermida-Nunez, and there will be hope that this can be a catalyst to further progress as we head into December.
Team Basketball
Reading take "4-pointer" clash over London Lions
In a battle between two sides down near the foot of the table, it was the Reading Rockets who came away victorious over the London Lions, thanks to a great team performance with multiple players having excellent games.
Elena Matheson, Jessie Ford and Candela Hermida-Nunez all deserve praise for their scoring, with Matheson also tacking on seven assists.
For London Fatmata Janneh, as she always does, led the way in dominant fashion with 38 points and 10 rebounds in the contest but it wasn't quite enough to take down the Rockets.
Cardiff Met Archers make statement in Solent
Cardiff Met recorded one of the most sensational victories of the season on Saturday with a huge 24 point victory over Team Solent Kestrels.
The Kestrels were buoyed by the return of Detti Balla, who put in a ToTW performance, plus the returning Kristina Velkey-Cleeve who made her season debut after taking the last 12 months out on maternity leave.
Deane and Molnar were in scintillating form to spoil the party though as Cardiff shot efficiently as a team, won the turnovers battle and moved the ball well on their way to a crucial victory.
It was a result that will no doubt provide a massive boost as Cardiff head into an important National Cup clash with Anglia Ruskin next week.
Honourable mentions
Fatmata Janneh (LL2) - 38P/10R/4A/34EFF
Elena Matheson (REA) - 15P/6R/7A/19EFF
Lindsey Cleary (NTU) - 10P/10R/1A/16EFF
.