FocusHoops' Darren Paul is back once again as he picks the best of the action from week 4 in the WNBL.
As a writer, commentator, podcaster and more, Darren had a total of five games to mull over before selecting his Player and Team of the Week.
Have your say on this week's choices and give a shout-out to the players you think deserve one using the hashtag #NBL2122. Don't forget to tag us!    
Twitter: @NBLengland / @FocusHoops  
Facebook: @NBLengland  / @FocusHoops  
Instagram: @nblengland / @focushoops  
How it works  
Darren will pick a Player of the Week and four other selections to round out his Team of the Week, paying attention to the following criteria:
Efficiency 

 

Stats 

 

Team and opposition strength 

 

Periods of influence in the game 

Being on a winning team (exceptional performances from players on losing teams will be considered for TOTW)
Other players will also receive a shout out as honourable mentions at the bottom of the piece.
The FocusHoops team of the week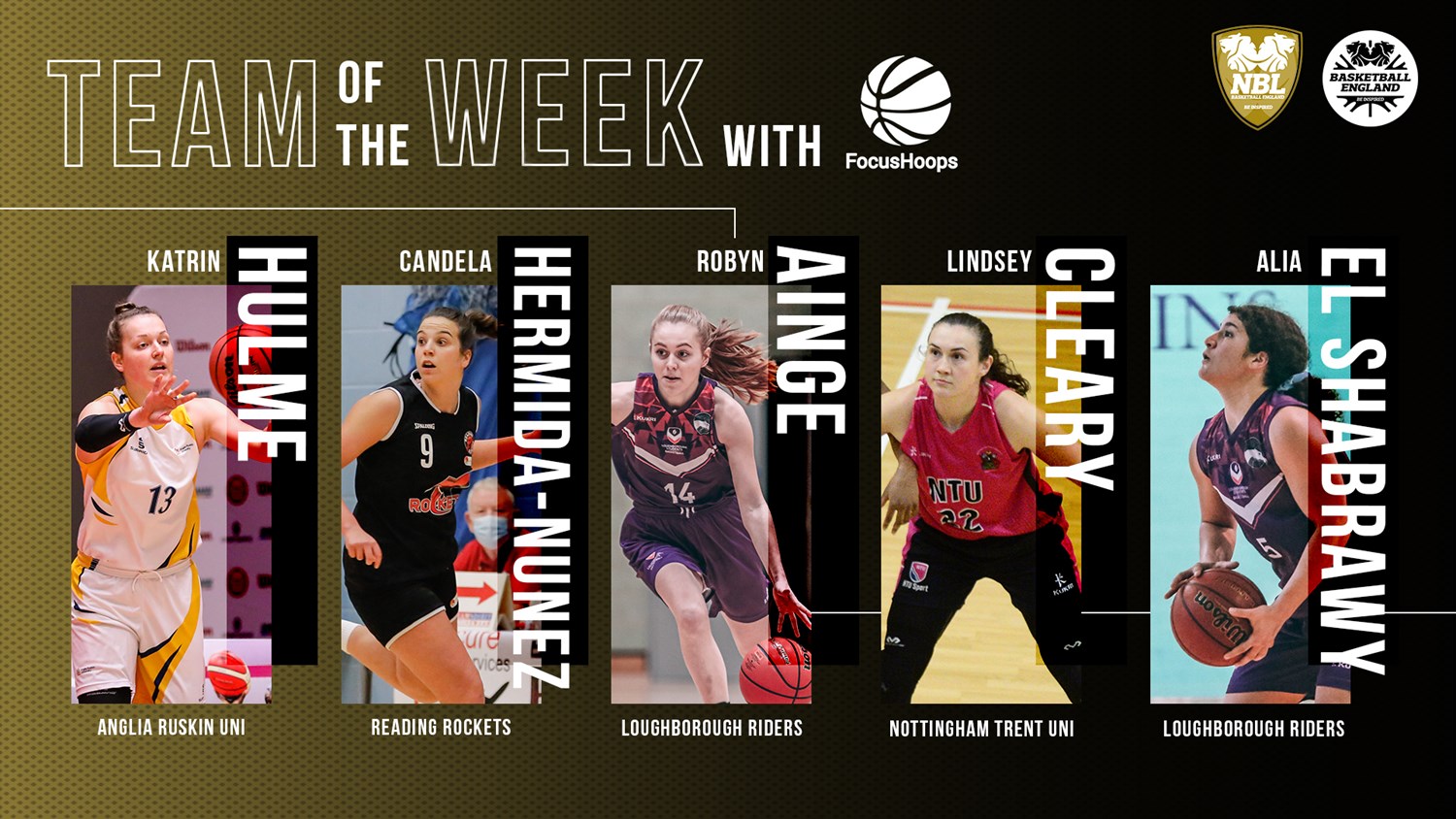 PLAYER OF THE WEEK
Katrin Hulme – Anglia Ruskin, forward
21pts, 19reb, 2ast, 3STL, 36eff
We have back-to-back Player of the Week awards in the WNBL, with Katrin Hulme leading the way once again. Her monster double-double of 21 points and 19 rebounds was key in ARU's 72-60 road win over Worcester Wolves on Saturday.
Hulme shot efficiently around the basket, hitting 64% from inside the arc, also converting well from the line to make 3-4 shots there.
The former playoff final MVP pulled down six offensive boards (tied with Courtney Gray), whilst blocking a shot and finishing the contest with three steals.
Hulme, a player who relishes the physical battle down low, took two charges during the game, gaining her side valuable stops in what was at times a tight contest.
Robyn Ainge - Loughborough Riders, guard
29pts, 9reb, 5ast, 30eff
Loughborough's Robyn Ainge had yet another excellent weekend in the WNBL as the Riders' captain led all scorers with 26 points in their narrow 70-64 win over the Team Solent Kestrels.
Ainge was one rebound shy of a double-double, taking down four offensive boards, dishing four dimes and swiping four steals. The impressive guard also shot the lights out from range, draining five triples at a 55% clip and was nearly perfect from the line, hitting 9-10.
In a hard-fought game, the Riders needed their captain to come up big and she did just that.
Candela Hermida-Nunez - Reading Rockets, guard
24pts, 2reb, 4ast, 2stl, 22eff
Candela Herminda-Nunez had a great game for the Reading Rockers as they clinched their first win of the season, a 67-49 victory over Bristol Flyers.
Herminda-Nunez was by and far the best shooter in the contest, finishing with 24 points, going perfect from the three point land and shooting at 50% from the floor. She also made 7-9 free throws on five fouls, whilst only committing two fouls of her own.
The Spanish guard supplemented her excellent scoring with two rebounds, four assists and two steals to cap off very good afternoon for the Rockets' captain.
Lindsey Cleary - Nottingham Trent University, forward
27pts, 9reb, 6ast, 2stl, 32eff
Lindsey Cleary was sensational this weekend despite being on the losing side as Nottingham Trent fell by just one point to the reigning champions Ipswich, 70-69 on the road.
Trent had a huge comeback in the fourth quarter after a tough third period left them adrift, and Clearly led the way with 13 points, four rebounds and two assists over the final 10 minutes. She was also fouled twice in an incredible individual display that had NTU on the cusp of clinching their first victory of the season.
Cleary shot with great efficiency, hitting 56% of her shots, all from inside, and made her only free throw. In addition, the American finished with nine rebounds and six assists whilst swiping two steals in a great individual display. 
Alia El Shabrawy - Loughborough Riders, guard
20pts, 14reb, 7ast, 5stl, 26eff
Alia El Shabrawy returns to the Team of the Week after a double-double performance for Loughborough in their victory over Team Solent Kestrels.
El Shabrawy finished with 20 points on 34% shooting, second only to Robyn Ainge for the Riders, and finished with 10 of her team's 24 points in the paint.
In addition, the Loughborough guard pulled down a team-high 14 rebounds, including four offensive boards, whilst contributing seven assists.
The talented guard also worked hard defensively, finishing with five steals
Team Basketball
CoLA continue dominant start to the season
CoLA Southwark Pride took a commanding victory over the London Lions II on the road this Saturday with a 64-27 win in the local derby.
Isi Ozzy-Momodu had another brilliant display in just 12 and a half minutes, finishing with 12 points (55% shooting) 12 rebounds, with seven on offence plus one assist.
Funmi Amode also impressed off the bench, bagging 12 points on 83% shooting and added five steals in another excellent win.
The victory pushed CoLA to 4-0 and joint-top of the standings with Loughborough.
Loughborough Riders stay perfect as Solent take first loss
Loughborough Riders keep on winning in 2021/22, as they gave Solent Kestrels their first loss of the season on Saturday.
The Riders have two players in my Team of the Week in El Shabrawy and Ainge, but the Kestrels also play a great game.
Molly Danielson put up an excellent performance, finishing with 18 points and 16 boards while Faye Endean had 22 points, with six assists and seven steals in the losing bid.
Riders sit joint-top of the standings after an impressive start to the season and will be expecting more of the same when they head to Reading this weekend.
Honourable mentions
Ava Battese (IPS) - 21P/7R/1A/20 EFF
Molly Danielson (TSK) - 18P/16R/2A/26EFF
Isi Ozzy-Momodu (CoLA) - 12P/12R/1A/19 EFF
.