Love is in the air, but there's little time for gifts and flowers this weekend as eight NBL1 games fill the schedule, plus there's one remaining L Lynch Trophy quarter-final still to enjoy.
It was expected that the game between Thames Valley and Nottingham Hoods was going to need to go down as a 20-0 forfeit, but both teams have managed to find a spot in the schedule to play the game on Saturday afternoon.
Spread around that quarter-final are eight NBL1 games across the weekend, highlighted by Newcastle's trip to Hemel on Saturday and a local Valentine's Day derby between Loughborough and Nottingham on Sunday.
We take a look at all this weekend's games below, with links to live stats and live streams at the bottom of the page.
Hemel Storm (5-2) v Team Newcastle University (7-2)
Hemel look to keep pace with D1M's top sides tomorrow as they welcome Team Newcastle to Hertfordshire.
It has been a tough stretch for the Storm recently, enduring a surprise 97-94 home loss to Essex two weeks ago before narrowly surviving a big come back to hang on and beat BA London Lions last Saturday.
Coach Spinks' side also suffered defeat in first round of the BBL Trophy last time out, losing 77-63 to Cheshire Phoenix.
Those results have threatened to stunt a positive start to the season, with Storm winning four of their opening five games before this recent run.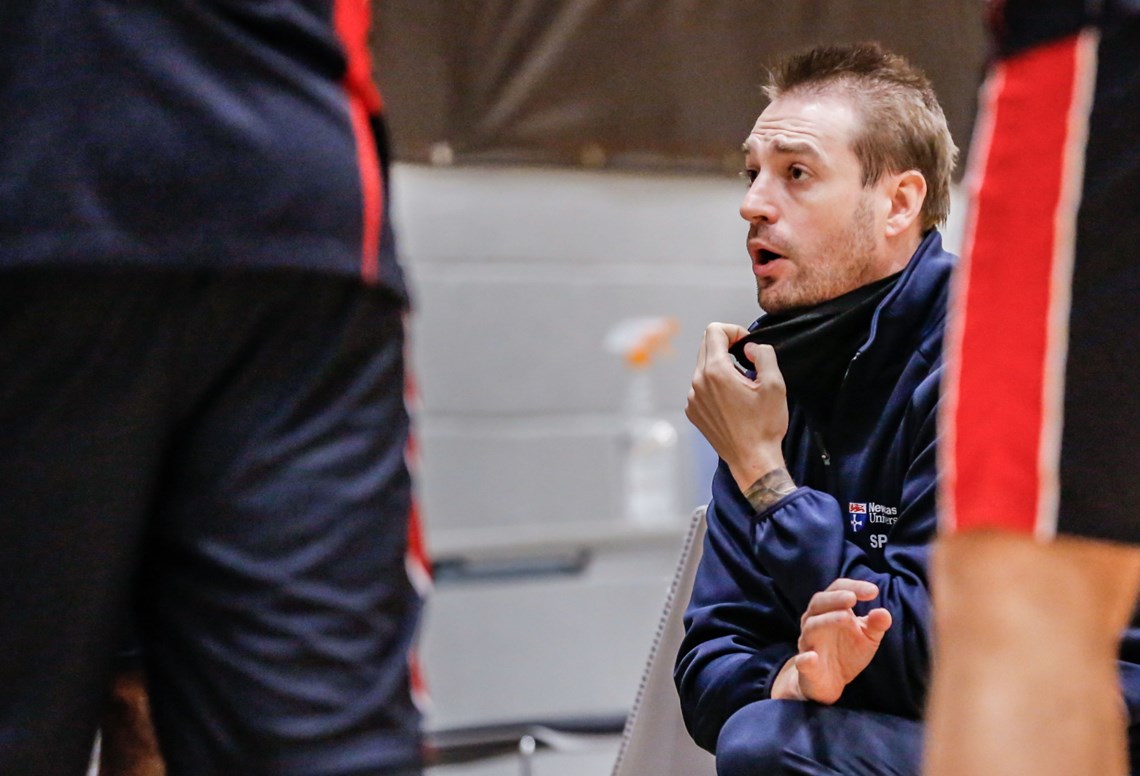 To the surprise of most, one of the teams that Hemel are currently chasing are tomorrow's opponents Team Newcastle. The newly promoted side are enjoying a five-win streak, and they even handed much-fancied Thames Valley a first defeat of the season last weekend, coming out on top 88-86.
Coach Elderkin's side have prioritised a team-first approach so far, currently ranking second in the league with 22.8apg. That unselfish play has also allowed the North East side to profit from range, shooting a league second best 37.3% from beyond the arc.
It's worth noting Hemel own the league's best clip from deep at 40.1%, so expect some long range fireworks tomorrow.
Hemel's Mike Williams will no doubt have his hands full with the likes of Ronald Blain and David Moya, though it remains to be seen if the Knights will be able to slow down D1M efficiency and points leader Greg Poleon.
Loughborough Riders (2-7) v Nottingham Hoods (2-6)
Two struggling sides lock horns in the Midlands tomorrow as Loughborough and Nottingham both look for a third win of the season.
2020/21 hasn't gone to plan for either the Riders or Hoods so far, with both sides bringing multi-game losing streaks into this one.
Nottingham haven't won in three and Loughborough are winless in five, but both sides have suffered single-point losses during those runs that suggest brighter times may be ahead.
As a continuing storyline, all eyes will be on Loughborough's Kyle Jimenez and his playmaking ability. The talented guard is currently dishing a league-best 10.3 assists per game and is on course for a record season in that category if his production can be maintained.
Jimenez' match up with Nottingham guard Victor Olarerin is sure to be one to watch as well, with the young talent currently ranking third in efficiency, fifth in points and second in steals as part of a breakout season.
.
Elsewhere this weekend
Six other games fill the NBL slate this weekend, starting with Bradford Dragons (4-3) hosting Loughborough Riders (2-7).
The Riders will be hoping to open their double-header weekend with a win, whilst the Dragons will try to bounce back from last weekend's 111-90 defeat by Reading.
Reigning champions Team Solent Kestrels (6-0) are another side on double header duty, playing Reading Rockets (3-3) on Saturday before a trip to Oaklands Wolves (2-6) on Sunday.
The Kestrels are the league's only remaining unbeaten team and are yet to win a game by less than 30 points. That'll represent a tall order for their two opponents this weekend, neither of which currently sports a record over .500.
Leicester Warriors (1-9) picked up their first win of the season last weekend thanks to a 28 point, 10 rebound double-double from Mo Williams. The Midlands side will try to make it two in a row tomorrow as they welcome BA London Lions (2-3) to Gateway College.
Essex Rebels (2-4) have shown they're more than a match for teams at this level with recent wins over Hemel and Essex and a narrow loss to leaders Derby last weekend.
They'll look to get back to winning ways on Sunday against a Thames Valley Cavaliers (6-1) side that had won six in a row before a pair of losses last weekend across NBL1 and the BBL Trophy.
Finally, Worthing Thunder (3-6) started their post-Cam Hildreth era with a win last weekend, beating Loughborough 89-66. They'll look to keep that momentum going against Hemel Storm (5-2).
L Lynch Trophy
Thames Valley Cavaliers v Nottingham Hoods
In the last quarter final of the L Lynch Trophy, Thames Valley will look to use home court advantage to knock off Nottingham Hoods tomorrow afternoon.
The Cavs won all three of their pool games to reach this stage and will fancy their chances of advancing against the Hoods, who went 2-1 across their three pool games.
These two sides are yet to meet this season, but TVC's Hakeem Sylla looks a fair bet to excel in this one. The talented young forward averages 21.4ppg as well as a league best 11.9rpg in D1M play, and gets a match up tomorrow against a Hoods side that ranks joint eleventh for rebounding so far this season.
This weekend's fixtures:
Saturday 13 February
2pm - Bradford Dragons v Loughborough Riders - LIVE STATS
3pm - Leicester Warriors v BA London Lions - LIVE STATS
4:45pm - Team Solent Kestrels v Reading Rockets - LIVE STATS/LIVE STREAM
5pm - Hemel Storm v Team Newcastle University - LIVE STATS/LIVESTREAM LOCATION
L Lynch Trophy - 4:30pm - Thames Valley Cavaliers v Nottingham Hoods - LIVE STATS/LIVE STREAM
Sunday 14 February
2:30pm - Loughborough Riders v Nottingham Hoods - LIVE STATS/LIVE STREAM
3pm - Essex Rebels v Thames Valley Cavaliers - LIVE STATS/LIVESTREAM
3:30pm - Oaklands Wolves v Team Solent Kestrels - LIVE STATS
4pm - Worthing Thunder v Hemel Storm - LIVE STATS/LIVESTREAM LOCATION
Main image credit - Luke Simcock