The penultimate week of November contains five important fixtures as the battle for supremacy in D1M continues.
Three of the divisions top five are all in action, with two of them going head-to-head on the South coast tomorrow.
Derby and Team Newcastle will both be hoping to push their records above .500, whilst Essex will be gunning for their first win of the season.
We take a look at all the weekend's games below, with links to live stats and live streams at the bottom of the page.
First hosts fifth in Solent tomorrow as the Kestrels and Lions battle it out.
Few would have pegged the Londoners as a top-six outfit before the season began, but coach Vear's side have played well in the early going and deserve their lofty position.
For threepeat champs Solent it's been business as usual, they currently share the lead in D1M with locals rivals Worthing as both teams sit on 7-1 records.
It's worth noting these two teams met in late September as part of the group stage of the L Lynch Trophy, with the Kestrels comfortably winning 103-53 thanks to 24 points from Cole Gentry.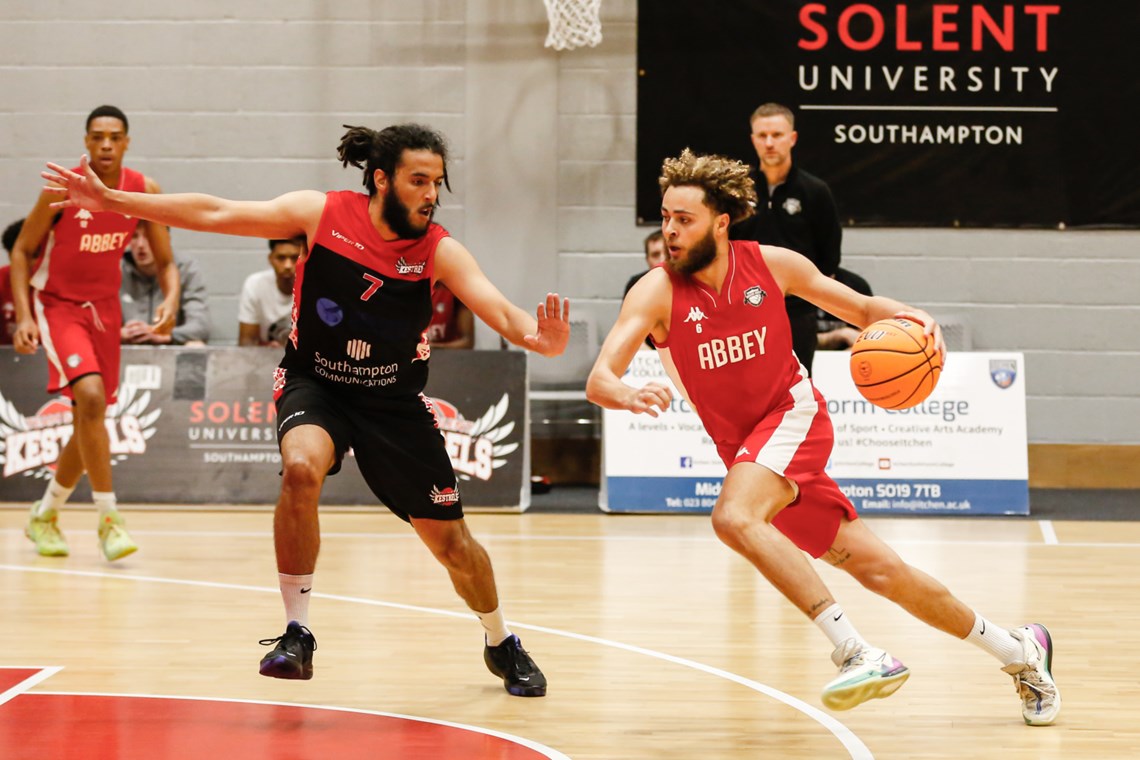 Gentry has been enjoying his debut season in the NBL, averaging 17.3PPG alongside 5.8APG in just over 30 minutes of action per game, adding yet another weapon to Solent's impressive arsenal of talent.
London have enjoyed some impressive performance of late from former Myerscough man Bradley Kaboza, who's generally starred off the bench to average 18.7PPG and 6.9RPG this year.
Guard Jase Harrison is the team's go to though, playing a key role at both ends of the court. His 16.0PPG will be needed tomorrow as he hopes to inspire the Lions to their sixth win of the season.
.
Elsewhere this weekend
Saturday's other three games all contain plenty of intrigue, starting with Bradford Dragons (2-4) hosting Leicester Warriors (1-7).
With both teams struggling at the wrong end of the table, a valuable two points are up for grabs. Bradford have won two in a row and would love to make it three, whilst Leicester are aiming to snap a two-game losing streak.
Ninth place Derby Trailblazers (4-4) will try to push their way into the playoff places as they take on Oaklands Wolves (1-6).
After a slow start to the season and no wins in their last five, a trip to Derby and the newly returned Blake Bowman won't be easy for the Wolves.
Saturday's only other game should be a cracker as joint-leaders Worthing Thunder (7-1) look to keep their title charge on track against Team Newcastle University (4-4).
Three of Newcastle's losses to date have come against Thames Valley, Hemel and Solent, three tricky opponents for any side. No doubt the Knights will be more than happy to step up and spoil Worthing's recent good form, especially after they won when the teams met in the L Lynch Trophy last month.
Sunday's only game pits Loughborough Riders (2-6) against basement side Essex Rebels (0-6),
Still searching for that elusive first win, Essex came desperately close last time out before falling 88-85 in Bradford. The Rebels will fancy their chances against the Riders however, with the Midlands outfit going just 1-4 across their last five games.
This weekend's fixtures:
Saturday 20 November
5pm - Worthing Thunder v Team Newcastle University - LIVE STATS
6pm - Team Solent Kestrels v London Lions II - LIVE STATS/LIVE STREAM
6:15pm - Bradford Dragons v Leicester Warriors - LIVE STATS
7pm - Derby Trailblazers v Oaklands Wolves - LIVE STATS
Sunday 21 November
1:30pm - Loughborough Riders v Essex Rebels - LIVE STATS/LIVE STREAM
Main image credit - Luke Simcock