It was a long time coming, but the first weekend of the NBL season didn't disappoint!
All three of last season's frontrunners won to get the new year underway, with Solent, Thames Valley and Hemel notching early Ws.
Worthing also took the first NBL Live broadcast of 2021/22, with Tom Ward helping the Thunder to knock off a spirited Essex Rebels 108-91.
There's a recap of all the action below, and each result is also clickable if you wish to view the live stats.
Solent got their title defence off to a winning start, taking a low-scoring contest against Reading 69-64.
With both teams taking the opportunity to lead throughout the game, it was the hosts who eventually held on to win thanks to 17 points from American guard Cole Gentry.
Meshack Lufile was the standout for the Rockets, though his 21 points and 12 rebounds wouldn't be enough to swing the result in his side's favour.
After back-and-forth third quarter, Solent led by just two points at 52-50. But a 17-14 final frame that included eight points personal from Gentry saw coach Guymon's side over the line.
Gentry was supported by 12 points from Luke Busumbru and 11 points off the bench by Andre Arissol. Jaz Bains and Samuel Toluwase (10 points each) were the only other Rockets besides Lufile to make it into double digits.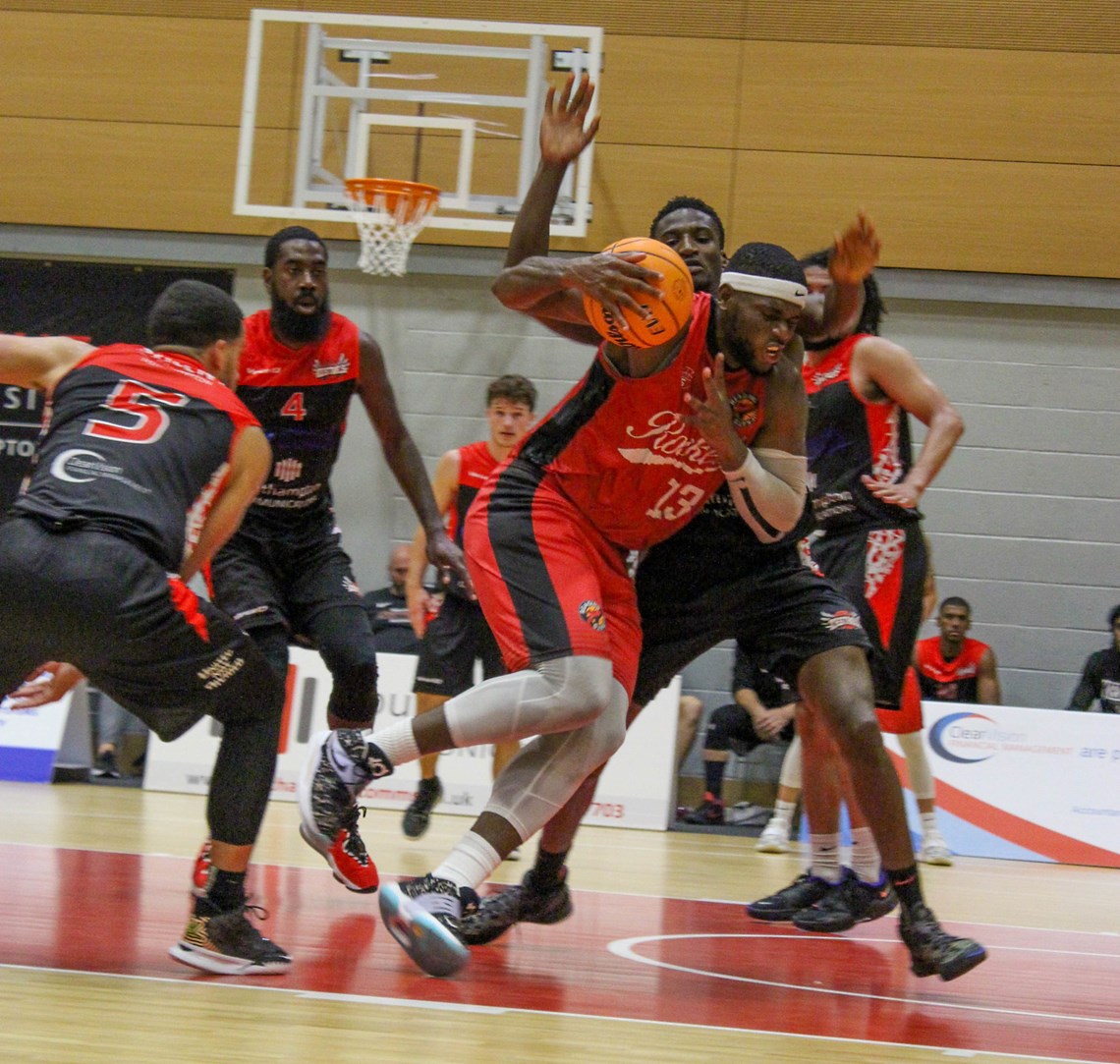 Elsewhere this weekend
Last season's league runners up Thames Valley (1-0) began their new campaign with an 87-79 home win against Derby Trailblazers.
Trailing 52-36 at the half, the visitors tried to find a way back into the contest but would ultimately come up short.
Hemel Storm (1-0) are also up and running, they easy saw off Oaklands Wolves (0-1) 117-55.
Taylor Johnson enjoyed 27 points on his league debut for the Storm, while eight different players registered at least one steal for the hosts, with Oaklands coughing up the ball 30 times in this one.
In the first NBL Live show of the new season, Worthing Thunder (1-0) put on a performance in front of the cameras to beat Essex Rebels (0-1) 108-91.
Guard Tom Ward was in hot form for Worthing, going 5-8 from beyond the arc to close on 29 points, with Hafeez Abdul adding a 26-point, 15-rebound double-double.
London Lions II (1-0) registered an 83-63 W against Leicester Warriors (0-1). Racing out to a 26-9 lead after the first quarter, the visitors refused to let up as Brandon Tchouya top scored for London with 18 points.
After a solid debut campaign in D1M last year, Team Newcastle University (1-0) have carried on their momentum into 2021/22, opening with a 91-67 victory against Bradford Dragons (0-1).
Finally, Nottingham Hoods (1-0) enjoyed a commanding 92-66 W over local rivals Loughborough Riders (0-1).
Solid basketball right from the tip allowed the Hoods to slowly build a comfortable 48-31 lead by the half, with Logan Bailey contributing 19 of those points for the hosts.
He'd eventually close on 25 points, with former Leicester Warriors' big man Mo Williams adding a 16-point, 11-rebound double-double.
This weekend's results:
Saturday 2 October
3pm - Oaklands Wolves 55-117 Hemel Storm - LIVE STATS
3pm - Leicester Warriors 63-83 London Lions II
5pm - Team Newcastle University 91-67 Bradford Dragons
6pm - Team Solent Kestrels 69-64 Reading Rockets - LIVE STATS/LIVE STREAM
6:30pm - Nottingham Hoods 92-66 Loughborough Riders - LIVE STATS/LIVE STREAM
6:30pm - Thames Valley Cavaliers 87-79 Derby Trailblazers
7:30pm - Worthing Thunder 108-91 Essex Rebels - LIVE STATS/LIVE STREAM
Sunday 3 October
5pm - L Lynch Trophy - Reading Rockets 78-81 Hemel Storm - LIVE STATS/LIVE STREAM
Main image credit - Luke Simcock