As we move through the final month of 2021, the NBL continues to provide some exciting contests.
Fans after a headline should look no further than London Lions II's statement road win against Thames Valley, a result that throws another curve into this season's title race.
There's a recap of all the scores below, and each result is also clickable if you wish to view the live stats.
London Lions claimed a huge win on the road this weekend, knocking off title chasers Thames Valley 89-84.
After a pair of early losses, TVC appeared to have their season back on track with recent wins over Newcastle and Worthing. The Lions brought that latest run to a grinding halt thanks to a standout performance from Jase Harrison.
Harrison closed with 25 points and seven boards, helping his side erase a 67-61 fourth quarter deficit before stunning the hosts with a come-from-behind victory.
Jakobi Bonner had 30 points for the Cavs, as Blayne Freckleton (15pts), AJ Roberts and Hakeem Sylla (13pts each) all made it to double digits.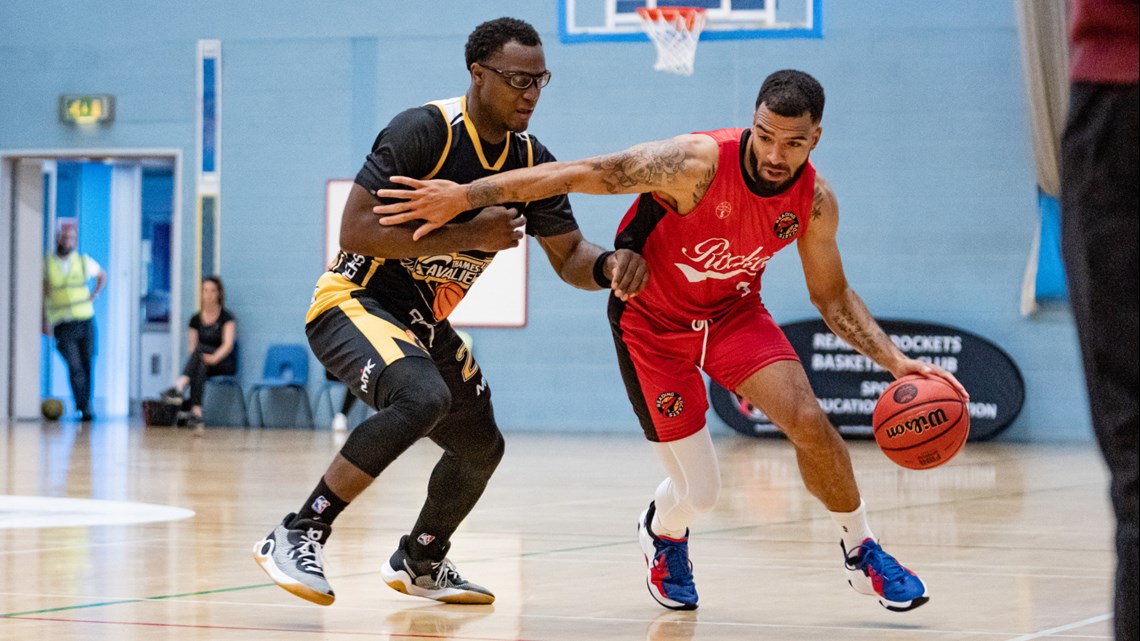 London showed that they meant business early to take the opening quarter 27-21, before last season's league runners up slowly chipped away to get back into the contest.
With 10 minutes to go the hosts held a six-point advantage that they hoped would be enough, but Harrison, Elijah Maynard (17pts, 6reb) and Brandon Tchouya (15pts, 5reb) had other ideas.
Results elsewhere mean that both Thames Valley and London are now tied with Derby and Newcastle on 12 points, making for a congested look to the playoff spots as we head towards the mid-season break.
Elsewhere this weekend
Nottingham Hoods (5-2) got back into the win column as they beat local rivals Derby Trailblazers (6-5) 75-71.
The Hoods were held to just 13 points in the first quarter but came out firing from then on, eventually claiming the low-scoring contest thanks in part to double-doubles from Mo Williams (23pts, 13reb) and Johde Campbell (16pts, 10reb).
Derby's Malcolm Smith was largely held in check to finish with 11 points, leaving Raheem May-Thompson (20pts) to lead the Trailblazers.
Worthing Thunder (9-2) picked up their ninth victory of the season as they won on the road, 100-69, against Loughborough Riders (3-8).
Falling behind the longer the game wore on, Thunder put together a 37-18 third quarter that pretty much ended this one, with Hafeez Abdul's 25 point, 13 rebound double-double getting the job done.
Brandon Federici's 34 points were enough to help Team Newcastle University (6-5) defeat Leicester Warriors (1-9) 105-91.
Federici's efforts were complimented by 25 points from Ronald Blain and 22 more from Martyn Gayle as the North East outfit cancelled out 36 points from Van Turner and 24 more from Delaney Powell.
Greg Poleon and Taylor Johnson combined for 70 points as Hemel Storm (7-3) beat basement club Essex Rebels (0-9) 103-84.
The American duo were once again in unstoppable form as a 32-16 opening frame putting the Rebels in a hole they couldn't escape from.
Mayo Adeyeye top scored for the hosts in defeat, he had 18 points off the bench.
Team Solent Kestrels (10-1) are the first D1M side to double digits in the win column this year thanks to their latest victory, an 81-71 W at home to Bradford Dragons (4-5).
Leading from tip to buzzer, Solent controlled the contest throughout to lead by between five and 10 points for the majority of the game. 
Cole Gentry's 27 points went with seven rebounds and seven assists for Solent as Zach Gachette top scored for the Dragons. He had 26 points across the full 40 minutes.
In Sunday's only game, Reading Rockets (5-3) picked up an important two points as they eased past strugglers Oaklands Wolves (1-9) 112-76.
Reading came flying out of the traps to eventually lead 57-32 by the half, sealing the deal after the break to win at a canter.
Samuel Toluwase (22pts), Meshack Lufile and Tyler Cartaino (both 20pts) all impressed for the hosts, whilst Michael New Jr and Jordan Jackson both closed on a team-high 13 points for Oaklands.
This weekend's results:
Saturday 4 December
3pm - Nottingham Hoods 75-71 Derby Trailblazers - LIVE STATS
3pm - Leicester Warriors 91-105 Team Newcastle University - LIVE STATS/LIVE STREAM
4pm - Loughborough Riders 69-100 Worthing Thunder - LIVE STATS/LIVE STREAM
4:30pm - Thames Valley Cavaliers 84-89 London Lions II - LIVE STATS
6pm - Team Solent Kestrels 81-71 Bradford Dragons - LIVE STATS/LIVE STREAM
7pm - Essex Rebels 84-103 Hemel Storm - LIVE STATS
Sunday 5 December
5pm - Reading Rockets 112-76 Oaklands Wolves - LIVE STATS/LIVE STREAM
.
Main image credit - Luke Simcock