With eight NBL1 games over the Valentine's weekend, plus the remaining L Lynch Trophy quarter-final, which teams loved their weekend and which were left feeling jilted?
Team Solent Kestrels, Thames Valley and Hemel all enjoyed a pair of wins, with Loughborough, Bradford and Leicester also securing victories.
Thames Valley's success in the L Lynch Trophy also sets up a semi-final date with Loughborough later this month in what is sure to be an exciting contest.
There's a recap of all this weekend's games below, and each result is also clickable if you wish to view the live stats.
Bradford bounce Loughborough
Despite leading by 15 points at half time, Bradford were made to sweat as they secured a narrow 80-79 win against Loughborough.
Facing a hefty deficit with 20 minutes to go, the Riders won the third quarter 27-15 to leave the game more evenly poised, though the Dragons did get their lead back up to eight points with 1:45 remaining.
The visitors would once again storm back, with Harrison Gamble hitting all three free throws from the line with just a single second showing on the clock, but there wasn't enough time for the Riders to find a way to tie the game up.
Gamble enjoyed a fine afternoon to finish with a game-high 27 points plus nine rebounds as Kyle Jimenez enjoyed a 20-point, 10-assist, eight rebound double-double.
Great Osobor's double-double effort in reply for Bradford was a factor in the win, with the youngster clocking up 16 points and 10 boards, whilst Ricky Fetske (19 points) and Andreas Lycoudis (14 points) both played well.
Hemel outlast the Thunder
With three seconds remaining, Zaire Taylor's fadeaway jumper for Worthing was enough to tie these two sides up but Hemel eventually triumphed in OT, knocking off the Thunder 86-79.
The game was a thrilling contest with multiple lead changes and both sides would enjoy an opportunity to lead in the fourth quarter, though neither team could get themselves over the line in regulation.
Back-to-back lay-ups from Hemel guard Bode Adeluola looked to have handed the game to the visitors as they moved ahead by two with 48 ticks remaining, though Taylor's late heroics made sure that wasn't the case.
Hemel would have the last laugh though as they won the extra period 15-8 thanks to seven points from Levi Noel.
Forward Greg Poleon once again enjoyed a sizable double-double for the Storm with 20 points and 16 rebounds as team mate Tayo Oyefusi added one of his own with 14 points and 12 boards. 
Tom Ward led the way for Worthing, flirting with a triple-double before finishing on 28 points, eight rebounds and eight assists.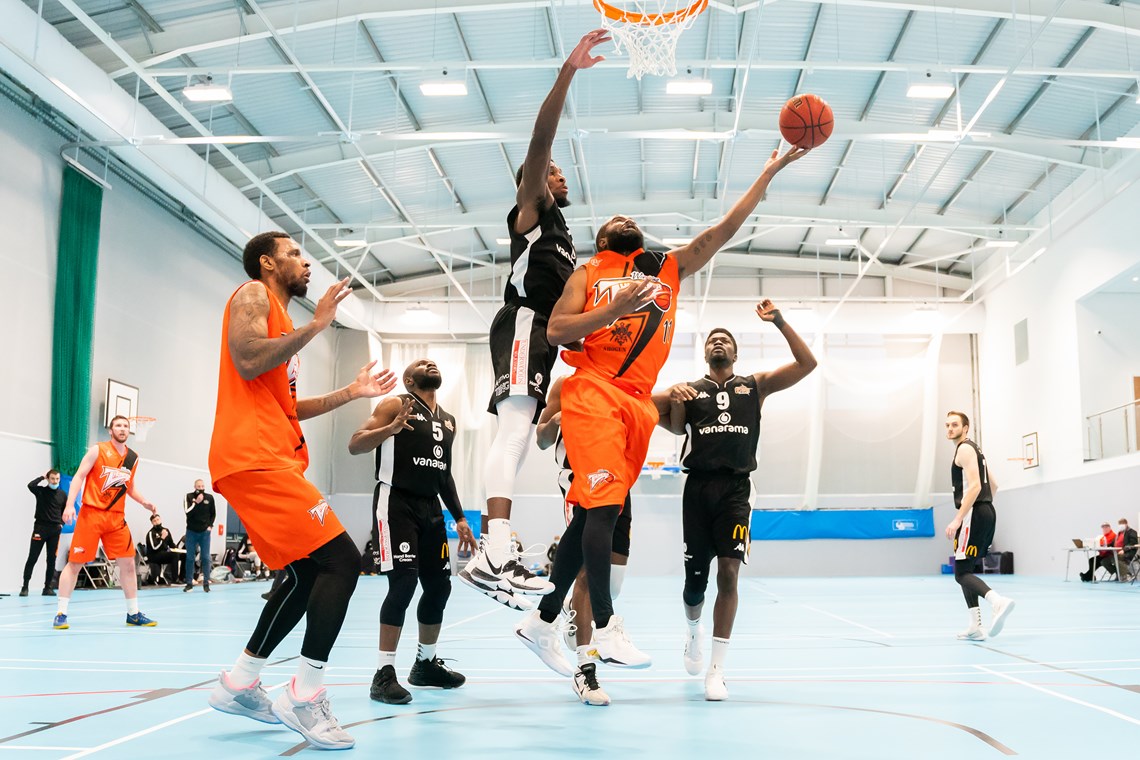 Elsewhere this weekend
Team Solent Kestrels remain the division's only unbeaten side as they notched up another two wins this weekend.
Saturday's 101-73 victory over Reading was highlighted by a stunning performance from Orlan Jackman. The talented forward finished with 28 points, going 10-11 from the floor, adding 12 rebounds for an unmatchable solo effort.
O'Showen Williams top scored for Reading with 19 as the Rockets became the first team this season to stay within 30 points of Solent by the final buzzer.
On Sunday, the South coast side hammered Oaklands Wolves 119-58, with Ian Smith (18pts, 6reb, 6ast), Elliot Dadds (19pts, 4-6 3pt, 5reb, 4stl) and Travis Charles (23pts, 6reb) all excelling. 
Hemel's OT thriller with Worthing was preceded on Saturday by a strong 95-78 win over Team Newcastle.
Bode Adeluola (25pts), Greg Poleon (24pts) and Mike Williams  (23pts) all scored well in the contest for the hosts, with only Brandon Federici (18pts, 5reb, 6ast) providing much resistance for Newcastle.
After going nine games without a win, Leicester Warriors now have two in a row after beating BA London Lions 102-79.
Leon Henry (28pts), Mo Williams (26pts) and Martyn Gayle (25pts) combined for 79 of Leicester's points, Flynn Boardman-Raffet top scored with 16 in reply for Barking.
Despite their one-point loss on Saturday, Loughborough bounced back 24 hours later as they comfortably saw off Nottingham Hoods 96-63.
The hosts led from tip to buzzer in this one with Carl Ntifo shooting 8-9 from the floor to finish on 19 points, benefitting from another assist-laden performance from guard Kyle Jimenez, who notched 13 dimes.
Finally, Hakeem Sylla's 28 point, 11 rebound double-double proved to be enough to help Thames Valley beat Essex Rebels 100-74.
The Cavs forced their opponents into 28 turnovers, winning the steal battle 14-3 in the process. Those turnovers were converted into 40 points for the visitors, a telling factor on the final result.
L Lynch Trophy
Thames Valley Cavaliers 105-63 Nottingham Hoods
Thames Valley booked a place in the L Lynch Trophy semi final as they swept aside Nottingham Hoods 105-63.
Their path to the final is now blocked by Loughborough, who they'll face before the month is out, with the winner moving on to face Worthing or Solent in March's final.
TVC took the opening quarter 27-22, before padding that advantage to lead 51-37 by the half.
Nottingham had no answer for their opponents as a 30-13 third quarter put the result beyond doubt with 10 minutes still remaining.
Hakeem Sylla was once again a standout for the Cavs, finishing with 23 points and 10 boards. Delaney Powell had a team-high 20 points for the Hoods.
This weekend's results:
Saturday 13 February
2pm - Bradford Dragons 80-79 Loughborough Riders - LIVE STATS
3pm - Leicester Warriors 102-79 BA London Lions - LIVE STATS
4:45pm - Team Solent Kestrels 101-73 Reading Rockets - LIVE STATS/LIVE STREAM
5pm - Hemel Storm 95-78 Team Newcastle University - LIVE STATS/LIVESTREAM LOCATION
L Lynch Trophy - 4:30pm - Thames Valley Cavaliers 105-63 Nottingham Hoods - LIVE STATS/LIVE STREAM
Sunday 14 February
2:30pm - Loughborough Riders 96-63 Nottingham Hoods - LIVE STATS/LIVE STREAM
3pm - Essex Rebels 74-100 Thames Valley Cavaliers - LIVE STATS/LIVESTREAM
3:30pm - Oaklands Wolves 58-119 Team Solent Kestrels - LIVE STATS
4pm - Worthing Thunder 79-86 Hemel Storm (after 1OT) - LIVE STATS/LIVESTREAM LOCATION
Main image credit - Luke Simcock
.