With eight NBL games plus a pair of L Lynch semi-finals crammed into week 19, there was hardly time to look away for basketball fans across the country.
The four games on Saturday were taken by Derby, Oaklands, Thames Valley and Solent, with Essex, BA London Lions, Reading and Hemel all getting a W on Sunday.
There were two action-packed L Lynch semi-finals as well, with Solent winning a nail-biter against Worthing and Thames Valley staging a thrilling comeback to beat Loughborough, creating a much anticipated final between D1M's two top sides.
There's a recap of all the action below, and each result is also clickable if you wish to view the live stats.
Kestrels can't be stopped
Runaway leaders Solent continue to demolish all in their path, this time taking down Reading 95-68.
The Kestrels once again overwhelmed their opponents with some slick passing and aggressive defence to dish 21 assists and force 26 turnovers.
The visitors led from tip to buzzer in this one, with Travis Charles (19pts, 7reb) Andre Arissol (18pts, 7reb, 4stl) Brendan Okoronkwo (17pts. 9reb) and Ian Smith (14pts, 6ast) all excelling in a typically balanced team effort.
Sam Grant enjoyed a solid outing for the Rockets, scoring a team-high 15 points to go with seven boards but the forward was a lone bright spot on a tough offensive afternoon for the hosts.
With just one loss to their name, second place Thames Valley appear to be the only team that can catch Solent this season.
The two sides are set to square off at Uxbridge College to end the month, before meeting on the South coast in the final game of the regular season on 11 April.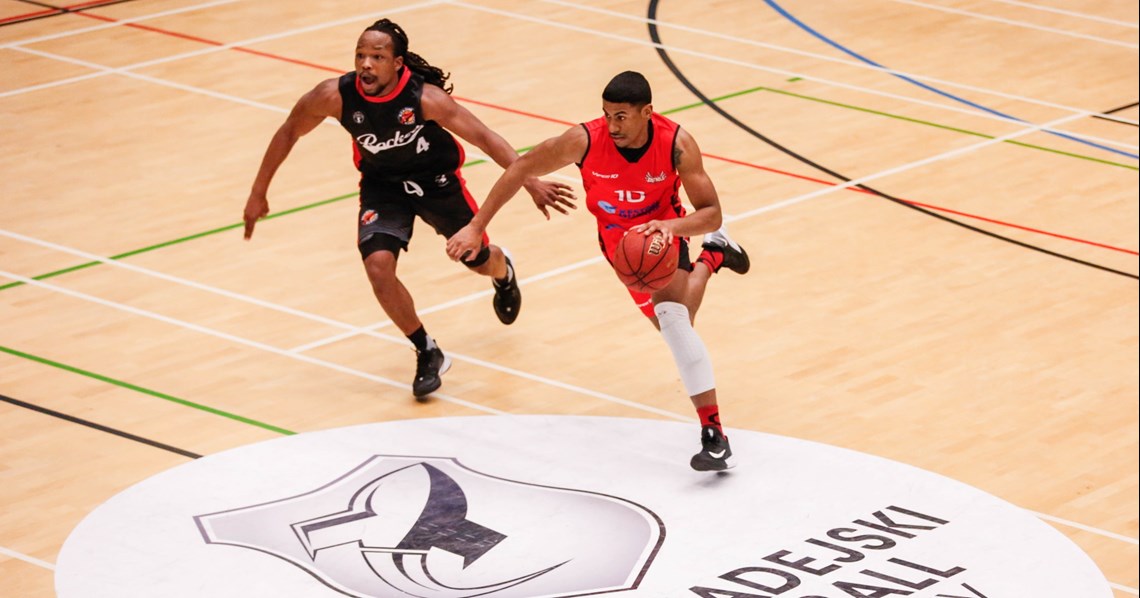 Elsewhere this weekend
Saturday began with Derby Trailblazers (9-3) knocking off BA London Lions (3-7) 82-55.
A long trip to the Capital wasn't in vain for the Midlands outfit, who led by double digits inside the first quarter and controlled the contest the rest of the way.
Ashley Ugo was the star man for the visitors, finishing with a game-high 23 points on an afternoon when the Lions failed to push a single player to double-digits on the score board.
Thames Valley Cavaliers (10-1) are still hot on the heels of leaders Solent after a 95-80 win against Essex Rebels (5-7).
The Rebels failed to keep a lid on TVC's Hakeem Sylla, who enjoyed a monster 26 point, 18 rebound double-double as the hosts scored 66 of their points in the paint.
A strong performance from guard Jordan Santiago helped Oaklands Wolves (3-11) past fellow strugglers Nottingham Hoods (2-10) 93-75.
Santiago's 26 points went with eight rebounds, six assists and five steals, complimented by double-doubles from A.J. Roberts (14pts, 13reb) and Obi Egbunike (14pts, 10reb).
Delaney Powell top scored for the Hoods in reply, but his 25 points couldn't stop the hosts trailing for the duration in this one.
Moving into Sunday, three sides who tasted defeat on Saturday all bounced back to claim wins.
Reading put their loss against Solent behind them to top Team Newcastle University (9-4) 98-91.
Rockets' Sam Toluwase put together a 25 point, 10 rebound double-double as guard Reiss Pinnock (10pts, 9reb, 9ast) narrowly missed out on a triple-double of his own.
Ronald Blain once again top scored for the Knights with 21 points.
BA London Lions also bounced back, claiming a 96-75 win against Oaklands Wolves.
After struggling offensively against Derby, the Lions had a much more productive afternoon as Edrick Okunola exploded for 30 points and Flynn Boardman-Raffet scored 12 to go with 11 assists and nine boards.
With the hosts leading by as many as 33 in the contest, it was a tough outing for the Wolves despite 29 points from Jordan Santiago.
One of the most exciting games of the weekend was in the Midlands as Essex managed to pip Leicester Warriors (3-10) 80-79.
With a much discussed no call on Leon Henry's last-gasp layup, Leicester were left to rue a narrow loss after picking up three wins on the bounce.
Jordan Gray and Rory Winter both enjoyed 18 points for the Rebels, as Mo Williams continued his good form for the hosts with 27.
The weekend closed with Hemel Storm (10-3) easing to a comfortable 86-67 victory over Bradford Dragons (5-6).
The hosts pushed five players into double-digits scoring, led by Mike Williams with 19, allowing the Storm lead to nearly touch 30 before a late Bradford run brought down the final difference.
L Lynch Trophy
Worthing will be left wondering what might have been after Solent stole a narrow contest against their local rivals, winning 82-80.
Despite not losing an NBL contest in over two years, Solent trailed 80-78 with 71 ticks remaining but Orlan Jackman would stay cool from the line to tie things up with 50 seconds to go.
The visitors would then turn the ball over on their next possession, leaving Solent with one last opportunity to ice the game.
Frustratingly for Thunder, Solent managed three shots on that final possession, grabbing a pair of offensive boards to keep themselves alive before Andre Arissol finally found the basket to beat the buzzer and break Worthing hearts.
Ian Smith top scored for the hosts with 26 points as Max Richardson had 23 for Thunder.
A 30-14 final quarter set up Thames Valley to storm back against Loughborough, running out 86-79 winners.
The Riders has set themselves up through three quarters, leading 65-52 in the dying seconds of the frame thanks to strong performances from Harrison Gamble (22pts, 9reb) and Jonas Dieterich (21pts).
A 21-3 run by the Cavs would completely change the contest and with momentum on their side, the hosts continued their charge to the final buzzer.
Taylor Johnson led the way for TVC, scoring a game-high 27 points as captain Blayne Freckleton played nearly the full contest to close on 18 points, nine boards, five assists and five steals.
This weekend's results:
Saturday 27 February
2pm - BA London Lions 55-82 Derby Trailblazers - LIVE STATS
2pm - Nottingham Hoods 75-93 Oaklands Wolves - LIVE STATS
3pm - Thames Valley Cavaliers 95-80 Essex Rebels - LIVE STATS/LIVE STREAM
6pm - Reading Rockets 68-95 Team Solent Kestrels - LIVE STATS/LIVESTREAM
Sunday 28 February
1:30pm - Leicester Warriors 79-80 Essex Rebels - LIVE STATS
2pm - BA London Lions 96-75 Oaklands Wolves - LIVE STATS
3pm - Reading Rockets 98-91 Team Newcastle University - LIVE STATS/ LIVESTREAM
5pm - Hemel Storm 86-67 Bradford Dragons - LIVE STATS/LIVESTREAM LOCATION
L Lynch Trophy 3pm - Team Solent Kestrels 82-80 Worthing Thunder - LIVE STATS/LIVESTREAM
L Lynch Trophy 4pm - Thames Valley Cavaliers 86-79 Loughborough Riders - LIVE STATS/LIVE STREAM
Main image credit - Luke Simcock
.