The regular-season title appears to be heading back to Solent following a pivotal week 24 in NBL1.
The Kestrels 90-69 victory over Thames Valley means the South Coast side are now just a couple of wins away from a third straight D1M title. 
There were still nine other games across the weekend, with some quality basketball throughout including narrow wins for Loughborough, Derby and Worthing.
We take a look at all the action below, and each result is also clickable if you wish to view the live stats.
Solent move a step closer
The NBL Live cameras were in Solent yesterday to witness the Kestrels putting one hand on the D1M regular-season title following a comfortable 90-69 win against rivals Thames Valley.
The margin of victory also means that Solent claimed the head-to-head tiebreaker between the two sides, should they both end the regular season on the same number of points.
In what should have been one of the most intense contests of the season, Solent blew their opponents out of the water with a 27-11 opening frame that led to a 41-11 advantage with more than five minutes still to go in the first half.
The difference eventually reached a high of 34 points in the third, thanks in part to impressive play from Ian Smith (28pts, 8reb, 12ast) and Andre Arissol (23pts, 6reb, 7ast).
Thames Valley were paced by Taylor Johnson, who finished with 25 points.
With only an away trip to Hemel left on their schedule, the Cavs can reach a maximum of 34 points. With Solent currently on 30 points, they need to win two of their remaining three games to seal a third straight top-flight title.
Coach Guymon's side play Leicester at home and then Essex away next weekend, with an road game against Nottingham still to be scheduled.
With Leicester currently 5-13 and Essex 7-10, plus Nottingham sat bottom of the table at 2-15, Solent have to fancy their chances of adding yet another regular-season title to their impressive list of recent achievements.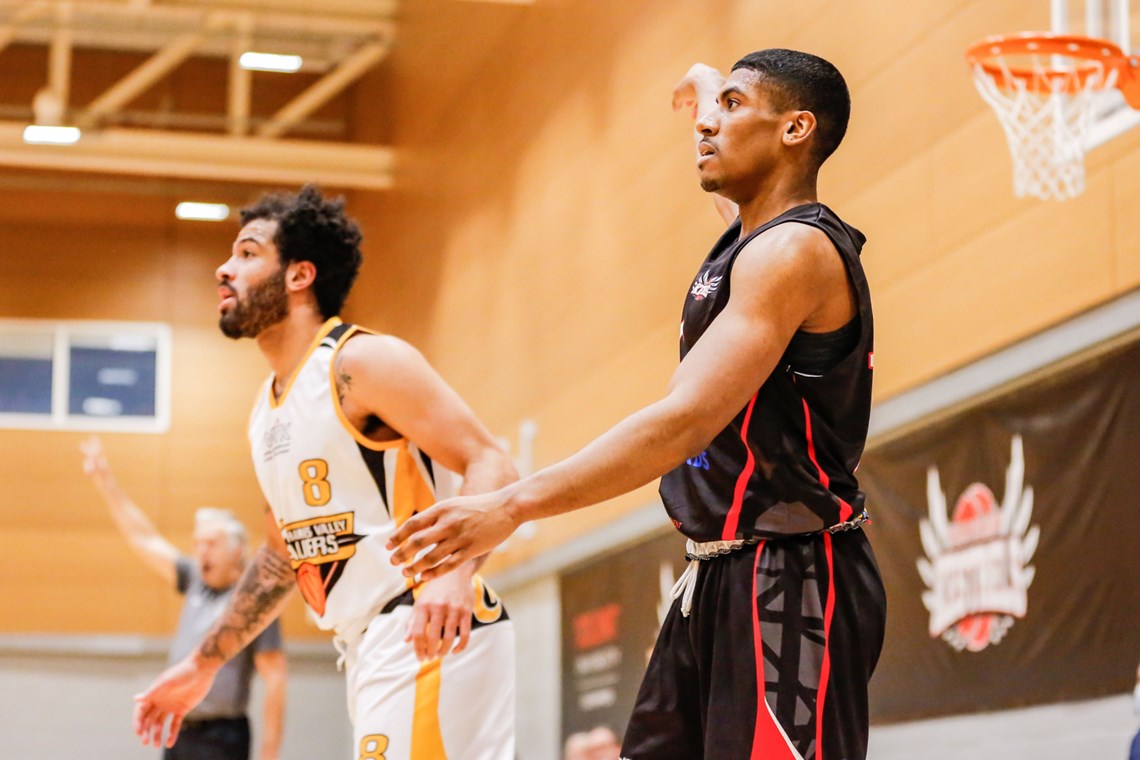 Elsewhere this weekend
It was a busy weekend in D1M, which began with Hemel Storm (14-4) beating BA London Lions (6-11) 103-76.
BA held a steady lead that touched double digits in the first half, but Hemel turned the contest on its head by holding the Lions to just 19 second-half points. 
Flynn Boardman-Raffet's 29 points for the hosts were cancelled out by 27 from Hemel's Bode Adeluola and 21 more from Mike Williams.
Loughborough Riders (8-10) stole a narrow win in the Midlands derby against Leicester Warriors (5-13), coming out on top 70-67.
Harrison Gamble scored six of Riders' last seven points to edge a close one as Kyle Jimenez maintained his torrid assist pace with another 11 for the season.
Nottingham Wildcats Arena tenants Bradford Dragons (7-11) and Derby Trailblazers (13-5) also played out a thrilling contest, with Derby taking that one 73-68.
DTB had led by as many as 18 but with just over 90 seconds remaining, Bradford had crept ahead at 68-67. The hosts scored the final seven points to claim the win though, with Derby's Joshua Guddemi dropping a team-high 20 points.
Worthing Thunder (9-10) piled on the misery for bottom side Nottingham Hoods (2-15), beating them 86-75.
Max Richardson (27pts, 13reb) and Howard Crawford (25pts) both excelled as Worthing held a late 20-point advantage before a Hoods' rally before the buzzer narrowed the final score.
Saturday's final game saw Thames Valley Cavaliers set up Sunday's showdown against Solent with a 103-88 victory over Reading Rockets (6-11).
Hakeem Sylla (26pts, 10reb) continued his MVP-calibre season as TVC used a 31-16 third quarter to set up the win.
Sunday began with Hemel sealing the #3 seed for the post season as they defeated Essex Rebels (7-10) 76-69.
Mike Williams continued his good form to drop 25 points as Storm can now only be matched by fourth place Derby, who they hold the head-to-head tiebreaker against.
Team Newcastle University (12-6) beat Oaklands Wolves (4-15) for the second game in a row as they came out on top 94-59.
Nikola Urli led Newcastle's scorers with 20 points, keeping the Knights' hopes of a top four finish alive. The North East side can sneak past Derby next weekend if they can beat Bradford and the Trailblazers lose against Loughborough.
Bradford confirmed Nottingham's place at the foot of the D1M standings for 2020/21 yesterday, beating the Hoods 80-74.
Impressive prospects Elijah Walsh (18pts) and Great Osobor (14pts, 20reb) both showed their class for the Dragons as Nottingham got 20 points and 13 boards from Victor Olarerin.
The weekend wrapped in exciting fashion as Worthing outlasted BA London Lions 85-82.
It was Worthing's fifth win in a row, making them a side to avoid with the post season just around the corner. Zaire Taylor top-scored with 23 points as Thunder only used six players across the contest, Abiodun Adedo led all Barking scorers on 18.
This weekend's results:
Saturday 10 April
1pm - BA London Lions 76-103 Hemel Storm - LIVE STATS
1:30pm - Loughborough Riders 70-67 Leicester Warriors - LIVE STATS/LIVE STREAM
2pm - Derby Trailblazers 73-68 Bradford Dragons - LIVE STATS/LIVE STREAM LOCATION
3pm - Worthing Thunder 86-75 Nottingham Hoods - LIVE STATS/LIVE STREAM LOCATION
3pm - Thames Valley Cavaliers 103-88 Reading Rockets - LIVE STATS/LIVE STREAM
Sunday 11 April
1pm - Essex Rebels 69-76 Hemel Storm - LIVE STATS/LIVE STREAM
2pm - Team Solent Kestrels 90-69 Thames Valley Cavaliers - LIVE STATS/LIVE STREAM
3pm - Oaklands Wolves 59-94 Team Newcastle University - LIVE STATS
4pm - Bradford Dragons 80-74 Nottingham Hoods - LIVE STATS
4pm - Worthing Thunder 85-82 BA London Lions - LIVE STATS/LIVE STREAM LOCATION
Main image credit - Luke Simcock
.