Rebound's Chris Hughes picks his NBL Team
 of the Week and highlights 
five 
honourable mentions 
as well as two impressive 
team performances.  
Chris, a content producer, YouTube host and commentator, casts his eye over the Week 24 games involving the NBL Division One teams, including Solent Kestrels, Thames Valley Cavaliers and Worthing Thunder.
Have your say on this week's choices and give a shout-out to the players you think deserve one using the hashtag #NBL2021. Don't forget to tag us!    
Twitter:  @NBLengland / @Rebound__  
Facebook:  @NBLengland  / @ReboundNBL  
Instagram:  @nblengland / @reboundnbl  
How it works 
The Basketball England NBL Player of the Week goes straight into the starting line-up.    
The other four players are picked with the following factors in mind:    
Efficiency 

 

Stats 

 

Team and opposition strength 

 

Periods of influence in the game 

 
The Rebound team of the week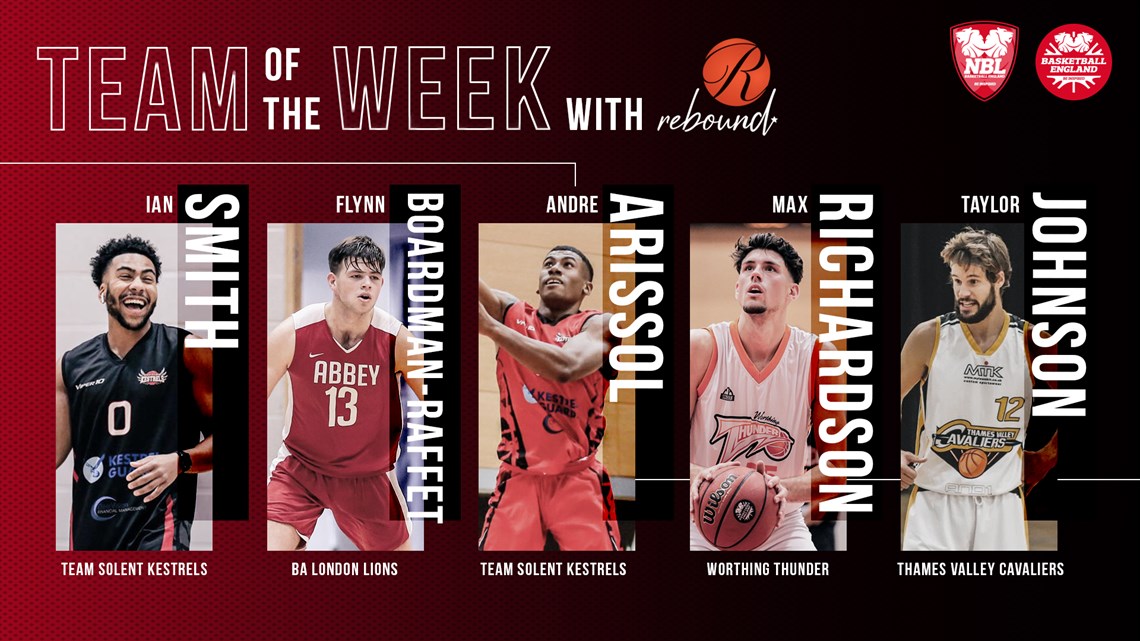 Ian Smith – Team Solent Kestrels, guard   
28 POINTS, 8 REBOUNDS, 12 ASSISTS, 4 STEALS, 1 BLOCK, 42 EFFICIENCY  
The reigning MVP is in no mood to give up his crown or his side's three-peat hopes. 
Ian Smith was everywhere for Solent and his stat sheet putting clearly outlined the individual performance of the weekend. 
The floor general's pace and handles were too much for the Cavaliers to guard as Smith scored, rebounded broke out some slick dimes for his peers - he got more assists than the entire Cavaliers side combined as he ran the show! 
In a post game interview with myself, Brendan Okoronkwo pointed to Smith being the key reason for Solent being an elite side. 
After this weekend it seems to be advantage Smith and Team Solent Kestrels for MVP and the championship. 
Flynn Boardman-Raffet – BA London Lions, forward/guard    
29 POINTS, 7 REBOUNDS, 4 ASSISTS, 1 BLOCKS, 33 EFFICIENCY 
A first-half haul by the captain ensured his side were five points up at the break and on course for an upset over third seeds Hemel. 
Flynn raced to his 29-point tally efficiently with a shooting stat line of 10-13 FGM, 6-8 3PM and 3-4 FTM. He put on a master class, adding a three pointer even managing a trey ball from range. 
The captain led all players in the game with points and was second in rebounds and assists and can count himself unlucky to have finished on the losing side. 
Andre Arissol – Team Solent Kestrels, guard    
23 POINTS, 6 REBOUNDS, 7 ASSISTS, 3 STEALS, 1 BLOCK, 31 EFFICIENCY  
The L Lynch Trophy MVP had another big game versus Thames Valley. While the Cavaliers have an elite backcourt, Elliott Dadds, Ian Smith and Andre Arissol came out on top in the battle of the guards. 
The former Charnwood College guard is one of the most athletic in the league and was a big reason why Solent got a third of their points on the fast break. He also demonstrated his shooting ability with 5-10 three-pointers. 
Arissol, among others, executed a clear push to force turnovers, with Plan A being to hit Thames Valley on the fast break and, if forced into playing half court, Plan B was to move the ball around the perimeter quickly 
Max Richardson – Worthing Thunder, forward    
27 POINTS, 13 REBOUNDS, 5 ASSISTS, 1 STEAL, 2 BLOCKS, 36 EFFICIENCY VS NOTTINGHAM  
15 POINTS, 14 REBOUNDS, 3 ASSISTS, 3 STEALS, 1 BLOCK, 23 EFFICIENCY VS BA  
Max Richardson is having an amazing month or so as we approach play-off season. 
Richardson was vital in the final minutes versus BA London Lions with a converted and one play to get the lead and then finally assisting the winning bucket to secure the W. 
The only blight on his performance this weekend was his 0-4 from three-point range. Otherwise, it was two great performances this weekend as the former Loughborough star averaged over 50  FG%. 
Taylor Johnson – Thames Valley Cavaliers, guard   
23 POINTS, 3 REBOUNDS, 4 ASSISTS, 5 STEALS, 27 EFFICIENCY VS READING 
25 POINTS, 8 REBOUNDS, 4 ASSISTS, 2 STEALS, 28 EFFICIENCY @ SOLENT 
Individually it was a great weekend for Johnson who managed to rack up an impressive all-round performance in 20 or so minutes on Saturday. Versus Reading, he was key in the game's biggest run (18-0) that sunk Rockets' chances of an upset. 
Come Sunday versus Solent the former Dartmouth College guard was one of the few Cavaliers players able to make in-roads under extremely heavy defensive pressure.  
Has he done enough to win the season's MVP? Some may say so with consistent performances no matter the opposition that make him a more than credible candidate. 
Team basketball    
NEWCASTLE ARE CLINICAL AT BOTH ENDS TO TAME THE WOLVES 
Newcastle have every reason to be pleased with their fifth-place finish in the NBL and will fancy their chances versus 12th seeds Leicester, who need to rely on other teams as well as an upset versus Solent to climb the table. 
Newcastle shared the scoring with all but one player getting nine or more points. As a team they shot an amazing 56 FG%/42 3P%/ 70 FT%. The bench shot the lights out with 7-9 FGM/ 2-2 3PM/ 5-6 FTM. 
Defensively, they forced error and capitalising by getting 28 points from turnovers. 
SOLENT REMIND THE LEAGUE THAT THEY REALLY DO ENJOY HOME COMFORTS 
Solent rediscovered that extra gear this weekend and played akin to their performance in the trophy versus Bristol from last season. The extra gear was most evident in the speed of ball movement, accuracy of medium-long range passing and fast-break points. 
Solent responded to losing to the Cavs last time out and were in no mood to make it easy for Thames Valley to win the championship in their house. 
They also made it their business to make it hard for the visitors to get going especially with foul trouble.  
Brendan Okoronkwo was part of a team that had a stellar defensive game. He forced multiple turnovers and offensive fouls. Honourable mention to Travis Charles at both ends versus Hakeem Sylla and co. 
Full game highlights: https://www.youtube.com/watch?v=YH97-YruezE&t=1s 
Honourable mentions    
Morakinyo Williams (LEI) – 30P/10R/3A/1S/4B/32EFF 
Mike Williams (HEM) – 21P/8R/3A/2S/1B/23EFF vs BA & 25P/6R/2A/1S/23EFF vs ESS 
Great Osobor (BRA) – 17P/14R/5A/3S/25EFF vs DER & 14P/20R/2A/2S/3B/22EFF vs NOT 
Victor Olarerin (NOT) – 18P/14R/2A/3S/22EFF vs WOR & 21P/13R/2A/3S/30EFF vs BRA  
Greg Poleon (HEM) – 20P/9R/1A/1B/24EFF vs BA & 17P/16R/2A/1S/2B/21EFF vs ESS 
.