The penultimate Player and Team of the week of 2021 was always going to be a difficult choice for Rebound's Chris Hughes given some of the results this past weekend.
Chris, a content producer, YouTube host and commentator, took in five NBL1 games, including Hemel's road win in Solent, plus two thrilling L Lynch Trophy semi-finals to select his Player of the Week and four other standouts to make up his Team of the Week as well.
Have your say on this week's choices and give a shout-out to the players you think deserve one using the hashtag #NBL2122 #ReboundTOTW. Don't forget to tag us!    
Twitter:  @NBLengland / @Rebound__  
Facebook:  @NBLengland  / @ReboundNBL  
Instagram:  @nblengland / @reboundnbl  
How it works 
Chris will pick a Player of the Week and four other selections to round out his Team of the Week, paying attention to the following criteria:
Efficiency 

 

Stats 

 

Team and opposition strength 

 

Periods of influence in the game 

Being on a winning team (exceptional performances from players on losing teams will be considered for TOTW)
Other players will also receive a shout out as honourable mentions at the bottom of the piece.
The Rebound team of the week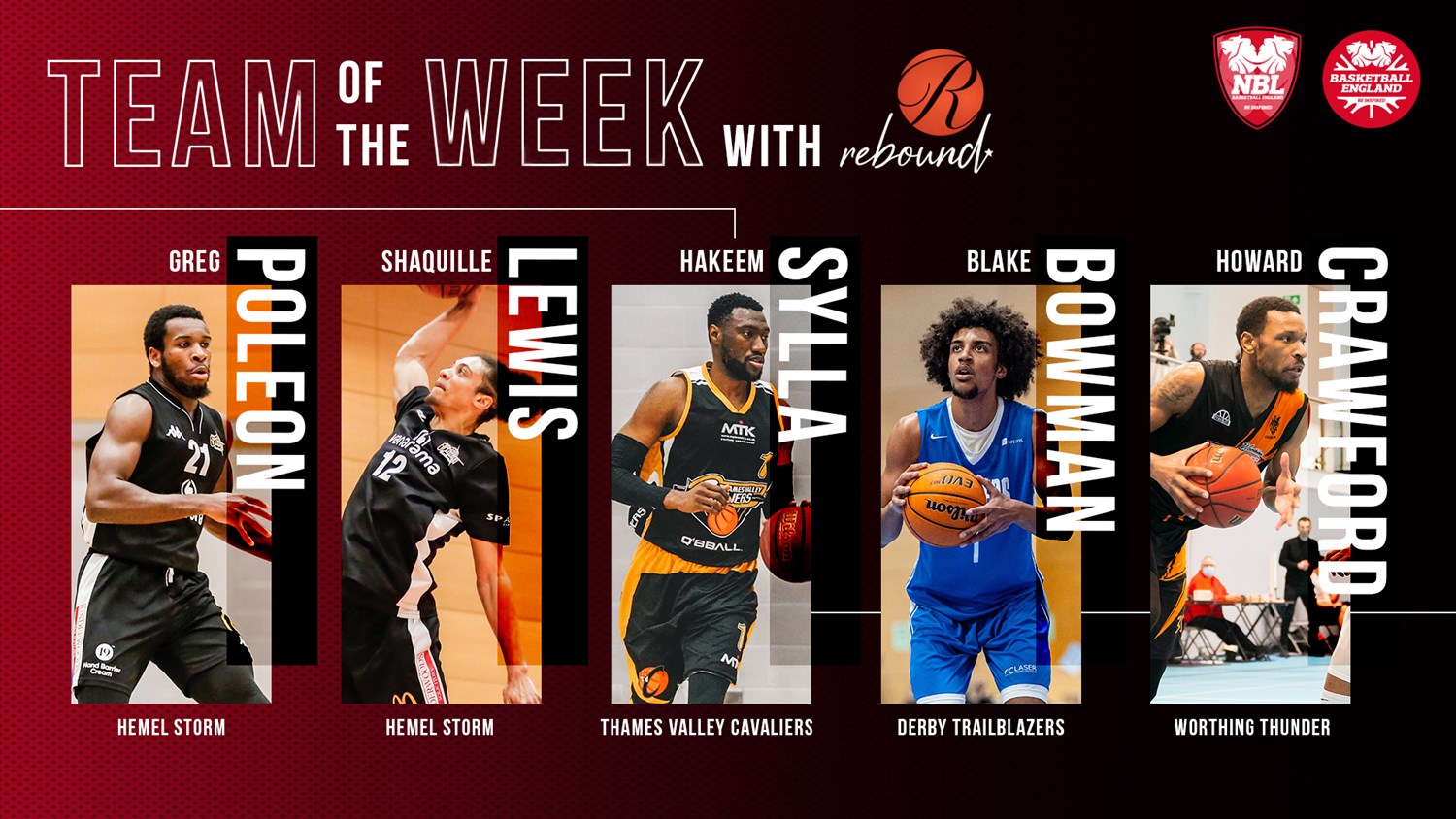 PLAYER OF THE WEEK
Greg Poleon - Hemel Storm, forward
26PTS, 9REB, 1AST, 1STL, 29EFF
The current NBL Player of the Year put on a shooting clinic to beat the reigning champions on their home court as Hemel beat Solent 86-77.
Brooklyn native Poleon was in a festive mood and gave his side four triples from six attempts as he led all scorers with 26 points.
The talented forward was also a beast under the basket. His strength and physicality were too much at times, evident by his 2PT% of 60 (6-10), while also contributing an impressive nine boards.
Check out Poleon's highlights below!
Hakeem Sylla – Thames Valley Cavaliers, forward
20PTS, 15REB, 1AST, 1STL, 1BLK, 35EFF
Thames Valley's Hakeem Sylla is in unstoppable form right now, adding another routine double-double performance versus struggling Loughborough.
Sylla's 10 offensive rebounds helped his side create 12 second chance points and the MVP candidate is a big reason why you can't rule the Cavaliers out in the race for the D1M title.
Shaquille Lewis - Hemel Storm, forward
16PTS (7-7), 6REB, 1 AST, 23EFF
Every bench needs a player like Shaq!
Lewis couldn't miss this weekend, shooting the lights out and beating the buzzer on three occasions in just 13:47 of action.
There was an impressive alley-oop to hype up the travelling Storm fans at the end of the first quarter to give Hemel a seven point lead.
The athletic forward also beat the shot clock and finished the third quarter with a vital 3-pointer, ensuring Hemel started the final frame with their noses ahead.
Blake Bowman – Derby Trailblazers, wing
22PTS, 1REB, 5AST, 22EFF v LEI
22PTS, 3REB, 2AST, 1BLK, 26+/-, 18EFF V TSK
In limited minutes versus Leicester, Bowman still dropped 22 points to ensure Derby got the job got done. Dishing five assists, he also did his bit as a playmaker as the Trailblazers offence put up triple digits against the Warriors.
In Sunday's clash versus Solent, the third quarter flipped the usual narrative. Solent are renowned for enjoying game-changing runs after half time but Derby produced a 35-6 performance to stun their opponents and race out to an 18-point lead.
Bowman netted multiple three point plays to help play his part in what was one of the results of the weekend.
Howard Crawford - Worthing Thunder, forward
24PTS, 13REB, 4AST, 1BLK, 33EFF
Howard Crawford was on fire at the weekend, propelling Thunder to a win versus top four contenders Nottingham.
In a game where both teams went toe-to-toe, the second quarter was key and Crawford was a big reason why Worthing claimed it.
A 22-18 frame overall, that four point difference was the largest across any of the  game's four quarters and it helped establish a five point half time advantage for the hosts.
The US import contributed 8p/2r/1a in the second period alone, opening and finishing the scoring for the South coast side.
Team Basketball
DERBY STUN DEPLETED KESTRELS
Derby were trailing 51-34 at half time on Sunday in the L Lynch quarter-final but a 35-6 third quarter performance caused the Kestrels to crash out of the competition, missing their first NBL final since 2018.
Derby also took care of business on Saturday in the league to record a huge pair of wins across their double-header weekend.
BRADFORD DRAGONS BURN READING AT HOME
Bradford left it late on Sunday to get the win. With two minutes left on the clock the Dragons were trailing by six points. Three clutch triples across four attempts along with six faultless trips to the free throw line ensured Bradford picked up a vital win against Reading though.
The win felt even sweeter considering a slow opening quarter saw the hosts behind by 11 points early on. Bradford quickly cancelled that out to lead by a point at the half, setting the stage for their comeback win.
Honourable mentions
Hafeez Abdul (WOR) – 27P/8R/1S/25EFF
Ricky Fetske (BRA) – 23P/11R/28EFF
Tyler Cartaino (REA) – 25P/15R/8A/1S/37EFF @NEW 26P/5R/2A/21S/25EFF @BRA
Ronald Blain (NEW) – 21P/10R/5A/3S/1B/26EFF
Taylor Johnson (HEM) – 25P/9R/4A/1S/26EFF
.
Main image credit - Joanne Charles
Graphic image credits - Luke Simcock, Lauren Newham, Graham Hodges