Rebound's Chris Hughes picks his NBL Player and Team
 of the Week and highlights 
five 
honourable mentions once again.
Chris, a content producer, YouTube host and commentator, had seven D1M games to sift through, plus some exciting NBL National Cup action as well, to help inform his selections.
Have your say on this week's choices and give a shout-out to the players you think deserve one using the hashtag #NBL2122 #ReboundTOTW. Don't forget to tag us!    
Twitter:  @NBLengland / @Rebound__  
Facebook:  @NBLengland  / @ReboundNBL  
Instagram:  @nblengland / @reboundnbl  
How it works 
Chris will pick a Player of the Week and four other selections to round out his Team of the Week, paying attention to the following criteria:
Efficiency 

 

Stats 

 

Team and opposition strength 

 

Periods of influence in the game 

Being on a winning team (exceptional performances from players on losing teams will be considered for TOTW)
Other players will also receive a shout out as honourable mentions at the bottom of the piece.
The Rebound team of the week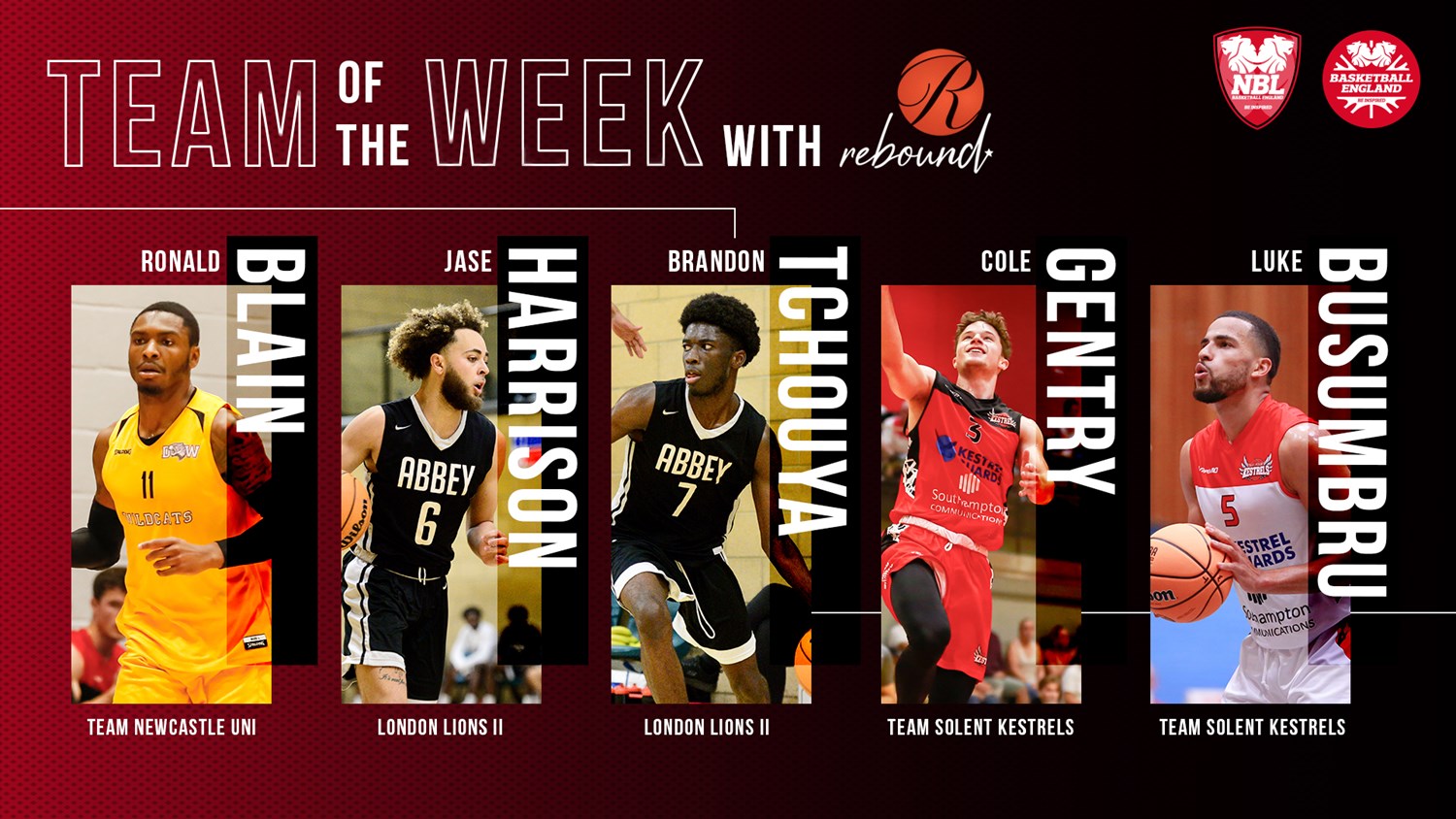 PLAYER OF THE WEEK
Ronald Blain - Team Newcastle University, forward
25PTS, 16REB, 6AST, 1BLK, 40EFF @LEI
54PTS, 9REB, 5AST, 3STL, 1BLK, 57EFF v WOR (CUP)
Ronald Blain put in two 'Player Of The Week' calibre performances in as many days this past weekend.
The former Hawaii Pacific star and current MVP candidate helped Newcastle improve their regular season record, as well advancing to the final four of the National Cup.
The volume shooter only missed three of his 21 attempts in Sunday's cup clash with Worthing, while also going to the line a staggering 24 times.
Thunder really pulled out all the stops to try and slow the import's scoring as Blain was fouled 14 times, but the American still incredibly passed the half century mark.
Jase Harrison - London Lions II, guard
25PTS, 7REB, 1AST, 3STL, 18 EFF @TVC
24PTS, 2REB, 5AST, 3STL, 18 EFF @HEM (Cup)
The Lions' captain was a constant threat over the double-header weekend as Harrison and co. put the league on alert with a pair of road wins against title contenders.
Harrison shooting from beyond the arc was key as he netted 9-19 across two closely fought games.
The talented guard also led his side in steals over both contests, helping the Lions to outscore both their opponents in points from turnovers.
Brandon Tchouya - London Lions II, wing
15PTS, 5REB, 3AST, 2STL, 20EFF @TVC
18PTS, 7REB, 4AST, 2STL, 20EFF @HEM (CUP)
The former Islington Panthers star is really settling into senior men's competition.
Tchouya impressed me in an 18-minute cameo at Thames Valley while also playing a key role in Sunday's cup victory against Hemel.
The young wing shot well on Saturday and crashing the boards when necessary. Tchouya's four offensive rebounds were important in the upset as the Lions dominated the Cavaliers at their own game, enjoying almost double the number of second chance points as TVC.
Luke Busumbru - Team Solent Kestrels, guard
15PTS, 5REB, 2AST, 2STL, +/-27, 21EFF @DTB (CUP)
Luke Busumbru showed his side exactly what they were missing on Saturday as the talented guard could only suit up for Sunday's Cup game.
Busumbru provided a boost to the Solent transition game as he helped push the Kestrels past Derby in both fast break points and points from turnovers as part of the 80-56 road win.
The athletic guard also put on a shooting clinic, netting six of his eight total shots from the floor that also included a triple from long range.
Cole Gentry - Team Solent Kestrels, guard
27PTS, 7REB, 7AST, 3STL, 1TUR, 32EFF v BRA
Cole Gentry dragged his side to a 10-point win on a day when Solent really struggled to get going at times.
The floor general was on it this weekend as the flashy guard made the Bradford defence collapse and on occasion even collide with itself as he put together a 27 point outing.
Solent's #3 also netted a step back triple to beat the buzzer in the first half as the American collected more points than the rest of the Kestrels' starting five combined.
Team Basketball
KESTRELS OVERCOME ADVERSARY for ANOTHER DOUBLE HEADER WIN
It was a Jekyl and Hyde kind of weekend for Coach Guymon's side, however the wins are all that matters.
Playing Saturday without Travis Charles and Luke Busumbru, Solent eventually got over the line against Bradford. However on Sunday, the reigning champs really got going and built a 30 point lead early on to quash Derby's hopes of National Cup glory.
An honourable mention is due to Elliot Dadds, "Mr Southampton" put on a selfless performance once again and dominated the plus minus stat in both games.
LIONS GO HUNTING!
In a result that will have raised some eyebrows, London Lions II got the dub against the highly-rated Cavaliers.
What impressed me was how the young Lions matched the Cavaliers in rebounding, preventing their opponents from enjoying too many second chance points.
Despite their strong performance, Coach Vear's side went again just 24 hours later. Sealing a win against a strong Hemel side proved beyond doubt that this Lions programme is a contender for silverware and a top six spot in D1M.
Honourable mentions
Hafeez Abdul (WOR) – 24P/13R/4A/1S/34EFF @LOU & 31P/14R/3A/2S/32EFF @NEW (CUP)
Howard Crawford (WOR) – 34P/10R/5A/1S/34EFF @NEW (CUP)
Greg Poleon (HEM) – 35P/10R/2S/2B/46EFF @ESS 22P/13R/3A/2S/26EFF V LL2 (CUP)
Johde Campbell (NOT) – 16P/10R/4A/3S/26EFF
David Moya (NEW) – 13P/3R/9A/3S/17EFF @LEI 20P/9R/8A/23EFF V WOR (CUP)
.
Graphic image credits - Luke Simcock, Graham Hodges