Rebound's Chris Hughes picks his NBL Team of the Week and highlights some honourable mentions and team performances.  
Chris, a content producer, YouTube host and commentator, casts his eye over the seven games involving NBL Division One teams from Week 12, including the L Lynch Trophy quarter-final tie between Team Solent Kestrels and Hemel Storm.   
Have your say on this week's choices and give a shout-out to the players you think deserve one using the hashtag #NBL2021. Don't forget to tag us!   
Twitter:  @NBLengland / @Rebound__ 
Facebook:  @NBLengland  / @ReboundNBL 
Instagram:  @nblengland / @reboundnbl 
How it works 

The Basketball England NBL Player of the Week goes straight into the starting line-up.   
The other four players are picked with the following factors in mind:   
Efficiency

 

Stats

 

Team and opposition strength

 

Periods of influence in the game

 
The Rebound team of the week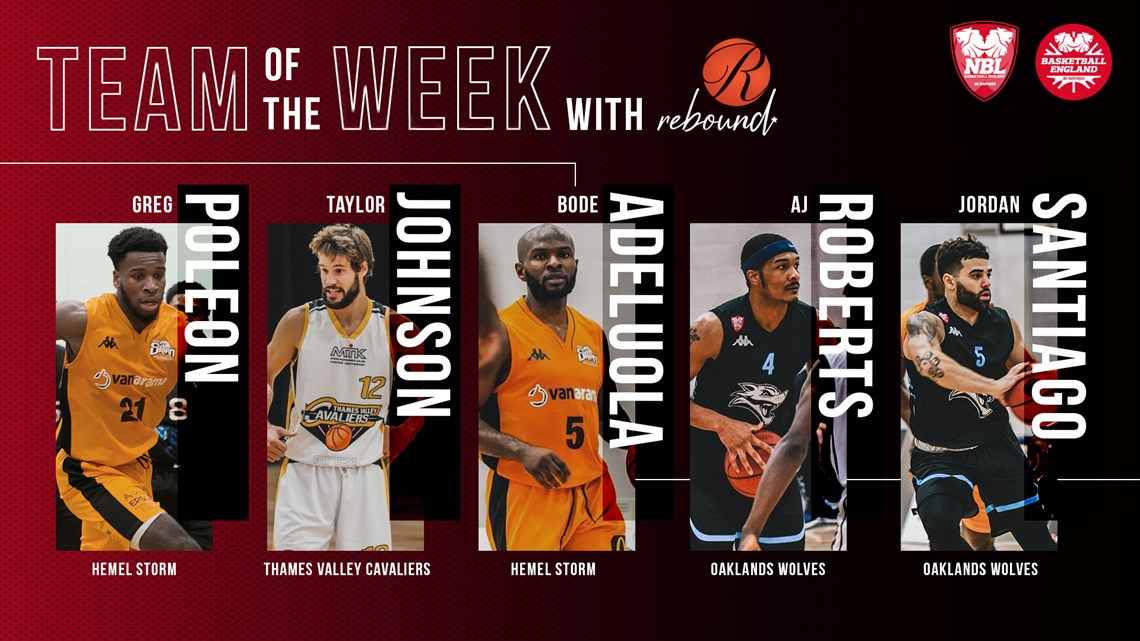 Greg Poleon – Hemel Storm, forward 
33 POINTS, 7 REBOUNDS, 4 ASSISTS, 1 STEAL, 42 EFFICIENCY  
Greg Poleon and Hemel Storm both had to wait a while for a game, and much like buses, two came at once. Poleon played well in both games getting a double-double in the second game of the weekend versus Solent.  
It was his lights-out shooting that was impressive in the 30-point win versus Worthing Thunder on Saturday. He made 15 of 17 field goal attempts, scoring his sole three-point shot and also making his two free-throws.  
As well as that shooting clinic, Poleon was dominant on the boards and facilitated his team-mates to get buckets. His prolific shooting also asked questions of Worthing's defence and opened up space for teammates to prosper.   
Taylor Johnson – Thames Valley Cavaliers, guard   
23 POINTS, 7 REBOUNDS, 9 ASSISTS, 2 STEALS, 29 EFFICIENCY

  
This was only Taylor Johnson's second appearance in all competitions but one of last season's best players was on form again.   
As Thames Valley raced to a first-quarter 31-18 lead, Taylor started as the playmaker and then got involved as a scorers and finished the quarter with a return of 7p/4r/5a.  
The former Leicester Warriors star was on form in the third as the visitors extended the lead, converting and-one opportunity.   
Later in the quarter Johnson also stole the ball of Riders' Greg Wild to find Hawley for the three to make it a 22-point game.   
Bode Adeluola – Hemel Storm, guard   
30 POINTS, 2 REBOUNDS, 4 ASSISTS, 30 EFFICIENCY   
Adeluola was on fire and a major reason why Hemel made light work of an out-of-sorts Worthing.   
Hemel looked to focus on getting good looks in the paint and Bode had a big share of Hemel's shooting as one of three guys to shoot more than seven shots. From 17 attempts he made an impressive 76 FG%.  
The Storm veteran averaged around 25ppg from the opening two NBL fixtures and 16ppg in all competitions and is in good form and one to watch as the season progresses.  
AJ Roberts – Oaklands Wolves, guard  
11 POINTS, 18 REBOUNDS, 8 ASSISTS, 2 STEALS, 2 BLOCKS, 32 EFFICIENCY

   
AJ Roberts made his return to the NBL to help his new side get their first win of the season and then go 2-0 in a double-header weekend. AJ looked like he had never been away after last being seen in the NBL in Hemel Storm's the 17/18 play-off run.  
The former London City Royals guard did a bit of everything in a double-double performance and was two assists shy of a triple-double, leading all players with assists in the seven-point win.   
Jordan Santiago - Oaklands Wolves, Guard
32 POINTS 10 REBOUNDS 8 ASSISTS 
Jordan Santiago has been one of the stand-out players this season. The former Loughborough Riders guard has become one of the league's premier scorers and currently sits third on the league's leaderboard in points per game (27ppg).
On Saturday in the basement clash with Essex Rebels, Santiago was two assists shy of a triple-double with 32 points and 10 rebounds. 
The Wolves star has really come to the fore this season since switching from Loughborough. This weekend's return of eight assists and 10/11 from the foul line represents his best efforts from the last two seasons in NBL competitions. His passing and finishing was sublime at times. 
In Sunday's clash against Leicester Warriors, Santiago contributed with a stat line of 24p/8r/5a/2s proving that he is one of the main reasons why you should not underestimate this young side.
Team basketball   
SOLENT GO 9-0 IN ALL COMPETITIONS 
Team Solent Kestrels returned to business with a league and trophy double-header weekend. First up BA London Lions were dispatched in a 63-27 first-half blitz. Orlan Jackman led Solent with 23 points.    
Next up was a hotly anticipated tie with in-form Hemel, also on the back of a big win the day before. The game was closely fought until the fourth quarter. Solent eventually won by a 20-point margin and are through to the semi-finals of the L Lynch Trophy.   
What impressed was the energy the team had, especially as the game went on with high-intensity defence in the second half as well as plenty of fast-break points.   
The two-time defending champions look hungry for more.   
OAKLANDS WOLVES OFF THE MARK 
The Wolves got not one, but two, wins. Having gone into the weekend 0-5, they did what was needed. Santiago's star showing was met with academy product Kane Daley posting an efficient game on Sunday with a game-high 30 points versus Leicester Warriors.   
New signing AJ Roberts wasted no time getting going. His flair and BBL experience will make them a stronger unit.   
Honourable mentions   
Ian Smith (SOL) – 11P/12R/9A/1S/23EFF   
Orlan Jackman (SOL) – 23P/5R/4A/2S/1B/28EFF  
Ashley Ugo (DER) – 22P/11R/5A/2S/30EFF   
Blake Bowman (DER) – 28P/7R/5A/2s/1B/30EFF   
Kane Daley (OAK) – 30P/6R/2A/1S/27EFF  
.
.